News
Animal Victories in 2012
Several States Pass New Animal Protection Laws
Due to the support of animal advocates across the country, 2012 was a year where animal protection laws saw major gains. The following is just a sampling of state-level victories that transpired in 2012:
California banned "hounding" of wildlife. According to the Humane Society of the United States–in hounding, dogs are set upon frightened prey animals and often chase them for miles, across all types of habitat, including forests, private property, and into national parks. Dogs are fitted with high-tech radio devices that allow bear and bobcat hunters to follow the chasing dogs' movement remotely. Once exhausted or cornered, prey animals often seek refuge in a tree where they are typically shot at point-blank range. This practice often causes injuries to the dogs when a bear or bobcat fights back.
Idaho considers animal cruelty and cockfighting a felony. Idaho finally enacted a law making animal torture and cockfighting a felony offense. Before this bill passed, Idaho was one of only three states in the nation without felony animal cruelty penalties.
Massachusetts reforms its animal control. Among other achievements, this far-reaching, comprehensive new law creates a statewide spay/neuter program, prohibits breed-specific legislation, places restrictions on outdoor tethering, and allows pets to be included in domestic violence-related protection orders.
New Jersey banned horse slaughter. New Jersey banned the slaughter of horses for human consumption as well as their transport through the state–a very meaningful provision, given the continued problem of export of horses over the border for slaughter. According to the ASPCA, a national poll conducted by Lake Research Partners showed that 80 percent of Americans are against the practice of horse slaughter for human consumption. New Jersey is one of many states that have taken the initiative to create state laws against the slaughter of horses for human consumption after a federal ban was lifted in 2011.
Ohio regulates exotic pet ownership. Ohio's Dangerous Wild Animal Act passed seven months after 56 exotic animals were released by their owner–of which 49 were shot and killed by local police. The incident brought to light the fact that Ohio had no laws to regulate the ownership of dangerous and wild animals. Ohio was one of only a handful of states with virtually no regulations on wild/exotic animal pet ownership.
Tennessee considers cruelty to livestock a felony. While most states exempt farm animals from their animal cruelty statues, Tennessee became one of the first to make extreme acts of cruelty to livestock subject to felony-level penalties. Many people don't know about farm animal cruelty. For more information, visit aspca.org
Puppy mill dogs protected in several states. Led by Ohio, laws to protect puppy mill dogs passed in six more states–New York, Nebraska, Maryland, Kansas, Oregon, and Louisiana. According to HSUS, dogs at puppy mills typically receive little to no medical care; live in squalid conditions with no exercise, socialization or human interaction; and are confined inside cramped wire-floored cages for life. And breeding dogs must endure constant breeding cycles and are typically confined for years on end.
To all the animal advocates – give yourself a big pat on the back! These victories, as well as many others, could not have been achieved without collaborative efforts among humane advocacy groups, state legislators, and individuals. One person can make a difference
Here's to an even better 2013!
ANNOUNCEMENT
C.A.R.E.4Paws FurEver Valentine's FriendRaiser
On Saturday, February 9, C.A.R.E.4Paws will host its second annual FurEver Valentines Friendraiser at Oreana Winery from 7 p.m. to 10 p.m. Enjoy great wine and food, delicious chocolate, live music, fabulous silent and live auctions and much more. Contact C.A.R.E.4Paws if you want to pre-register or wish to support the event by donating food, dessert, or silent auction items or by becoming a FurEver sponsor. For more information visit http://www.care4paws.org/valentines.html
Adoptable Pet of the Week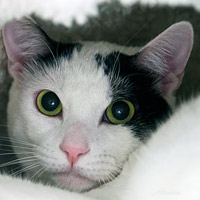 Annie is a two-year-old black-and-white shorthaired cat with light green eyes. Since she has a pink nose and white ears, she will need to live indoors only. Initially she is shy but if you are slow and calm with her, she will warm up to you and reward you with head butts and sweet love nibbles, flipping on her back to show off her lovely white belly and large white bunny feet. Annie particularly enjoys gentle pets on the bridge of her nose and likes to hide her face in your hand. She gets along with other cats and would prefer an adult home.
The following is included in the adoption fee at ASAP: spay or neuter surgery, flea treatment, vaccinations, microchipping, health evaluation, including testing for Feline Leukemia (FeLV) and Feline Immunodeficiency Virus (FIV). Cats thought to be 10 years or older receive a full blood panel evaluation, thus assuring that the cat is indeed healthy and adoptable, medical and drug coverage through ASAP's vet for two weeks beyond adoption, if necessary, temperament evaluation, and cat carrier (you can save the County money by bringing your own).
Animal Shelter Assistance Program (ASAP) is a volunteer-based, non-profit organization that takes care of the cats and kittens at the Santa Barbara County Animal Shelter. ASAP provides humane care for these animals and works to eliminate the practice of euthanizing them for reasons other than serious health or behavior problems.
Visit ASAP at the Santa Barbara County Animal Shelter, 5473 Overpass Rd. Adoption hours are Monday-Friday, 9 a.m.-4:45 p.m.; Saturday, 10 a.m.-4 p.m. For more information, visit www.asapcats.org or call (805) 683-3368