Thomas Yee Chung: 1942-2013
In Memoriam
| Sat Aug 03, 2013 | 12:00am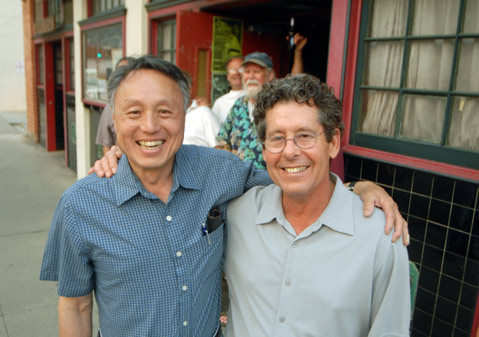 When people ask me if I miss Jimmy's, my answer is always yes, and no. But when I truly think about it, the thing I miss most about Jimmy's is the food. No one can forget the giant egg rolls, the barbecued pork, or the tea-smoked chicken.
When Jimmy Chung opened his first restaurant in Santa Barbara in 1936, he served American Chinese food. Chop suey (which is an American dish), steaks, burgers, and such were some early favorites. There was other comfort food, typical Cantonese dishes such as won ton soup and noodle soups. It was a joy to observe patrons slurping a giant bowl of steaming noodles on a cool wintry night.
Growing up, Tommy didn't care too deeply for the business as he was often stuck with the dirty work, washing dishes and doing menial cleaning projects. But he did enjoy sitting on the stoop of the bar, looking up and watching wrestling on probably one of the first TVs in Santa Barbara. He became a star athlete at Santa Barbara High, excelling in track and football. He attributed his quickness to his mother, Nuey, and her servings of chicken feet, a Chinese delicacy that Tommy claimed made him run faster.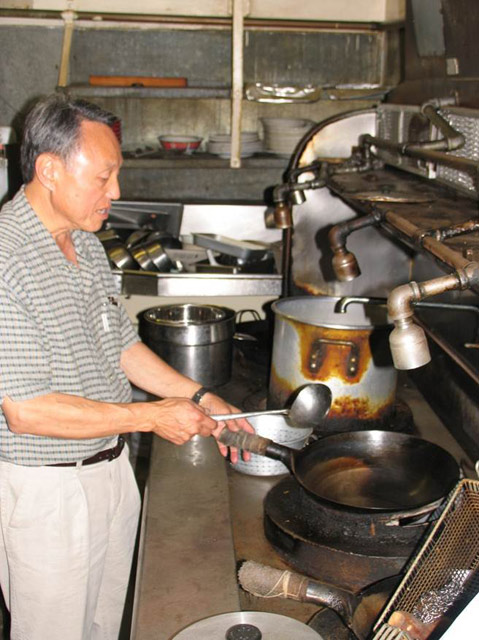 When his father passed away in 1970, Tommy, ever loyal to family, took over the operation. He revamped the menu to include spicy Szechwan dishes and other regional favorites. Declaring much Chinese cuisine to be the same, he developed creative sauces and experimented with exotic spices and herbs. He found his culinary passion – but his true passion lay in caring for others.
I would arrive for a shift behind the bar, and you could smell the aroma of ribs or barbecued pork blocks away. I'd take a knife, open the oven, and cut off a rib. Tommy would enter the kitchen, look at me, and just smile as the juice ran down my chin. On one occasion, as I was loading a bucket of ice, I stepped on a glue trap which immediately stuck firmly to the bottom of my shoe. While I clung to the machine, Tommy came out and pulled mightily, me with one foot in the air, truly reminiscent of a Three Stooges episode.
The best thing that ever happened to Tommy was his marriage to Julie. It was a true blessing when she entered his life. After closing her restaurant in Camarillo, she began working in the kitchen under Tommy's watchful eye.
No – the best thing that ever happened to him was Julie's son, Andy, whom Tommy officially adopted a short time after the marriage. Andy had no trouble calling Tommy "Dad," and loved him as only a true son can.
Yet maybe the best thing that ever happened to Tommy was Andy marrying his beautiful wife, Eng, Tommy presiding over the glorious event as the joyous father, and cutting a mean rug with Julie at the lavish reception in San Gabriel.
No, that's not it. It was the birth of his grandson, Nicholas Thomas Yee Chung. The elation of that event made Tommy the happiest he had ever been seen. In a room crowded with others, young Nicholas kept his gaze fixed upon Grandpa.
My wife, Esther, and I worked for (with) Tommy for over 20 years. There were other employees who were there longer or just as long. We were a family and our customers were family. Every Thanksgiving, Tommy would put together a wondrous feast for family, friends, and waywards who hadn't a place to go. He wouldn't sit down to eat until he was certain that every dish was complete and that everyone was getting enough to eat. He made the best prime rib and racks of lamb I've ever tasted. You think Lucky's has a great steak? Then you never had a T-bone seared in a 1000-degree wok.
If it weren't for this man, Esther and I would never have met and stayed together for going on 30 years. It was our honor to be part of that family.
When Jimmy's closed in 2006, the Santa Barbara Independent ran a cover story. Several writers penned stories about their experiences of Jimmy's. My personal favorite was "Grandpa's Grasshopper," by Matt Kettmann. In it, he stated that Jimmy's was not all about the food, or the generous pours. It was about family. I cannot read that article without a sob or two – or three – because it's true. The family extended to longtime patrons and workers, and the father of that family was Tommy Chung, the most caring, generous man you could ever hope to meet.
A memorial celebration will be held at Conejo Mountain Funeral Home in Camarillo, Saturday, August 10, at 11 a.m. Visitation begins at 10 a.m.