Columns
The Halloween Roundup
A Safer Holiday Was No Accident
Despite the premonitions of impending doom, this year's Halloween celebration in Isla Vista came and went without too much ado. The crowds came, partied, and left. No one fell off a cliff, no one was stabbed or shot, and nothing of great value was destroyed. For the residents not partying, the experience was, if not exactly positive, not too bad at all.
Lieutenant Rob Plastino, head of the Isla Vista Foot Patrol, said, "This Halloween went incredibly well, from a safety perspective. I've heard many positive comments from residents, students, and other attendees."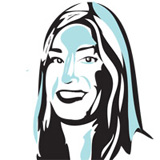 As an I.V. resident, I can say that Halloween was pretty quiet and definitely uneventful. By 11 p.m. on Halloween night, the streets in my neighborhood were silent. However, everyone, including myself, had prepared for the worst. With Halloween falling on a Thursday, anything could have happened.
A few years ago, when Halloween fell on a weekend, the celebration was anything but uneventful. There were huge parties, raucous noise, theft, and vandalism. Someone stole one of our bikes, and another person jumped over our fence, broke it, and then smashed our jack-o'-lanterns. And it was a regular sight to see people using the wetlands area as a urinal.
A Safer, Saner Halloween
This year I noticed something a little different. As I walked my dog along the bluffs, several students stopped to pet her and chat. They all seemed thrilled to be here, as if they were experiencing the beauty of the area for the first time. They were enthusiastic and very positive, not your typical hardcore partiers. Perhaps many who showed up for this year's event were a little different than those who came in the past. This may have contributed to the lack of major incidents, although there were quite a few arrests and citations handed out.
The Santa Barbara County Sheriff's Office released preliminary statistics for the Halloween weekend, October 31 through November 3:
• 225 people arrested (173 for public intoxication)
• 249 citations issued (95 for minor in possession)
• 48 medical calls (42 of those people were taken to the hospital)
• 20 search and rescue calls
According to the sheriff's department, these statistics are consistent with past years. The turnout was estimated at 12,000–15,000 on the busiest nights, slightly lower than previous years.
A Safer Halloween Was No Accident
While the quieter, mellower Halloween might be seen as the result of good fortune, it was not. UCSB administrators, county officials, law enforcement, student groups, and many others worked together to ensure that this year's Halloween celebrations were safe.
UCSB representatives waged a campaign to discourage students from other schools from heading out to Isla Vista. UCSB Associated Students promoted a "Keep It Local, Keep It Safe" campaign. In addition, the fact that it was parents weekend at UCSB might have put a damper on students' party plans. Maybe UCSB can schedule parents weekend to coincide with Halloween every year?
Some New Enforcement Additions
One addition of note to the Halloween law enforcement plan involved the use of a helicopter to patrol the streets. At around 11 p.m., a helicopter flew over the area to provide oversight. The helicopter was on standby at the Santa Barbara Airport all three nights of the Halloween weekend to assist in the event of the need for a cliff rescue or a significant event, Lt. Plastino said.
He added, "We always have two plans in place: one for normal operations (which are data driven based on previous years' statistics, live intelligence, and past experience) and a second plan for worst-case scenario which includes a lot of prep work, equipment, training, and planning." He said, "We hope for the best and plan for the worst."
This year everything worked out just fine. Whatever magical combination resulted from discouraging out-of-towners from attending the Halloween celebration, devising a comprehensive law enforcement and safety plan, and holding parents weekend on Halloween worked wonderfully. Let's do it again.