Darcy Aston: 1959-2014
In Memoriam
| Tue Nov 04, 2014 | 6:00am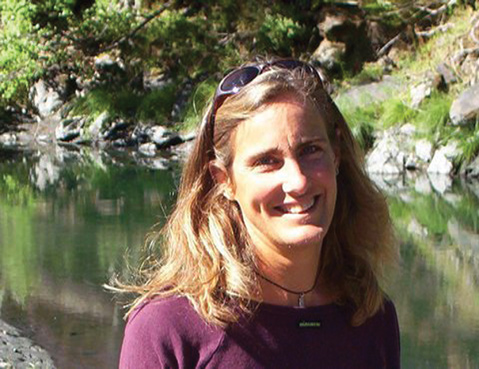 Darcy Lynn Aston passed away September 10 after a brief but intense struggle with pancreatic cancer. Shock waves of sadness and disbelief continue to be felt by her family and network of friends, colleagues, and acquaintances. She was just 55 years old. As one friend of hers remarked, shortly after her death, "Our collective tears just may end this drought."
It is no exaggeration to say that Darcy was a force of nature. Her passion for conserving our Earth's resources came through in her personal, professional, and community life. She was also a force for community here in Santa Barbara; in Petaluma, her home of the last nine years; and in the Bay Area. She leaves behind a lasting legacy of environmental protection and water resource conservation.
Darcy grew up in Walnut Creek in a loving family with her parents, Marilyn and Robert, and her siblings, Bobby, David, and Suzanne. She was a dedicated environmentalist from a young age, and this inclination was nurtured by her choice to major in environmental studies at UCSB, followed by several years as a naturalist at Sequoia National Park in the Sierra Nevada. Darcy went on to develop a career educating the community on ways to put sustainability and conservation principles into daily practice.
Darcy worked for the Isla Vista Recreation & Park District and the Goleta Water District in water conservation during the peak of our last serious drought. She eventually joined the County of Santa Barbara, expanding and implementing its water conservation and Project Clean Water programs. She sat on the front lines through boisterous public meetings when ocean water quality was the hot topic and people were concerned about getting sick from swimming or surfing. The community expected a quick fix. Darcy educated the public on complex water-quality problems and helped find effective and practical solutions we all could take part in. Darcy also led community outreach on pollution prevention, developed classroom curricula on the water cycle, led watershed and creek restoration efforts, and developed educational signage for area beaches. She created Creek Week, the Sustainable Landscaping Fair, the Sustainable Garden in Santa Maria, and the widely respected and replicated Green Gardener Program, which promotes resource-efficient and pollution-prevention landscape-maintenance practices. Her contribution to this community was significant.
She left Santa Barbara with her daughter, Bryce, in 2005 to marry her high school sweetheart, Nels Berthold. In Petaluma, Darcy put roots down and dug into her new life. She maintained a community garden plot and volunteered with various environmental groups. She poured herself into fundraising for Bryce's high school marching band, eventually serving as booster president. She worked with FishNet 4C, a multicounty collaborative to restore habitat for anadromous fish (coho and steelhead), and as a community outreach program manager for the Napa Sanitation District. She was passionate about her career in water resource and watershed management and gained admiration and respect from her colleagues along the way.
Darcy was a vibrant California girl through and through, with hair and skin as golden as the sunset and eyes as blue as the sea. She loved to travel the world, backpack in the Sierras, and play in the Pacific Ocean; she loved to garden, cook, and craft. She wrote beautifully — her heartfelt and witty stories and vividly entertaining vignettes on any number of topics are legendary. Her daughter, Bryce, was the center of her world and her pride and joy. Darcy loved Planet Earth, and she loved her life. It was a life full of interesting and adventurous people, beautiful places, and big ideas. It was a life full of fun, family, and devoted friendships. In addition to being smart, energetic, and practical, she was incredibly authentic, generous, sensitive, and funny — characteristics that earned her many friends of every age. There can be no doubt that she lived large and she lived well.
Darcy loved Santa Barbara, where she had made so many meaningful connections and returned often to keep those connections alive. Now that she has passed on and we must come to grips with a world without her physical presence, signs of Darcy can be found, literally, in many places around town: water-quality signs at our beaches, interpretive signs about plants and animals along our creeks, and "no dumping, drains to ocean" signs on bridges and storm drains. Even bicycles and sustainable landscaping will always remind us of Darcy. This community and this planet benefited greatly from her time here. Her family and friends will forever miss her.
A community celebration of Darcy's life will take place on Saturday, November 8, at 3 p.m. at the Watershed Resource Center at Arroyo Burro (Hendry's) Beach, 2981 Cliff Drive, Santa Barbara. Please bring a potluck dish to share. A virtual appreciation of Darcy's life can be found at CaringBridge.org.