George Solinas: 1926-2015
In Memoriam
| Thu Mar 10, 2016 | 12:00am
My father, George Solinas, was a man of true moral courage. When I was a child growing up, he had a way of explaining things that gave me perspective and allowed me to see the bigger picture. When he and my mom argued, I secretly, and sometimes not so secretly, took his side. This was easy for me to do because I was so much like him, but also because he had a way of seeing both sides of the argument and not just digging in for the fight. He was one of the most rational human beings I've ever known.
His energy and enthusiasm for everything, from building a new deck on the back of every house we moved into to making homemade ravioli "just for the fun of it," were contagious.
My dad was the youngest of six children, born in Oakland, California, to Italian immigrant parents. His mother worked in the canneries and was a loving presence in his life. His dad became an alcoholic, and Dad would tell me stories about waiting under the stairs for him to get home in hopes that he could somehow fend off the abusive attacks on his mom that would often ensue.
When he married my mom, neither family was very thrilled. Her family was critical that he was not an intellectual but made his living working with his hands. His family did not like that he had married a Mexican, though they warmed up to her right away.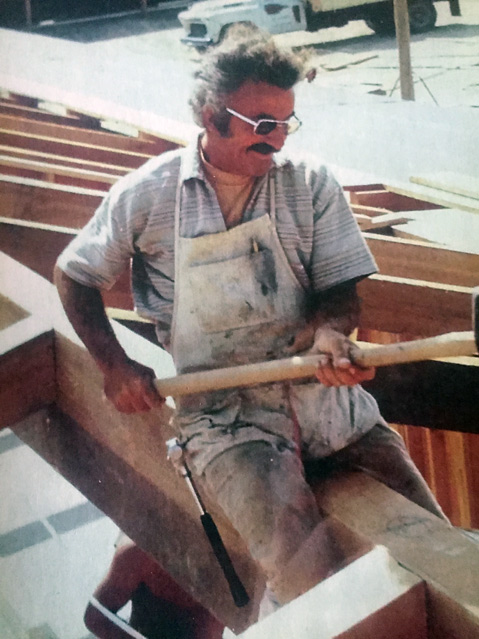 Our first home was in Oakland, where my parents made friends with the Abbotts, who were members of the communist party. The Abbotts gradually began my parents' political education. From there we moved to Berkeley, where we met the Levinsons, who became die-hard members of the Black Panther party. They helped open my parents' eyes to the struggles of all people of color.
My dad was an artist first but a builder, dreamer, and thinker in quick succession. He renovated a number of old homes for a living at first and then supervised the building of an alternative high school in the hills above Palo Alto. He helped farmworkers build "self-help housing," one of his proudest accomplishments. He supervised and, in many ways, almost single-handedly brought the dream of a retirement village for the first Filipino grape boycotters to reality for César Chávez and the United Farm Workers (UFW). Barack Obama recently recognized Agbayani Village as a historic landmark. After his time in Delano, my dad was asked by César [ChávezTK] to help refurbish an old tuberculosis sanitorium in the hills above Bakersfield into the UFW headquarters.
When we moved to Santa Barbara, the whole family would spend weekends and any spare time helping my dad turn an old warehouse in Santa Barbara into a community center. Complete with teatro and dance floor, it became known as La Casa de la Raza. As we planned a celebration of our parents' 50th wedding anniversary, the obvious choice of venues was La Casa. It was one heck of a party!
Dad started to lose his memory as he grew older, and his rational self became ravaged by the Louie[LewyTK] body dementia that peppered his final years. I still found many ways to learn from his enthusiasm and positivity. He loved to stare at the mountains of Los Padres forest, and he marveled every time he saw a jacaranda tree laden with purple blossoms. "Wow!" he would say. "Isn't that just the most beautiful thing you've ever seen?"