News
CHP Calls for Safer Driving on Highway 154
Responsibility Key to Reducing Crashes, Says Law Enforcement Officials
With the heavy traffic of Fourth of July weekend fast approaching, California Highway Patrol (CHP) officials took to the side of Highway 154 in Los Olivos to advise that drivers mind the road rules — as well as their own safety. In a press conference held Thursday morning, local CHP officers reminded the public that collisions on the 154 are an issue, which highway travelers themselves must address.
A drive down Highway 154, which runs from Santa Barbara to Los Olivos, typically yields scenic views and winding roads. The route also features relatively unique laws, like one mandating drivers turn on their car headlights at all times, even during daylight hours. Such a rule is to improve the drivers' ability to see other vehicles up and down the hills along the path, said Buellton CHP Officer John Ortega.
During a short ride-along after the press conference, Ortega pulled over two drivers on the highway in a span of ten minutes. Both had failed to turn on their headlights. Ortega let off the first with a warning but cited the second for having an incorrectly buckled seatbelt.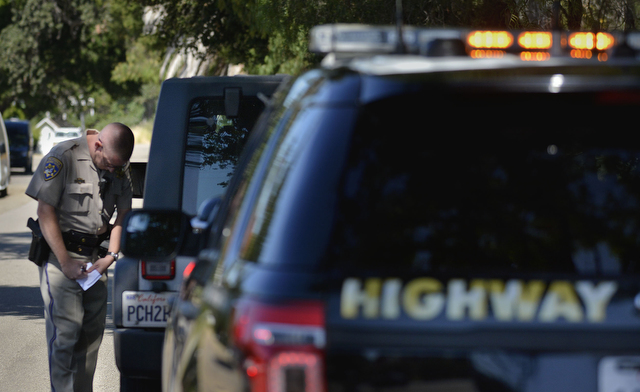 A high level of attention and vigilance is necessary on these roads, according to Ortega. "If we can save even one life, we're doing our job," he said.
Policing of the highway has increased on the heels of a 12-month grant funded by the California Office of Traffic Safety. The grant, titled Saving Lives, has allowed the CHP to devote more resources to greater enforcement on the 154, according to Buellton CHP Commander Kurt Kruse. Kruse cited an "influx" of accidents on the 154 as the cause for increased attention. Since the grant started in October 2015, he said, CHP officers have written 848 citations and made 12 DUI arrests.
Highway 154 is not innately dangerous, said Mark D'Arelli, commander of the CHP's Santa Barbara branch. Instead, he said, those driving the highway are making it dangerous through errors in judgment.
"I've grown up in this area for 43 years," D'Arelli said, "and I've never had an incident up there. It's a safe roadway and it's designed well. What it requires is that all of us share the responsibility of driving safely."
Another issue has been commercial truck drivers taking the 154 when their trucks are too long to be driven on that route. With a few exceptions, single cab trucks must be no longer than 65 feet to travel the rural roadway. According to Santa Barbara CHP Officer Brian Bedford, too many truck drivers follow their GPS devices to travel via the fastest route, instead of avoiding the highways on which they are not allowed. These trucks, when driving on the steeper inclines of the roadway, make the path less safe.
Fortunately, Bedford said, there are phone apps designed to account for truck-length laws. Truck drivers simply need to start using them, he urged.
Ultimately, drivers must adhere to their "legal and ethical responsibility," said D'Arelli. As collisions increase, he said, those enjoying the picturesque State Route 154 should exercise more caution.