In Memoriam: Ruth Nadel, 1914-2017
In Memoriam
| Thu Apr 12, 2018 | 12:00am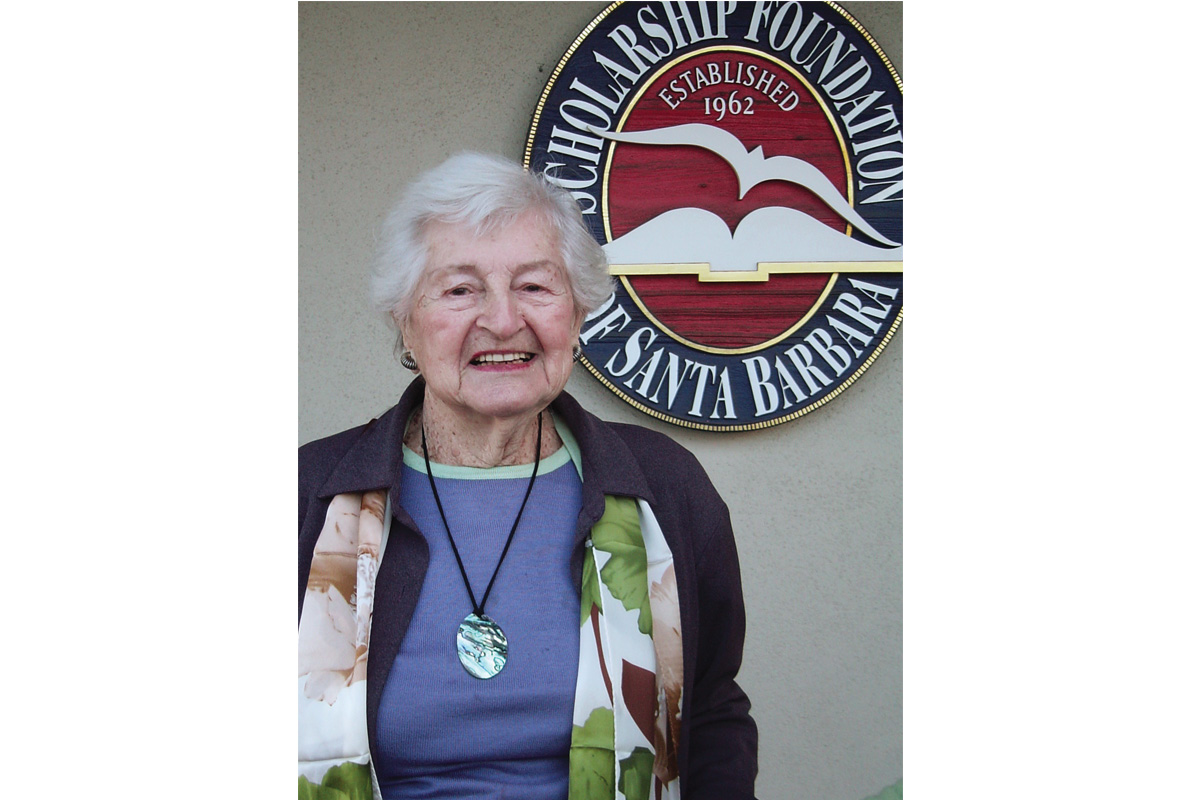 Before starting her first "paid work," as Ruth Nadel called it, at age 55, she nonetheless had considerable work experience, in this community most notably as the cofounder of the Scholarship Foundation of Santa Barbara. Nadel's career, during which she was a U.S. Navy wife in World War II, the mother of four boys, a Department of Labor policy maker, and an early feminist who tirelessly pushed professional expectations, norms, and barriers, continued well into her 100th year. She died on September 25, 2017, at the age of 103, in Northridge, California.
Ruth Nadel and her husband, Aaron "Harry" Nadel, settled in Santa Barbara in 1957. Though a full-time homemaker with four boys, Ruth's spirited interests had frequently put her in the midst of local politics wherever they lived. One of the family's favorite stories, from the late 1940s, has their then-preschooler playing dress up by slinging a purse on his arm and declaring, "I'm a mommy, and I'm going to a meeting." With her children attending Santa Barbara schools, Nadel soon saw a problem that needed to be fixed.
At the high school level, not all graduates could afford the expenses of college. With Annette Slavin, who joined Nadel in forming the Scholarship Foundation, Nadel began to make pitches to neighbors, urging them to contribute by asking, "Let's see what we can dream." That first year, they succeeded in raising nine "book award" grants for $100. In 1962, the nascent charity became the Scholarship Foundation of Santa Barbara, with Ruth Nadel as its first president.
From that first set of book awards, the Scholarship Foundation grew to be the nation's largest community-based scholarship provider. In May 2017, it awarded $8.4 million to 2,688 students. Over its 55-year history, Nadel's dream was surpassed; more than $100 million raised has sent 47,000 high school students on to higher education.
Nadel remained as president for three years before running for, and winning, a seat on the school board. In 1967, one of her last official acts in Santa Barbara was to hand out diplomas during her son's high school graduation. The family was then off to Washington, D.C., where Harry was doing psychological research in the private sector. Washington would prove to be a springboard for Ruth. She became a policy advocate with the Department of Labor, a paid post that lasted for 21 years, during which she forged farsighted and enduring childcare and, later, eldercare solutions, motivated by a sense of justice and idealism for new generations of working women.
Ruth Nadel, born Ruth Rosoff in 1914, six years before the ratification of the 19th Amendment granted women the right to vote, was an early feminist surrounded by men — a hardworking father who owned a midtown Manhattan restaurant, two brothers, and, later, a devoted husband of 55 years and their sons. She was raised in New York City, graduated from Hunter College High School, and joined the first class to admit women at the City University of New York's Baruch College. After earning a bachelor's degree in business administration and a master's degree in education, she became a teacher, while Harry earned his doctoral degree in psychology.
Harry joined the U.S. Navy after World War II broke out, leaving Ruth to raise their first child, as so many wives did in those times. When he returned from service, they moved to various cities, including Santa Barbara, as her husband's career progressed. Once in Washington, D.C., Ruth became immersed in society and politics; she thrived on the buzz and influence of making public policy happen.
When Nadel was hired at the U.S. Labor Department's Women's Bureau, she had managed to catalyze her decades of volunteer work onto her resume. She was a pioneer in promoting the social capital of paid and unpaid work among women. After she retired in 1989, Nadel continued to serve on a number of women's and eldercare organizations well into her nineties. She was also appointed a commissioner for the D.C. Commission on Aging, a post she held until she left Washington, D.C., for California at the age of 100.
Throughout her careers, paid and unpaid, Nadel joyfully mentored countless people, mostly women, at all stages of life and all levels of influence. A favorite among her many sayings was: "I'm not proud; I'm grateful." It was a gratitude returned in full measure by those she counseled, guided, and warmed with her wisdom, kindness, and generosity of spirit.
Her family, who called her Dolly, recall that well into her 104th year she persisted in a life fiercely led on her own terms. She surpassed milestones most will never reach with a breezy indifference as she aimed, undeterred, for the next justice- and equity-related challenge. Her will to engage with the world prevailed until her final days; she rebuffed the hindrances of aging in pursuit of time well spent in laughter and conversation. Nadel credited her longevity to two desserts a day; her family would add several qualities: outsized extraversion, undeterred focus, exceeding cheerfulness, unrelenting curiosity, and inspiring optimism. These kept her at the center of the hub of activity for those who loved her and among an ever-widening circle, even into her last days.
The family welcomes donations in Ruth Nadel's name at the Women's National Democratic Club's Ruth G. Nadel Leadership Award (democraticwoman.org/educational-foundation/scholarships/) or to the Scholarship Foundation of Santa Barbara (sbscholarship.org).