2022 Wildfire Preparedness Exposition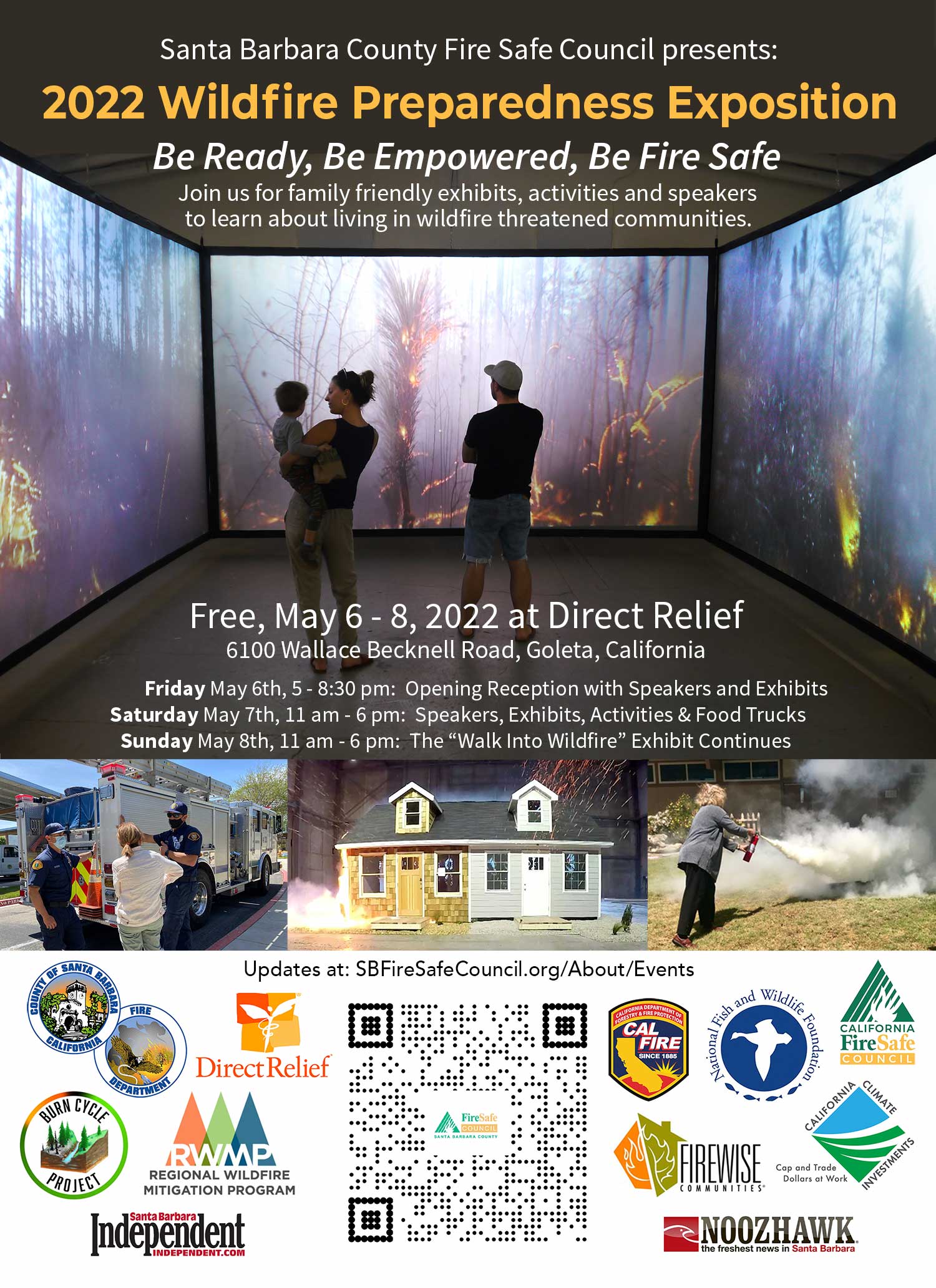 Children & Family
Expo
Health & Wellness
Direct Relief International
**Events may have been canceled or postponed. Please contact the venue to confirm the event.
Date & Time
Fri, May 06 5:00 PM - 8:30 PM
Sat, May 07 All day
Sun, May 08 All day
Venue (website)
Direct Relief International
The Santa Barbara County Fire Safe Council is pleased to announce an unprecedented multi-day community event planned for Friday, May 6 2022 and Saturday and Sunday May 7 and 8, 2022 at Direct Relief 6100 Wallace Becknell Rd, Santa Barbara, CA. The Wildfire Preparedness Exposition will align with the California Wildfire Preparedness Week. The mission includes educating the public about wildfire and wildfire preparedness, along with providing residents the tools they need to be prepared for the next wildfire. The event is also intended to promote involvement in Firewise USA®, a community wildfire preparedness program that several communities in Santa Barbara are already participating in to take charge of mitigating their wildfire risk. 
The weekend will kick off with an Opening Night Reception Friday May 6 from 5:00pm-8:30pm with appetizers and beverages. One of the main features is a unique immersive multimedia art exhibit called Walk Into Wildfire (https://burncycleproject.com/)  Saturday May 7 will feature a speaker series and a Q and A session with local wildfire and preparedness experts. There will also be tables set up by local organizations, such as City of SB Fire Department, LISTOS, and Office of Emergency Management, to promote their work assisting community members with wildfire mitigation. Children and families will also be able to enjoy the presence of fire engines and other activities, including the hands-on experience of putting out an actual flame with a fire extinguisher. Sunday will feature another opportunity to experience Walk Into Wildfire. Food trucks will also be present at the event.
The public is encouraged to attend this free family-friendly event Friday, May 6 from 5:00pm-8:30pm and Saturday and Sunday, May 7 and 8 from 11am-6pm. The threat of wildfire is a reality we live with everyday here on our beautiful South Coast. We must learn the best ways to keep our families safe.