9th Annual Heroes of Hospice of Santa Barbara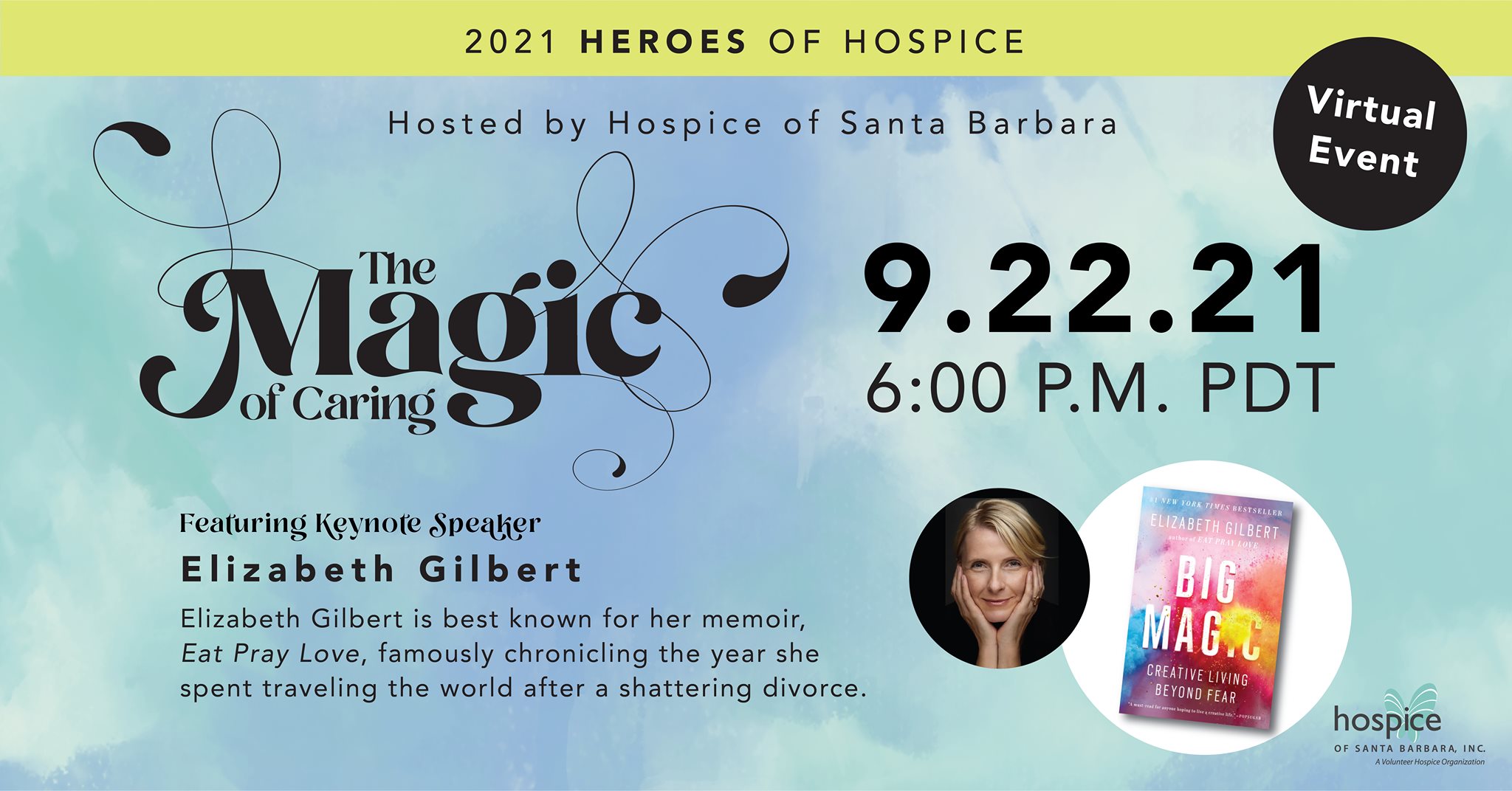 Benefit/Fundraiser
Zoom
Zoom
**Events may have been canceled or postponed. Please contact the venue to confirm the event.
Date & Time
Wed, Sep 22 6:00 PM - 12:00 AM
Event will now be 100% Virtual this Year
Join Hospice of Santa Barbara for their 9th Annual Heroes of Hospice, which will now be 100% virtual this year. On Wednesday, September 22nd at 6 p.m., the 9th Annual Heroes of Hospice (HOH) will honor local community heroes with Keynote Speaker and #1 New York Times bestselling author, Elizabeth Gilbert. The program will include honorees, an online auction, and more.
Elizabeth Gilbert is best known for her memoir, Eat Pray Love, famously chronicling the year she spent traveling the world after a shattering divorce. In the years since, people from all walks of life have looked to Gilbert for guidance in leading brave, authentic, and creative lives. Elizabeth's bestselling nonfiction book, Big Magic: Creative Living Beyond Fear, unpacks her own generative process and shares her wise, witty insights into the mysteries of curiosity and inspiration. Written in Elizabeth's charming and conversational voice, Big Magic underscores Elizabeth's status as a mentor for spiritual seekers and introspective explorers. In her presentation, Elizabeth will share how to discover creativity, release fear, and become more resilient, especially during this tumultuous time of COVID-19 and our re-entry back to "normal" life.  
HONOREES INCLUDE:
GARY SIMPSON – LEGACY AWARD
VAN DO-REYNOSO, MPH, PhD – MEDICAL AWARD
MI VIDA, MI VOZ – PARTNERSHIP AWARD
BELOVED BEAR PROGRAM – VOLUNTEER AWARD
To learn more and register, please visit: https://www.hospiceofsb.org/heroes
Date: Wednesday, September 22
Time: 6:00 pm
Ticket Information: $50
Link: https://www.hospiceofsb.org/heroes