Boot Camp at Alameda East Park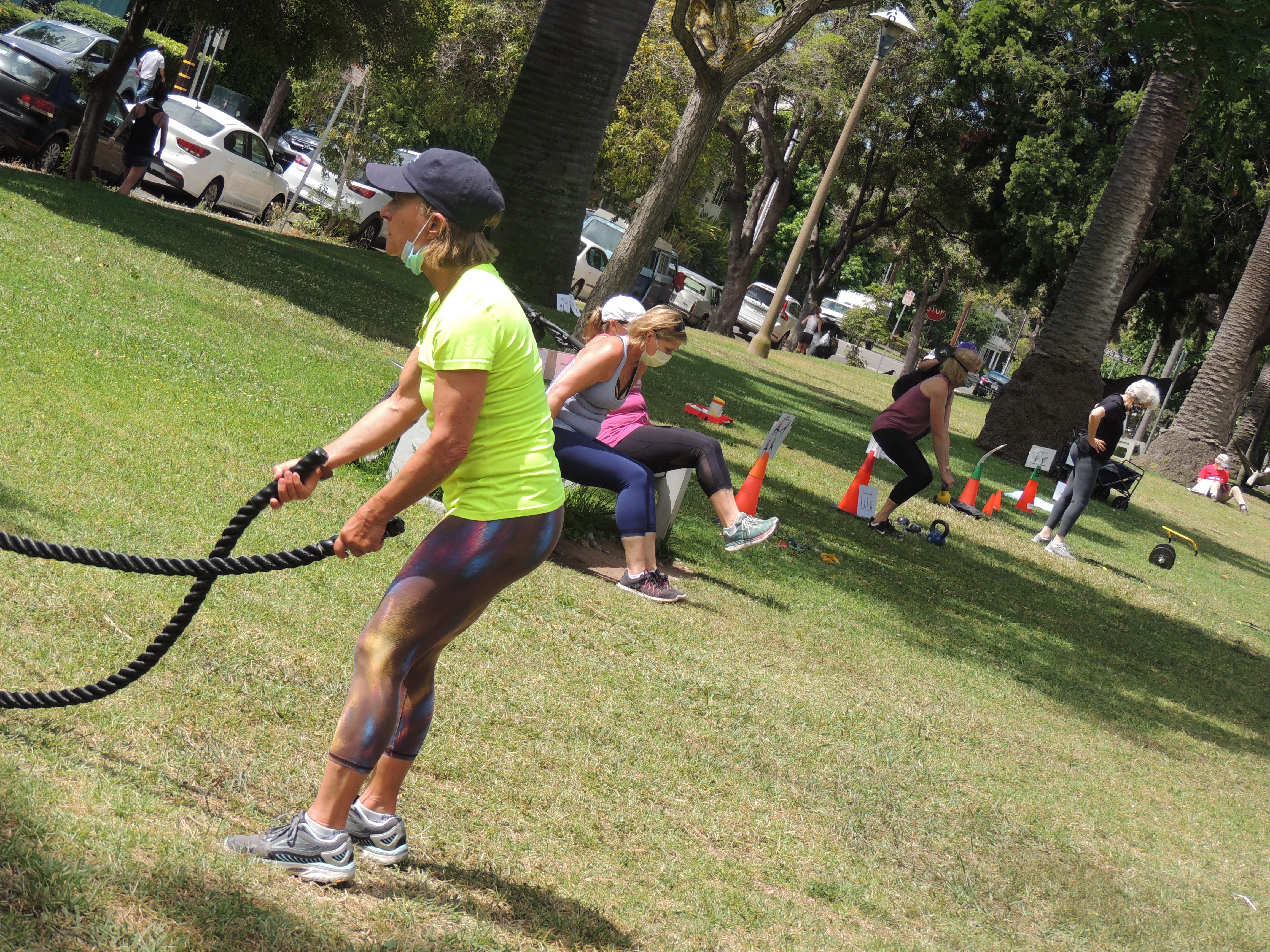 Health & Wellness
Outdoors & Recreation
Alameda Park
**Events may have been canceled or postponed. Please contact the venue to confirm the event.
Date & Time
Wed, Aug 19 5:00 PM - 6:00 PM
Sat, Aug 22 9:30 AM - 10:30 AM
Mon, Aug 24 5:00 PM - 6:00 PM
Wed, Aug 26 5:00 PM - 6:00 PM
Sat, Aug 29 9:30 AM - 10:30 AM
Address (map)
1400 Garden St, Santa Barbara CA 93101
Fresh air and activity are proven factors for optimizing health—and reducing stress. The fresh-air Boot Camps at Alameda Park East this summer offer you the opportunity to enjoy both. Staged by local fitness professional, Karen Robiscoe of Kardio with Karen, the combination of cardio drills and strength training stations will melt your stress away–and those extra pandemic pounds we're all carrying around, to boot.
The variety of exercise choices makes this a sure bet for every age and fitness level. You'll lift dumbbells & kettlebells, heft medicine balls & master stability balls, thump battle ropes & negotiate hurdles, elevations, and more! Feel like running ladders or jumping rope? No problem. Doing cone drills or a quick lap around the park? That's on deck, too. Joining the instructor in a bun-busting squat routine or round of tabata between weight training intervals are options, too, but however you raise that heart rate, you'll work at your own pace and ability, and at the same time, be inspired to try just a little harder–and go just a little more. Under the sun of lovely Santa Barbara, and the watchful eye of a credentialed Group X instructor, you'll gain muscle, burn fat, and make fast friends with like-minded people–all while having a great time.
A summer only opportunity, the August calendar features evening Boot Camps on: Mondays and Wednesdays at 5:00 pm, and Saturdays at 9:30 am.
Covid-19 cautionary practices in place! Hand sanitizer, gloves, and disinfectant wipes are located strategically throughout class set-up, and social distancing is a snap in the wide open space of Alameda Park East*. Participants are encouraged to bring their own face coverings, but face masks are available on request.
Sold individually for just $15.- per class, pay online at https://www.kardiowithkaren.com & leave your wallet at home. Rather pay as you go? No problem! Cash, and all major credit cards are accepted at the park before class, too. Contact Karen directly at kardiokaren@gmail.com or (805) 335-7662 with any questions.
Special discount for August attendees: bring a friend and pay half-price.
So come on Santa Barbara. Join the fun–disguised as exercise. Exercise your right to enlist today!
*class is held in the southeast quadrant of Alameda Park East, (just down from Kid's World) the corner of Garden & Sola