Mara Connor, Donald Beaman, Emily Wryn, & Jamie Geston with Last Resort Forever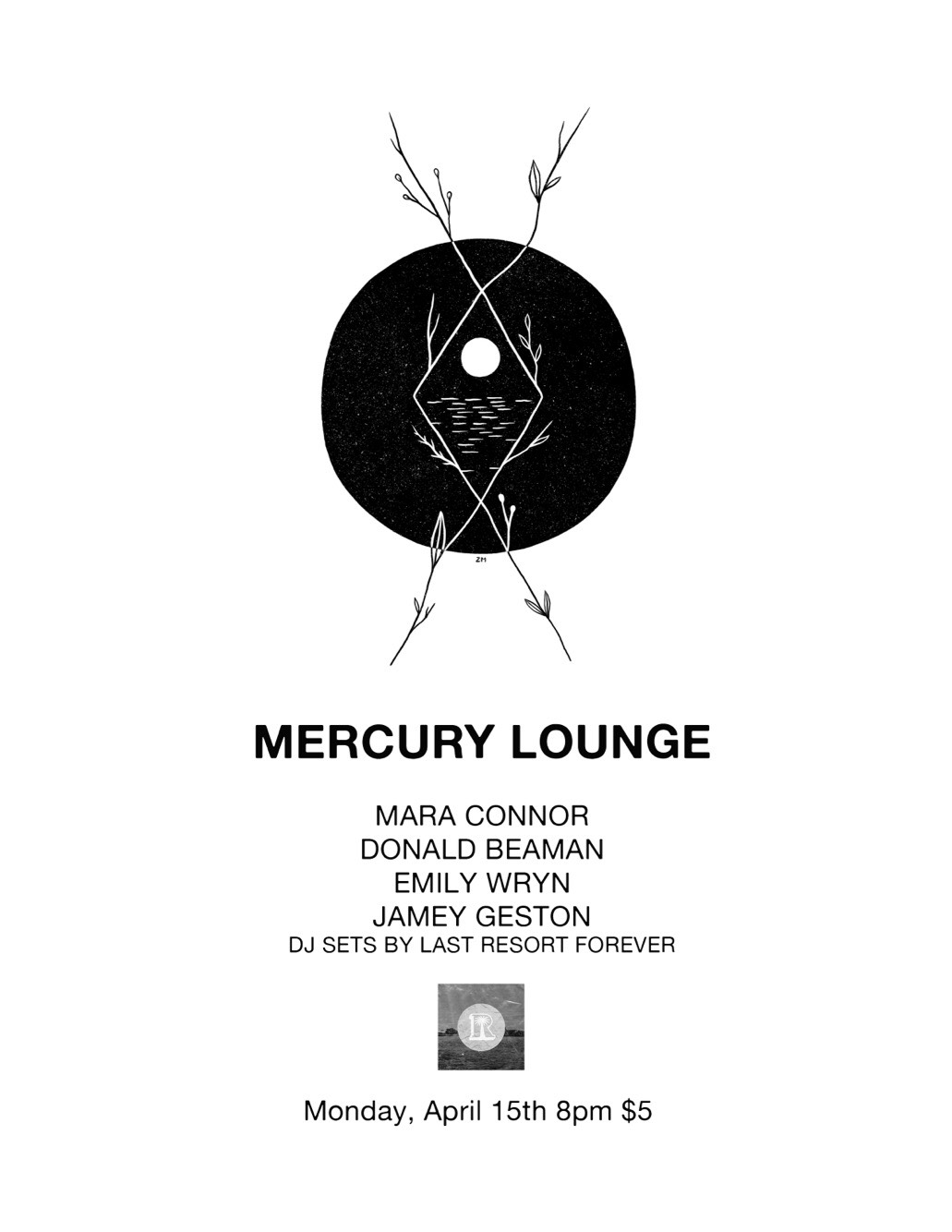 21 and over
Mercury Lounge
ADDRESS (map)
5871 Hollister Ave, Goleta, CA 93117
A night of music from songwriters hailing from up and down the coast with deejay sets by Last Resort Forever
LA native, singer-songwriter Mara Connor just finished recording her debut album to tape in Nashville with Andrija Tokic (producer of Alabama Shakes) featuring duets with Langhorne Slim & Joseph Arthur. "Southern California singer-songwriter Mara Connor pays tribute to her roots with her delightfully bright debut single, 'No Fun.' Connor recorded the track in Nashville, and tinges of country blend seamlessly with Sixties and Seventies beach-pop here. It's a promising sign for this newcomer, and all that retro flavor never stops this song from sounding like right now." — Brittany Spanos, ROLLING STONE   https://youtu.be/q3RuCfjSsG8
Having performed with such wildly varied artists as Six Organs of Admittance, Jonathan Richmond, Guantanamo Baywatch and Tom Brosseau, Donald seems to be perpetually touring up and down the west coast, lucky for us.   He easily bounces back and forth between choogling, dreamy slide guitar and heavy grinding riffs. His pensive and listless vocals are so intimate sounding you feel as though he misses you as he sings,  while he conjures desert sunsets, drifting smoke,  lost dreams,  empty pools, earnest hearts, and forgotten futures.
Emily Wryn is a Santa Barbara County native who has been writing and performing since the tender age of 13. Her early demos were played on Nic Harcourt's Morning Becomes Eclectic, and in 2018 Emily's song "Quiet" was selected by Marissa Lorusso of NPR's Tiny Desk Contest as one of her early favorites. She wrote: "Emily Wryn sings with a poignant weariness that evokes Sharon Van Etten or Angel Olsen. Her [song] "Quiet," recognizes the power old wounds can hold over us, and the bravery it takes to move past them."
Emily's discography includes 2012's EP "Head on Straight" and 2016's full-length album "Feral". Since "Feral", Emily has been writing prolifically, getting in touch with herself and her art on a whole other level. She has been working and recording with Justin Flint of LA based band Amo Amo, and her newest material speaks volumes of her growth.
Her live performances cast a spell of intimate connection, whether they be in small art venues or larger rooms like the Hi-Hat in LA or SOhO  Restaurant & Music Club. Emily is currently planning the release of her new single, "Empire", featuring a music video directed by Sean Pratt.
An independent musician from Santa Barbara, CA, JAMEY GESTON is a singer-songwriter, multi-instrumentalist, (vocals, guitar, bass, piano, ukulele) and visual artist. At ten she started playing guitar, then self-taught piano, ukulele, and bass; at eleven she begin songwriting. The renowned area creator is one of our region's most promising young performers. With her dark twist of earnest lyrics, haunting melodies and harmonies; Jamey represents a new generation of songwriters. Unlike many of today's most interesting recording artists, her music can't be easily categorized, she delivers her own blend of acoustic & electric sounds that create a dreamy, vintage feel with smart nods of current folk-pop that can easily throw you back to the sixties.  Compared to artists like Angel Olsen, Adrianne Lenker, as well as a "young" Joni Mitchell, she writes songs and makes music that paints a picture which can send a message in unconventional ways.
Doors open at 8pm. $5 cover.