Meet a Motor Coach Community Event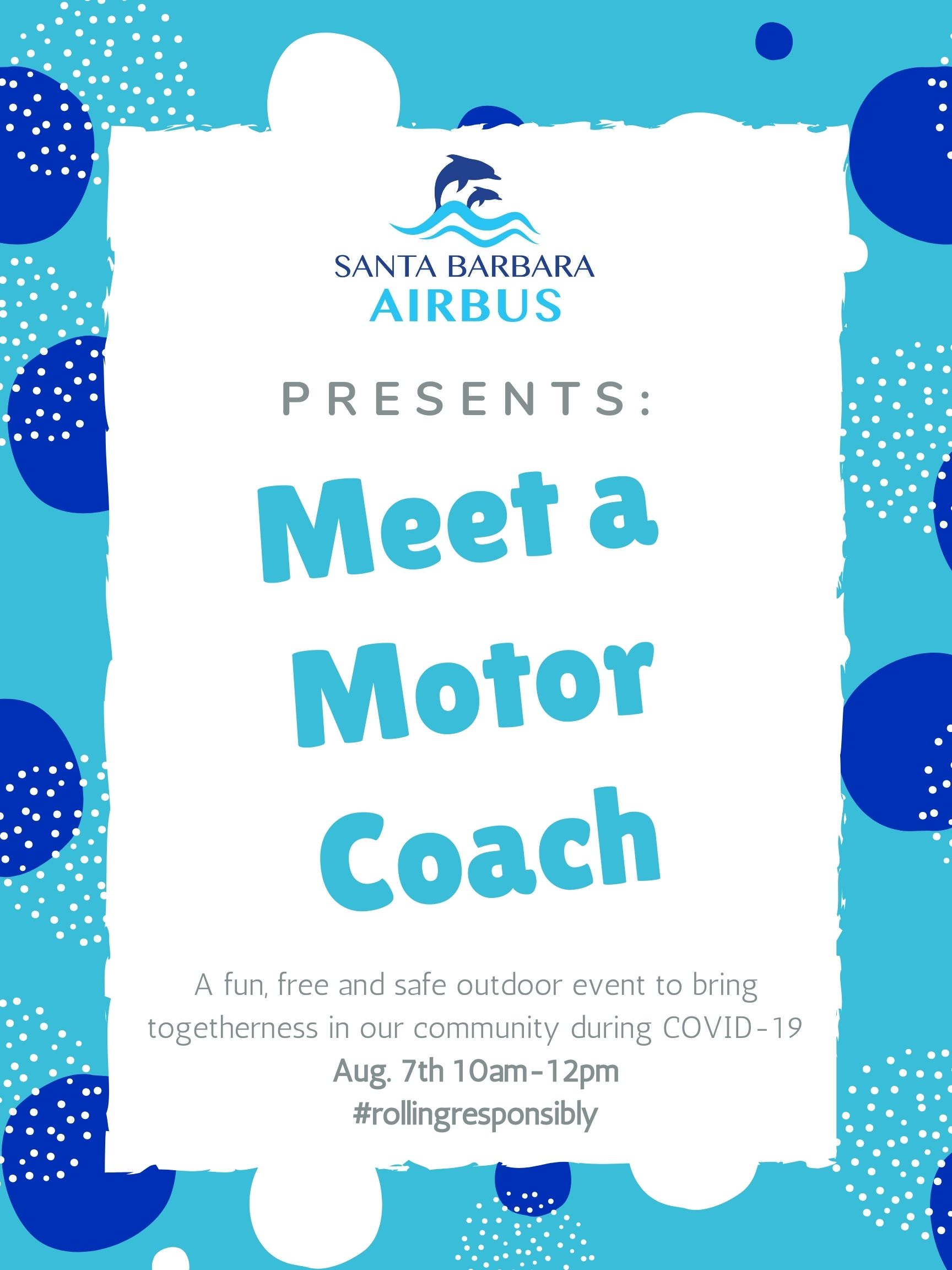 Best Bet
Children & Family
Community
S.B. Airbus
**Events may have been canceled or postponed. Please contact the venue to confirm the event.
Date & Time
Fri, Aug 07 10:00 AM - 12:00 PM
Address (map)
750 Technology Dr., Goleta
Meet a Motor Coach
Community Event
It is with great pleasure and excitement that Santa Barbara Airbus announces, Meet a Motor Coach. A free event open to the public offering private motor coach tours for children and their families. During the tour, little ones will learn about motor coach safety, new COVID-19 rules and guidelines, as well as learn how heavy equipment runs and is maintained. Airbus will have four thoroughly sanitized buses available for touring, Myles the Motor Coach, Barbara the Big Bus, Shelby the Shuttlebus and Marcus the Mini-Coach.
Due to the COVID-19 pandemic, the Santa Barbara Airbus has not operated their local transportation services since March 23, 2020. Now 4 months later, the Santa Barbara Airbus team continues to closely monitor the situation and plan for a safe reopen date. While Airbus is not yet ready to reopen, the team has been actively seeking ways to reconnect safely with their local community. The Meet a Motor Coach event will provide a safe, fun, and educational event for children and families to get out of the house to tour a motor coach and learn all about buses.
Each group will be allowed private time to explore the inside and outside of the bus. The buses are anxiously awaiting your arrival so lace your boots, grab a mask, and reserve a tour by contacting the Santa Barbara Airbus office at (805) 964-7759. For more information check out their website at www.sbairbus.com.
Santa Barbara Airbus hopes to continue the Meet a Motor Coach event as a four-part series through the month of August that showcases their motor coaches and other heavy equipment vehicles operating within the local community. If you are a local business that operates heavy equipment and want to participate in the August series, please contact Samantha Onnen to learn more.