Solarize SB: Residential Solar and Battery Storage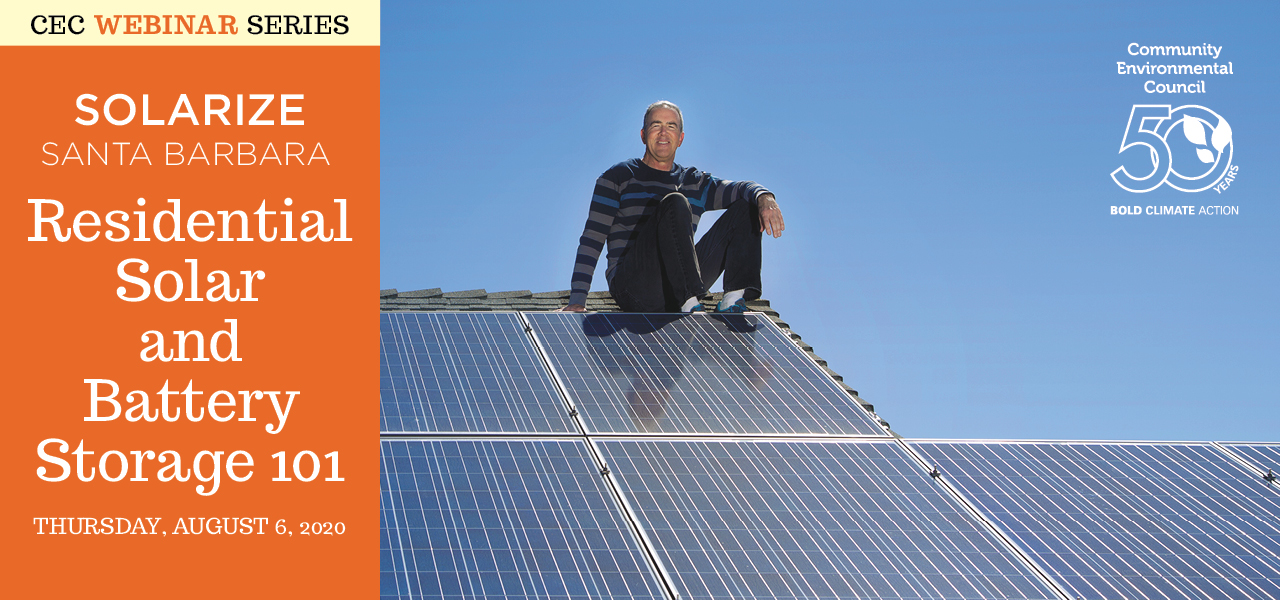 Environment
Webinar
**Events may have been canceled or postponed. Please contact the venue to confirm the event.
Date & Time
Thu, Aug 06 12:00 PM - 1:00 PM
Many of us are spending more time at home during the coronavirus pandemic, so it's no surprise that home improvement projects are booming. If you've considered adding home solar or battery systems in the past, now may be the perfect time to take the leap.
Please join us to learn how CEC's Solarize Santa Barbara makes it easier and more affordable to go solar, add home battery storage, or both.

This webinar includes:
> Basics of adding solar panels to your residence
> Benefits and basics of also adding solar-paired battery storage systems
> Incentives, tax credits, and other financial considerations for going solar
> The Solarize program's discounted prices, vetted installers and equipment
> Q&A with speakers and installers to get your questions answered
Given the economic uncertainties that lie ahead, there is no better time to harness the power of the sun to protect your pocketbook – and the environment.
The 2020 CEC Solarize Santa Barbara program is open July 28 – October 31 to residents in Southern Santa Barbara County. CEC's Solarize has helped over 800 Central Coast homeowners go solar, working toward a future where 100% of the electricity that powers our homes, businesses, and cars is generated from clean, renewable, and local sources.
CEC's Solarize Santa Barbara is offered in partnership with the cities of Santa Barbara, Carpinteria and Goleta, and the County of Santa Barbara.
SPEAKERS
>April Price – Renewable Energy Program Senior Manager, Community Environmental Council
>Katie Davis – Chair, Sierra Club Los Padres Chapter
>Our vetted local solar companies: Brighten Solar, California Solar Electric, and Sun Pacific Solar