Suburbanoid Sound Bath Meditation on the Beach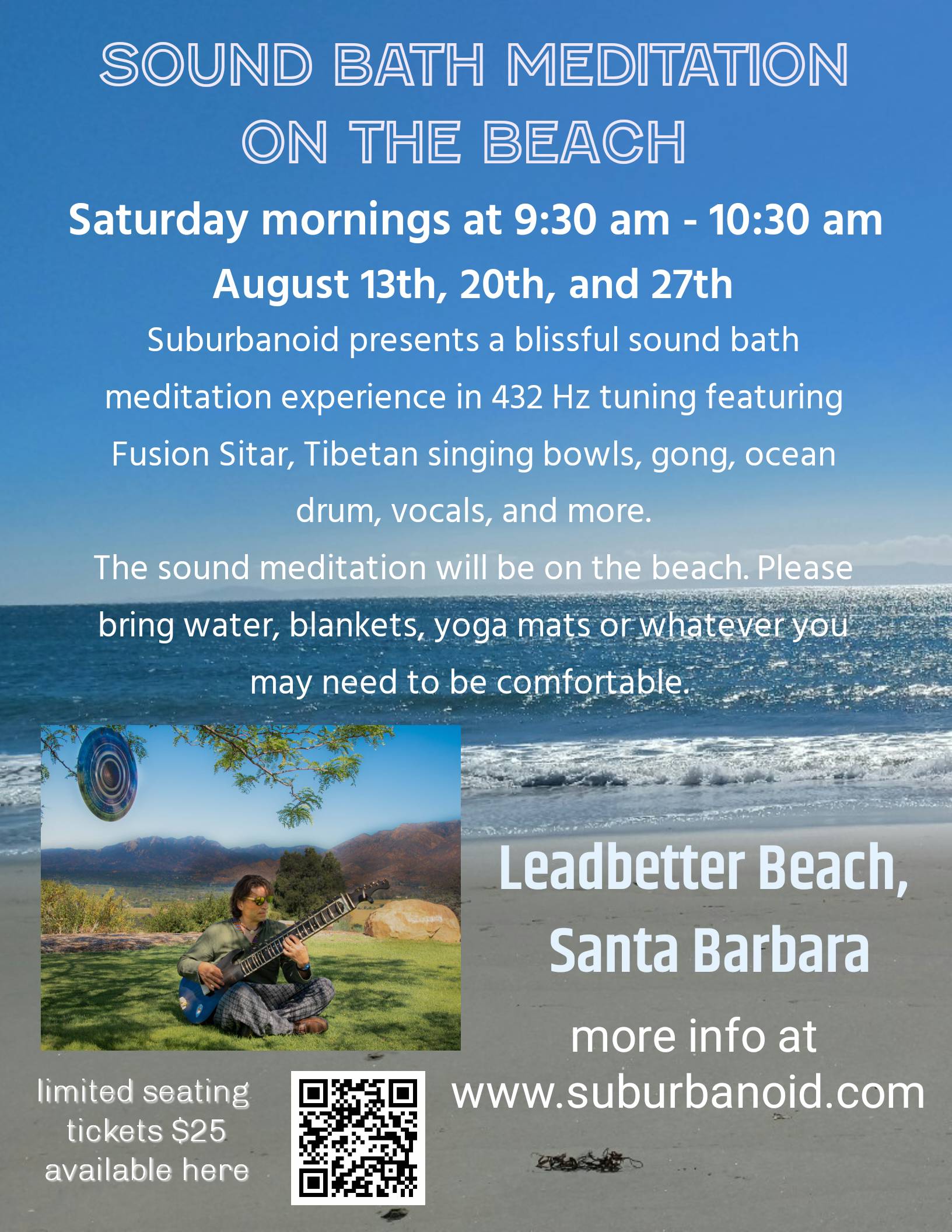 Health & Wellness
Leadbetter Beach
**Events may have been canceled or postponed. Please contact the venue to confirm the event.
Date & Time
Sat, Aug 13 9:30 AM - 10:30 AM
Sat, Aug 20 9:30 AM - 10:30 AM
Sat, Aug 27 9:30 AM - 10:30 AM
Address (map)
801 Shoreline Dr, Santa Barbara, CA 93109
 Sound Bath Meditation with Suburbanoid on the Beach
Saturday mornings August 13, 20 and 27 at 9:30 am – 10:30 am.
Leadbetter Beach, Santa Barbara
Relax, recenter and rejuvenate at the Beach with Suburbanoid Sound Bath Meditation. A blissful sound bath meditation experience featuring:
Fusion Sitar, Tibetan singing bowls, gong, chimes, sound drones, vocals and more.
Music and sound help with meditation and concentration by focusing the mind.
It can help to create positive vibrations and ease one into a state of deep relaxation. This allows the body, mind, and spirit to rejuvenate.
This event is intended to help people take a moment, relax, meditate, and find some peacefulness to bring and share in their upcoming week.
The meditation is at the beach, on the sand. Please feel free to bring yoga mats or blankets, or whatever you may need to get comfortable.
Tickets are $25 and available (limited seating) at www.suburbanoid.com and Eventbrite.
"The best way to get into the meditative state is to begin by listening" –  Alan Watts