Virtual Author Discussion with Gretel Ehrlich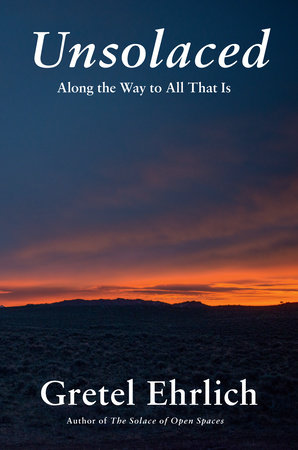 Best Bet
Books
Discussion/Lecture/Panel/Q&A/Talk
Virtual
Virtual
**Events may have been canceled or postponed. Please contact the venue to confirm the event.
Date & Time
Tue, Jan 26 7:00 PM - 8:00 PM
On January 26, Chaucer's Books welcomes back author Gretel Ehrlich in a virtual discussion with Jane Hirschfield on Tuesday, January 26 at 7 pm.
Click here for the event link:
https://www.chaucersbooks.com/event/virtual-author-discussion-gretel-ehrlich-conversation-jane-hirshfield
UNSOLACED Along the Way to All That Is
From the author of the enduring classic The Solace of Open Spaces, here is a wondrous meditation on how water, light, wind, mountain, bird, and horse have shaped her life and her understanding of a world besieged by a climate crisis.
Amid species extinctions and disintegrating ice sheets, this stunning collection of memories, observations, and narratives is acute and lyrical, Whitmanesque in breadth, and as elegant as a Japanese teahouse. "Sentience and sunderance," Ehrlich writes. "How we know what we know, who teaches us, how easy it is to lose it all." As if to stave off impending loss, she embarks on strenuous adventures to Greenland, Africa, Kosovo, Japan, and an uninhabited Alaskan island, always returning to her simple Wyoming cabin at the foot of the mountains and the trail that leads into the heart of them.
GRETEL EHRLICH is the author of Facing the Wave, The Future of Ice, Heart Mountain, The Solace of Open Spaces, and This Cold Heaven, among other works of nonfiction, fiction, and poetry. Ehrlich studied at Bennington College and UCLA film school. She divides her time between Montana and Hawaii.