Virtual Book Talk for a 2015 Indy Local Hero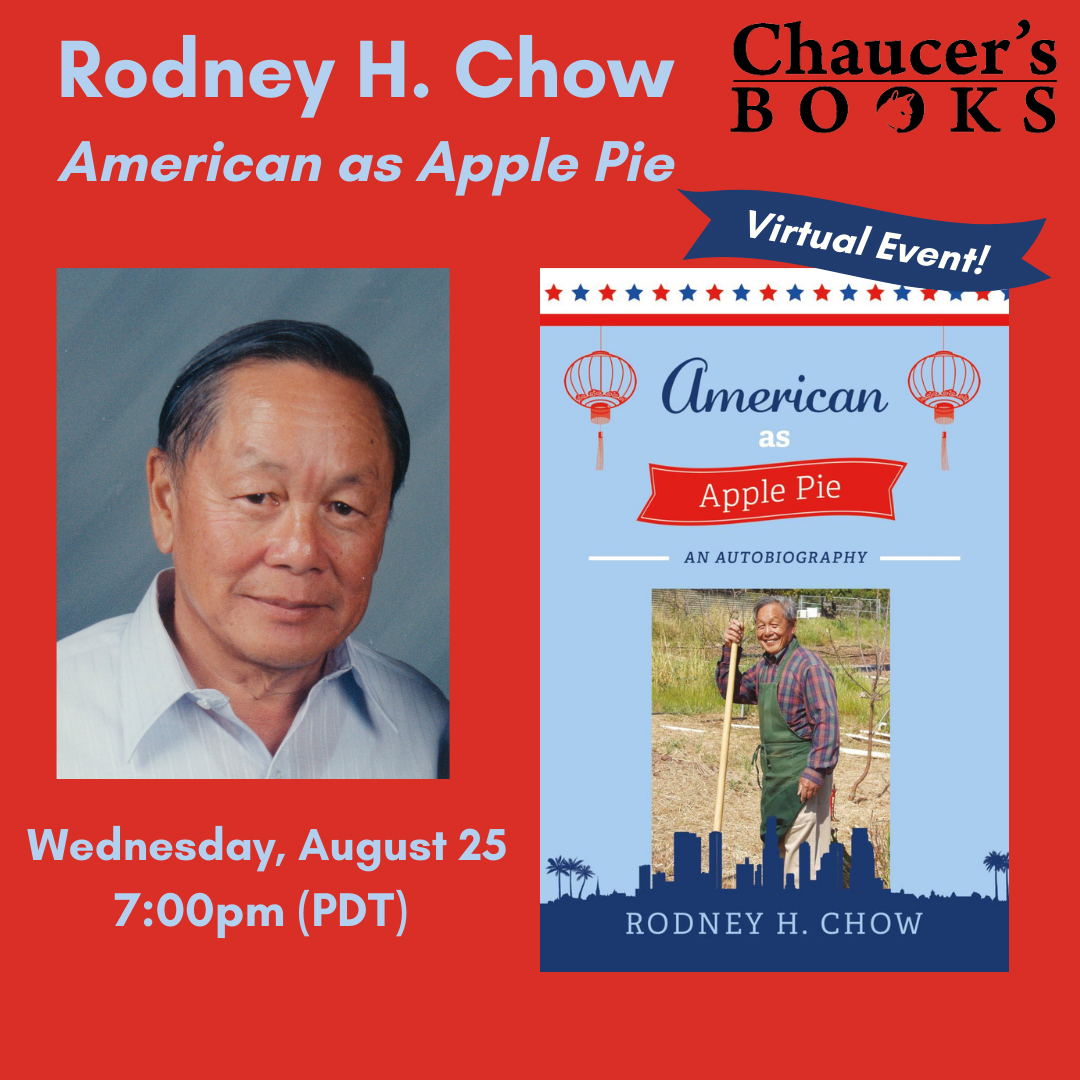 Best Bet
Books
Discussion
Discussion/Lecture/Panel/Q&A/Talk
Virtual
Virtual
**Events may have been canceled or postponed. Please contact the venue to confirm the event.
Date & Time
Wed, Aug 25 7:00 PM - 8:00 PM
Address (map)
3321 State Street Santa Barbara, CA 93105
Please join Chaucer's Books for a virtual event featuring local farmer and 2015 Santa Barbara Independent Local Hero Rodney Chow as he talks about his recently published memoir AMERICAN AS APPLE PIE on Wednesday, August 25 at 7 p.m.
American As Apple Pie is a story of becoming American. It is told as I lived it, beginning as a child in a minority neighborhood of different ethnic backgrounds. I wrote this story of my life and experience, coming from a culture different from the majority. This story is intended to take you with me to witness my life journey. I wrote it objectively, with straight talk and some humor, along with some emotions to help you understand that deep in the hearts of a minority we want to be accepted as part of mainstream America. This journey was a learning one, where values slowly evolved. During that trip, I chose to concentrate on the good side of those I met, not because of convenience, but because the bad side has no benefit and only perpetuates misunderstandings. I had a choice and that choice opened doors of opportunities for me to become a part of the American dream.
Rodney H. Chow was born in San Francisco, California in 1929. He is a descendant of early Chinese immigrants that came to Oregon about 1812. His great grandfather came to California in the 1860s and worked as one of the laborers that built the transcontinental railroad over the Sierra Nevada Mountains. His family left Locke, California after losing everything in the Great Depression and arrived in Los Angeles around 1930 where this story begins.