Since teaming up in their hometown of Calabasas in 1991, high school buddies Brandon Boyd, Mike Einziger, and Jose Pasillas have devoted themselves to being the steadfast voice, rhythm, and backbeat to Incubus's larger-than-life sound. And with the addition of turntablist Chris Kilmore (who joined the group in 1998) and bassist Ben Kenney (who replaced Dirk Lance in 2003), that sound now seems stronger than ever.
A veritable band of brothers, the five musicians have crafted some of the most forward-thinking and experimental radio-friendly rock of their time, proving all the while that alt-metal can prosper within the mainstream-and attract the attention of millions. Yet following the multi-platinum success of 2006's Light Grenades-and the nearly two years worth of touring in support of it-the quintet amicably decided to take a step back from their rock-star lifestyles. Einziger ventured off to Harvard to pursue music theory; Boyd embraced his passion for visual art by heading back to school and scoring his first solo exhibition; Pasillas welcomed his first child and took up jazz; Killmore and Kenney hit the road together in support of the latter's solo efforts. And unlike so many of their alt-rock contemporaries, the hiatus proved to be just that-a short-but-sweet break for a group of friends who feel destined to make music together.
"We work really well as a group, and how we work well is just getting together and writing," said Pasillas recently from his home in Calabasas. "I think all of the schooling and all of us doing our own thing for the past year will just-it's helped us grow as individuals and as musicians. : I think when we sit down and write a record, it's just going to help us in a very general sense. I think it's all positive stuff for us to go out, do our own thing, then come back together as a group, get out of that tunnel vision for a little bit."
Outside of the tunnel, Pasillas and his bandmates have managed to keep plenty busy. The 33-year-old drummer is very much playing the role of proud papa nowadays, having welcomed daughter Frankie Rose into the world in late 2008. "Being a father, that's a full-time job," Pasillas gushed. "The first couple of years they grow so quickly, so I've been able to be here for some of that time, which has been awesome; that coupled with playing music. I'm still playing my drums-I take drum lessons. I take guitar lessons. I'm just doing stuff that I love to do. I'm still drawing, still doing my artwork, and everything that I love to do-that I'm lucky to do. It's been really cool …"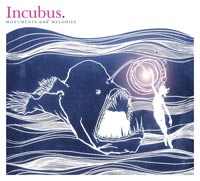 The time away definitely seems to have paid off, as the band is currently gearing up to release their first album in more than three years, a highly anticipated double disk that's part greatest-hits album, part b-sides, and part new material (which Pasillas eagerly describes as "just a taste of what's to come"). The collection, aptly dubbed Monuments and Melodies, will also be accompanied by a two-month, cross-country tour with openers The Duke Spirit, a tour which makes its Santa Barbara stop this Friday night at the Bowl. It's certainly no small feat for a band that started off as little more than a high school jam sesh, but Pasillas is less inclined to wax poetical about Incubus' grand achievements.
"It seemed like a good time for us [to put out a greatest hits album]," he noted. "We've been on the road for so many years, and we've had such great success with radio. Radio stations across the world have been so supportive of all our singles, so we have 13 Top 10 or Top 20 singles. It was just sort of time, and we didn't really write a record this year, so : It sort of just made sense, so we ran with it, put it together, and put it out."
For longtime Incubus followers, the shows are also primed to incorporate some of the band's older, more obscure tunes. "It's always kind of tough because we have such a stock of music and a lot of singles," Pasillas explained of the new set list. "We can't possibly play every single and we can't play every song from every record, so [you end up with] a good mix and match. That's always a tough one for us to do, but when we rehearse before a tour, we're practicing all of them. We tend to switch songs out from night to night, so we'll see what this one comes up to be. It will be 20 songs off of five or six different records."
No matter what makes the cut, there's no doubt the fans will be out in full force. And for Incubus, that's often what it all comes back to. "We're just excited to get out there and play," Pasillas exclaimed. "We're really itching to play music together again-at least I am-so that's pretty much it. We're counting the days."
4•1•1
Incubus plays the Santa Barbara Bowl with The Duke Spirit this Friday, July 10, at 7 p.m. Call 962-7411 or visit sbbowl.com for tickets and info.