Giant waves were on the way, and Ben Andrews was going through the checklist in his head. His surfboard and wet suit were ready, plus an extra leash if a particularly powerful wipeout snapped the only tether between himself and the buoyant safety of his board. He also half-promised himself to hit the sack early, stretch in the morning, and breakfast on eggs, yogurt, and walnuts. Mentally, he figured it'd be just another day surfing his favorite big-wave point break in Half Moon Bay, a wave called Maverick's, where he'd maintained a steady and increasingly standout presence since riding it for the first time a dozen winters ago. "I'm pretty much always ready to go," Andrews said. "The trick can be getting time off work." Fortunately, a coworker at the nearby marina, where Andrews was a deputy harbormaster, offered to swap shifts. Everything was set.
Meanwhile, 2,000 miles away, hurricane-force winds howled across the Gulf of Alaska, generating a towering swell that would undulate toward Maverick's at 25 mph. Three days later, on Wednesday, November 9, 2016, Andrews ​— ​a born-and-raised Santa Barbara surfer who started out on an old beater fished from a dumpster ​— ​rode a 53-foot wave at Northern California's deadliest spot, earning him $50,000 and much-deserved honor in the upper echelons of big-wave surfing.
On that "nice and sunny" morning, as Andrews remembered it, he pulled into the parking lot around 10, timing his session as wave shape improved with the outgoing tide. He suited up and power walked with friends Kohl Christensen, Ben Wilkinson, and Grant Washburn just northward of the break. With biblical thunderclaps, the heaving waves far outside detonated monstrously against the subtidal reef. The four men waited for a lull before jumping from a rocky shelf into the violently swirling whitewash. "You have to time it just right, or a wave will wash you back into the rocks, and that'll ruin your day," Andrews said. "It's pretty hectic."
After a 20-minute paddle ​— ​during which they had to abandon their boards five or six times to dive under rumbling mountains of whitewater ​— ​they made it to the takeoff spot, what surfers call the lineup, nearly a quarter mile offshore. About 50 surfers were in the water, and at least a dozen support vessels, from Jet Skis mounted by rescue watermen to charter boats loaded with photographers. It was the day after Donald Trump became president, but Andrews doesn't remember anybody injecting the heady scene with political commentary. "We were too busy keeping our eye on the horizon," he said.
In the dangerous pursuit of riding big waves, any distraction can mean the difference between life and death. For Andrews, 40, taking on giant waves with regularity was like learning to surf all over again. "It's technically very challenging," he explained. "You have to harness the energy of this huge wall of moving water that could kill you and finesse the board through the water, almost like a ballet dance, staying light on your feet to deal with any bumps along the face of the wave ​— ​because you really don't want to fall."
Grom Stoke
Andrews's big-wave focus grew from a foundation built during his formative years dedicated to Santa Barbara's relatively smaller surf. He caught his first wave at Hammond's when he was 11, on a seven-foot Channel Islands single-fin his big brother Blake spotted sticking out of a dumpster. "Who knew it would go this far?" said Blake, now 47, who runs Presidio Commercial Real Estate in Santa Barbara. Growing up, he remembers little Ben playing tennis and basketball, "but once he got a taste of surfing, everything revolved around the ocean." Their mother, Gail, remembered having a hard time keeping the boys at the dinner table whenever the waves were up, adding, "But I loved and admired their passion." When he was 15, Ben got a cheap aluminum skiff, which he'd launch from the beach at Gaviota for surf missions deeper west toward Point Conception, "where I got a taste of the bigger juice," he said. "Ben was always full of energy and a sense of adventure," Elizabeth, his sister, said, fondly remembering pennies on the railroad tracks and chocolate shakes from the old Miramar Hotel. "He was a really fun kid."
Andrews surfed the Rincon Classic a handful of times and, if memory serves, made the finals twice. Reflecting now, he brings up the stark contrast between his Santa Barbara surf path and today's media-driven spectacle of competitive surfing: "The people I looked up to had a real humble, let-your-surfing-do-the-talking vibe. They just surfed really well and never tooted their own horn. These days it's been sort of awkward for me because surfers are already posting their good waves on Instagram before they even get out of the water. I learned to be humble about my surfing, and I try to hold onto those older values and inspirations." (Andrews's Instagram account has just one post, dated February 11, 2015.)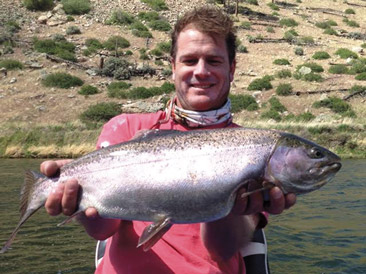 Andrews attended Crane Country Day School and graduated from Santa Barbara High School, where he kept his grades up and sang tenor with the Madrigal Singers. He said he learned a lot about discipline from Phyllis Zimmerman, then the group's director. He also played drums in a heavy metal outfit, just for kicks. After high school, he concentrated on fisheries biology, with a minor in economics, earning a degree from Cal Poly, San Luis Obispo in 2002. A few years later, he moved to the Bay Area. That's when his old friend Gabe Venturelli arranged a special mission.
"We both had that childhood dream of scoring Maverick's," Venturelli said. "I finally got the boards and the balls, and it all came together. We each got a handful of waves ​— ​40-foot faces. When you've been surfing your whole life and you're finally out there [at Maverick's] ​— ​even if you're scared shitless ​— ​you're going to go for it. We were both going full force that day."
Since then, Andrews has made a point of surfing Maverick's as much as possible, paddling out alone and gaining respect among the old guard over the years. He's had his fair share of scares: a torn ACL, wave hold-downs that had him seeing stars. Unlike many big-wave hellmen, Andrews doesn't train like a soldier, doesn't jump the red-eye to Hawai'i or Mexico to meet monster swells, and doesn't even exude an over-the-top machismo. "I do have a competitive edge in me," he said. "I mean, I very much want to win at Ping-Pong. But I'm not out trying to win big-wave awards. That's totally not me. I just surf, and I'm on the ocean all the time. I think that familiarity plays in my favor." It doesn't hurt, either, that he stays in shape lugging around 80-pound traps while commercial fishing for Dungeness crab, aside from his full-time Bay Area harbormaster job.
The Wave
When surfers say Maverick's is deadly, they mean it literally. In 1994, a sizable but not giant Maverick's wave drowned living big-wave legend Mark Foo, who had flown in from his native Hawai'i for his first-ever experience with the cold-water beast. Then in 2011, Maverick's claimed 35-year-old Sion Milosky, also from Hawai'i and regarded among the very best big-wave surfers on the planet. Andrews had met him a few nights before at the Half Moon Bay pub where all the surfers hung out, and they had chatted for a while. Two days later, when Andrews paddled into the lineup, a smiling Milosky greeted him like an old friend. "I hooted for Sion as he took off on his last wave," remembered Andrews, who didn't realize what had happened until he made his way to the beach 30 minutes later. He saw rescuers, who had pulled Milosky from the 53-degree water, administering CPR. Andrews knelt down beside the body and began rubbing his chest and speaking into his ear, encouraging him to come back, but Milosky was gone.
"Sometimes I think Sion is part of the reason for some of the waves I've caught," Andrews said. "He's up there cheering me on."
Indeed, a force of nature shone brightly on Andrews that morning last November. "That day was really rogue," he remembered, "just waves all over the place and tons of people out." Andrews caught a smaller one almost off the bat, just to get the blood pumping. Then about 40 minutes later, an especially big lump appeared on the horizon. Andrews could see it a mile off, and as it approached, he wasn't sure if he was in the right spot to catch it clean. But when it swung a bit wider, he found himself in the direct path of the bull. "It was a gamble," he said. "I knew it could turn out to be the worst wipeout of my life, but I thought, 'Well, I gotta go for it and just commit.'"
That's precisely what he did, digging hard strokes before popping to his feet as the mountain of cold ocean jacked up vertically, sending him airborne for a split second during the long slide down the wave face. After a few turns in good form, Andrews rode the wave's diminished shoulder to safety. The whole ride lasted about 20 seconds, imbuing Andrews with a singular elation ​— ​part stoke, part humility. "When I catch a wave like that, it's such a bigger thing than just me," he said. "Everything's coming together, and for some reason, I was in that little piece of ocean and able to catch it. It was just an awesome experience, like a gift from somebody I've lost in my life or that feeling of being closer to God, I guess."
It also earned him that cool 50 grand ​— ​$20,000 for winning the World Surf League's Big Wave Award for Biggest Paddle (for catching a wave the old-fashioned way, as opposed to being towed in by a Jet Ski) and $30,000 for runner-up in the Ride of the Year category. The worldwide contest is a yearlong event where videos and photos of standout waves are submitted. A panel of surf photographers and editors, past winners, and living legends select a handful of nominees. While categories such as the best tube or worst wipeout are judged subjectively, Andrews's Biggest Paddle win was determined by carefully measuring the wave's size, accounting for camera angle, lens distortion, and Andrews's height while crouched in position. His wave was calculated at 53 feet tall. No other contestant had successfully ridden a wave that size. Andrews won unambiguously ​— ​hands down.
The whole family and a grip of good buddies accompanied Andrews to the awards ceremony, held this year on April 29 in Huntington Beach. "It was like the Academy Awards," remembered Andrews's dad, Robert, a lawyer in Santa Barbara for the past 50 years. "There was the red carpet and the whole nine yards. And when they opened the envelope and called his name, we all jumped up screaming."
Back to Work
After that big one, Andrews paddled back to his spot and waited patiently for another. Dozens of waves plowed through, but between the crowd and his own highly tuned wave preference, Andrews stayed put. After a few more hours, he called it a day, catching a smaller one part way in, then paddling for shore. On the way, a wall of whitewater overtook him, snapped his leash, and carried his board toward the beach. He swam the rest of the way. Near the harbor mouth, he retrieved his board ​— ​a nine-foot, six-inch "gun," shaped by Randy Cone, a Goleta native now living in the Santa Cruz Mountains ​— ​it was remarkably unscathed.
Andrews headed home to get cleaned up and wolf down some calories before work. He showed up 10 minutes early for his 5 p.m.-3 a.m. shift, still very much buzzing and glowing, grateful for the day he just had in the water and for the generous shift-swap offered up by his coworker. "I owe him one," he thought.