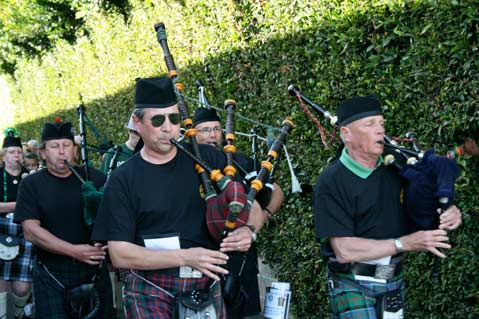 Moods were high and shirts were green. And the stroll was a wild success.
Due to the popularity of last year's "Santa Barbara's First Ever St. Paddy's Day Stoll," The Independent embarked on "Santa Barbara's Second Ever St. Paddy's Day Stroll" in the late afternoon of Tuesday, March 17. Using its West Figueroa offices as a rallying point, The Independent staff began its celebrated march down State Street to the delight of those lucky enough to witness such an unbridled yet tasteful celebration. The crowd was noticeably larger than last year – some estimates top 100 revelers, including staffers, columnists, freelancers, everyone's friends and family, and even some sporadic add-ons – and featured banners, bagpipers, and a fiddler.
As children squealed with delight and adults cheered in support, the entourage made its way down State Street before turning around at Haley Street and making its way back toward the offices via the same route. During the down-State leg, the troupe of six bagpipers blazed a trail of traditional Irish tune and, on the return journey, the Irish fiddler guided the group home. As happened last year, the crowd dwindled on the up-State leg, as strollers ventured into the bars and restaurants of their choosing; both State & A, which hosted the band Foggy Dew, and SOhO, which was entertained by Spencer and The Worried Lads, turned out to be popular destinations, in part due to the overwhelming crowding of State Street's traditional Irish bars.
Editor-in-chief Marianne Partridge, like last year, led the way and encouraged those she passed to join in the festivities. She was also responsible for initially stoking the fires of St. Paddy spirit as well as rallying The Indy troops at the end of the workday. Commenting on the stroll, Partridge said, "It exceeded our expectations. It's clear that Santa Barbara wants to show their Irish spirit as well as the spirit of independence. We're proud to bring this celebration to Santa Barbara, and next year we'll be even bigger."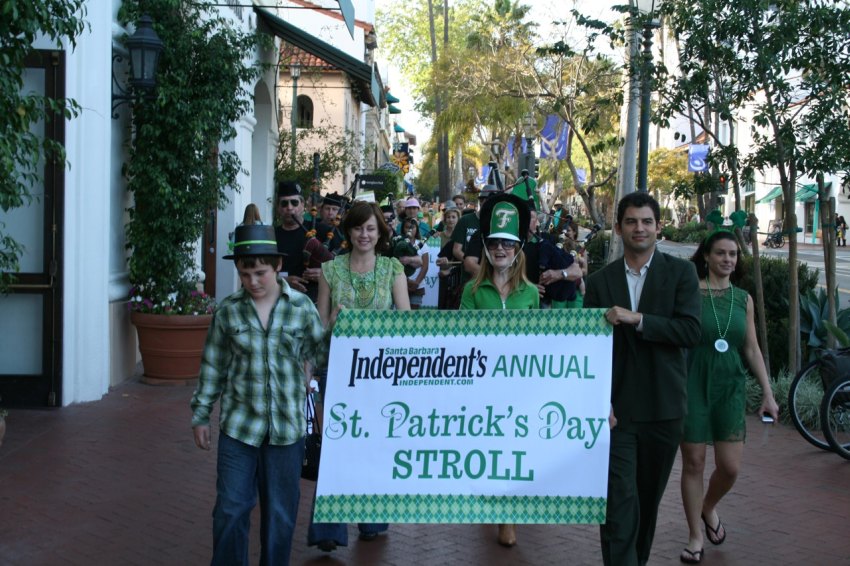 People walking along the sidewalks and driving in their cars couldn't help but appreciate the enthusiasm of The Indy group. The stroll was such a draw that City Councilmember Das Williams even joined in on the action – he held the stroll's front banner and led the way down most of State Street's city blocks.
Unsurprisingly, plans are already in the works for next year's stroll.