Nearly two hundred activists marched up State Street Thursday night loudly calling for the passage of a single-payer healthcare system in California so every resident-not just those who can afford to pay-has access to care. Meanwhile, 400 miles north in the State Legislature, lawmakers were finishing up approving two major healthcare measures, one in the Senate and one in the Assembly, which would substantially alter how health insurance is bought and sold here and extend coverage to most of the 6.5 million uninsured residents now relying on hospital emergency rooms.
Although the chances that the single-payer legislation favored by Thursday's activists-State Senator Sheila Kuehl's SB 840-will ever get a signature from the Governor are just shy of nil, there was a sense of possibility in the air anyway, as marchers reached the historic courthouse's sunken gardens for speeches; their bill was approved in the State Senate the previous day. "This is not a partisan issue," said Peter Conn, chair of Santa Barbara's Chapter of Health Care for All (HCA), which organized and sponsored the rally. "Republicans get sick. Independents get sick. This is something we have to do for everybody or it's not going to be there for anybody."
HCA began working behind the scenes in Sacramento ten years ago to establish a model of healthcare here similar to Medicare, the federal health insurance program for the elderly and disabled. With one central payer and administrator and an extraneous role for private insurers, savings from the overhead and marketing of hundreds of health plans currently sold to Californians would be funneled into care, HCA officials said. (Analysts estimate insurance companies spend 30 cents of every premium dollar on overhead.) The rest of the funding would come from state and federal Medicaid spending, county health clinic funds and income and payroll taxes. Physicians and hospitals would remain in private hands.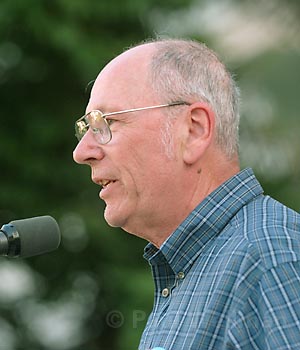 By Paul Wellman