In the ever roiling oil wars, the Santa Barbara County Board of Supervisors' August 26 vote to ask Governor Arnold Schwarzenegger to open up the coast to new oil exploration and development marked a dramatic turnaround of historic proportions, especially considering Santa Barbara's experience with the 1969 oil spill. Media powerhouses such as the Wall Street Journal and National Public Radio covered the event with considerable gravity, describing the board's action as a seismic shift in public attitude at a time when escalating gas prices have put the Congressional moratorium on new oil development in federal waters off the coast under intense attack.
But the facts suggest that whatever reversal the supervisors sought to undertake last week will prove exceptionally short-lived. Regardless of who wins the battle to be the next 3rd District supervisor in November - Steve Pappas or Doreen Farr - a majority of the new Board of Supervisors will favor rescinding the letter just sent to Governor Schwarzenegger.
Photo Gallery
1969 Oil Spill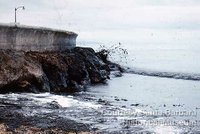 Pappas, a Santa Ynez activist backed by strong property rights interests, Chumash Casino critics, and neighborhood preservationists, stated, "If elected, I would retract the letter to the Governor and bring the issue back to the board to be vetted and re-addressed." Pappas said there are circumstances that might justify lifting the moratorium on new offshore oil development, but said he'd consider doing so only under extreme circumstances and with ample environmental protections and safeguards. He said the supervisors' action Tuesday failed on those two fronts, and also charged that the draft letter to the governor was sprung on supervisors Janet Wolf and Joe Centeno at the last minute, as well as members of the public.
Farr, who has been strongly endorsed by Santa Barbara's environmental establishment, was not available for comment. But people close to her claim that she would move quickly to rescind the supervisors' letter to Schwarzenegger.
Farr and Pappas are running to fill the seat being left vacant by Supervisor Brooks Firestone, who announced he would not seek re-election. Since then, Firestone has gloried in his role as a proverbial "lame duck," and it was he - more than any other supervisor - who led the charge for the supervisors to go on record against the moratorium. Firestone has predicted that the federal government will declare an emergency in response to rising oil prices and effectively usurp any authority over offshore oil development now wielded by local governments. It would be better, Firestone argued, for the locals to open up the coast to new drilling on their own - when the county might still be able to exert some environmental protection. By doing so, he said, the county might also be able to negotiate a slice of the federal oil royalties that to date it has never shared in and for which no legal authority currently exists.
Santa Barbara environmentalists have roundly condemned the supervisors' vote, and supervisors Wolf and Salud Carbajal have drafted a dissenting letter to send to Schwarzenegger arguing the moratorium should be kept in place.