People buy the darnedest things for Christmas, as a recent Weird S.B. column on pink tinsel designer trees and customized postage stamps for Goths, among other things, can attest. And the scary part isn't that these items are manufactured - it's that they wouldn't be, unless someone actually wanted to buy them.
Not just that, but the tackier the gift or decor, frequently the higher the price tag. This is not the year for extravagance, as one glance at the NYSE can tell you.
So what to do? In search of the perfect holiday accoutrements on a budget, I headed to local nonprofit Art From Scrap. The establishment aims to recycle and reuse items that would otherwise be thrown away, and also provides art education for youngsters. I'd heard little about it, except for a vague rumor that it was a great place to go for supplies for kids' art projects, and in the end it surpassed my expectations.
For starters, the first thing to greet me as I walked up to the door was a collectible plate featuring the Ascension of St. Raphael. (It was love at first sight, incidentally; it's clearly visible in the photo of my shopping basket.)
From there, the shop just got more bizarre. Actually, it's a little like a farmers market, only featuring odd, dusty junk rather than produce; the store's stocks are constantly changing as one or another item is donated and others sold. The only difference is, it's pretty easy to know when avocados are going to be in season, but the season for donating an entire jumbo bucket of tiny rubber ducks - enough to keep Ernie singing in the bath for years - is a little less predictable.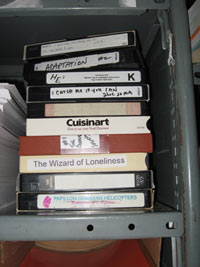 By Elena Gray-Blanc