Around downtown Santa Barbara, one may wonder who all those townie kids are with their gigantic messenger bags, rolled-up jeans, and strangely simple bicycles. They are the fixed-gear bicycle, or "fixie," crowd. Their bikes have no ability to coast, so the riders must pedal every instant that they are in motion. It's a rather odd phenomenon but one that has sprouted and grown quite naturally under the colorful umbrella of bicycle culture.
A fixed-gear bicycle has no cluster of gears on the rear wheel, which happens to give the bike huge aesthetic appeal, at least to aficionados. Instead of the usual arrangement, the sprocket is screwed directly onto the rear wheel's hub and it is connected by the bike chain to the front sprocket holding the pedals. This means that the pedals always move in sync with the rear wheel. Many riders also choose not to put brakes on their bikes. All they have to do is apply pressure to the pedals in the opposite direction of motion.
Most likely, the origins of the fixed-gear craze are in bicycle messengering, according to the vast consensus of riders. Bike messengers are those daredevils employed by courier companies-typically in large cities such as New York, Chicago, and Los Angeles-in order to ensure same-day delivery of parcels and papers. Even with advanced technology and large package delivery companies, bike messengers are still preferred by some because of their ability to snake through complex downtown traffic and arrive at a destination before the end of the workday. Some messengers choose fixed-gear bicycles over a geared bike because of their agility and easy upkeep. There is a lower chance of something breaking on a fixie, as well as fewer parts to steal. A messenger's job depends on his bike, and it needs to withstand the inevitable wear and tear that comes from riding 30 to 40 miles everyday. Messengers may also choose to ride a fixed-gear because it keeps them alert every moment of their long workday.
Since slowing down, avoiding potholes, and weaving through traffic are all skills experienced much differently on a fixed-gear bicycle-and are much more difficult to master-riders are forced to become much more aware of the details of the terrain and everything going on around them. Cyclists learn to figure out when to start slowing down, what drivers are doing, and if there are any police around who might cramp their style. The riders appear to derive pleasure from the mental and physical prowess this requires.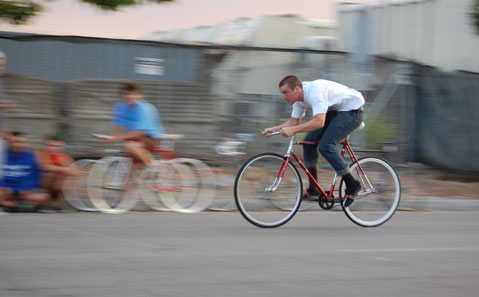 Catherine Meagher