For over 30,000 people, the West Beach Music and Arts Festival last year was a fun, long weekend of watching live bands and partying seaside. But for many Santa Barbarans, including city staff, the event was nothing more than a three-day migraine. There were so many noise complaints, say city officials, so many reports of underage drinking, issues with crowd control and parking, and a general but serious mismanagement of the entire event, that Santa Barbara's Parks and Recreation Department decided to deny the permit for this year's installment. The organizers, however, are appealing that denial tonight, May 19, at City Hall.
"I understand that people who attended the event had a wonderful time. That's not in question," said Parks and Recreation Director Nancy Rapp who will present her report to the agency's commission and explain why a 2010 festival isn't appropriate. "For us, it's more about how the event impacted the rest of the community. All of the city staff involved — from the City Administrator's office to the Police Department to Parks and Recreation — had never before dealt with that sheer number of public complaints."
Rapp noted that during the September 18 – 20 weekend, city police fielded so many calls from disgruntled area residents that dispatchers eventually stopped logging the intake. "For that number of noise complaints to come in, it means some major things didn't work," said Rapp, explaining that the city got grief from residents as far away as Montecito, Summerland, and Carpinteria who complained about the booming bass bouncing throughout the fog bank which rolled in that weekend. And those closer to the action were purportedly quite unhappy about profanities blaring from the stage — notably encouragement to take part in "adult" activities — that bombarded the ears of kids in attendance and nearby.
The current contention around a possible 2010 event really began on October 1, 2009 when Twiin Productions, Inc. — owned and run by 20-something-year-old twin brothers Jeremy and Joshua Pemberton — submitted an application with the Parks and Recreation Department, asking the agency to set aside the dates of September 24 – 26 for the fourth year of their large-scale music fest that takes place between Stearns Wharf and the harbor. They also reportedly sat down with Rapp at some point that month to hash out what went wrong in 2009 — during which 8,000 – 13,000 people per day descended on the beach — and brainstormed how to fix it for the next time.
Two months later, the Pembertons were told that their requested dates had been tentatively set aside, but, in order for things to move along, they would have to settle their debt with the city — namely $9,249.50 owed to the Police Department for unplanned assistance in 2009 (around 20 extra cops had to be called in to help with security) and an undisclosed amount owed to Public Works for damage done to the sidewalk.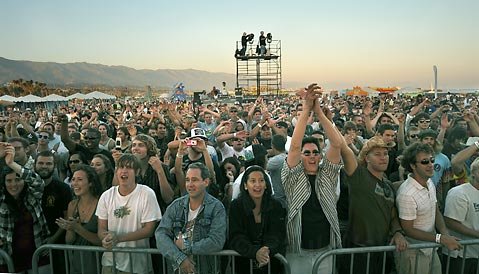 By Paul Wellman (file)