"The Fukushima accident has shown that people cannot coexist with nuclear power. I believe the only way to preserve human life is to completely turn away from nuclear power." —Kenzaburo Oe, Nobel Prize-winning novelist
On March 11, 2011, 2:46 p.m., it felt like the world was ending Frightened people screamed in terror. Shattered glass flew everywhere. The memories of that day are tattooed on my brain and will never be erased.
Many cities that were damaged in the Great East Japan Earthquake and Tsunami disaster are on their way to slow recovery. One disaster area, however, may never have its place on the map again. The triple meltdown at the Fukushima Daiichi Nuclear Power Plant forced the evacuation of 170,000 people. Six years later, 84,000 residents still cannot safely return to their homes in Fukushima due to the high levels of radiation. They are the forgotten ones, their stories swept under Japan's 2020 Tokyo Olympics carpet.
I live in a small home in Tokyo with my family. We lead typical lives, but 3.11 changed everything. So many lives were lost. So much devastation occurred. I couldn't stand by and witness this destruction without helping. I had to do something.
My first trip to the disaster area was in August 2011 to Kamaishi, a city 370 miles north of Tokyo. My volunteer work included photograph restoration, grief counseling in the temporary housing, debris removal, and cook-outs.
Now I travel every weekend to one of the disaster areas in Fukushima. I have visited thousands of people in cramped two-room temporary housing, living with three to four family members. I listen to them, try to ease their pain, or just hold their hands. Many have lost hope and have taken their own lives.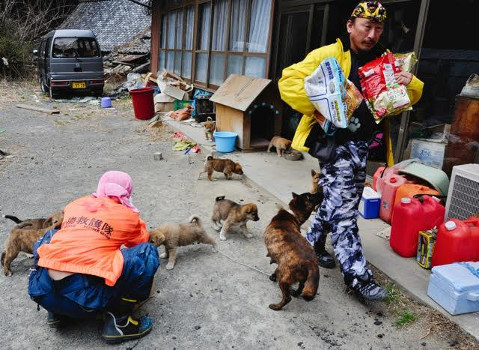 courtesy