Columns
County Reviewers Meet the Miramar
Inadequate Info, but Lots of Public Support; Largura Residence Also Reviewed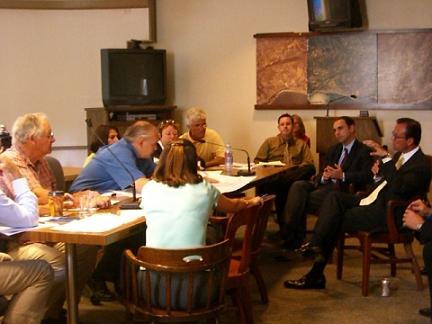 Summer doldrums got a lift Monday when the normally dry Montecito Board of Architectural Review meeting offered a wave of theater-like entertainment – complete with stars, scripts, drama, and a large audience. In spite of the amusement value, however, little progress was actually made on either the Miramar or the lesser known, but also important, Largura foothill residence applications.
Taking center stage, L.A.-mall star Rick Caruso, CEO and president of Caruso Affiliated, personally and eagerly – perhaps overeagerly – presented his proposal for the Miramar to MBAR. Caruso's long anticipated performance was professional and seamless but, while a hit with the audience, it got only moderate MBAR appreciation. It seems Caruso Affiliated had not provided the full technical drawings and completed plans required for a thorough MBAR conceptual review.
"We have a job to do, and we have to be given the tools," explained Tony Spann, MBAR chair. Spann said prior to Monday's meeting, a 14-page letter was sent to Caruso Affiliated listing items needed to complete the Miramar application. The Caruso team told Spann that by August 5, MBAR would receive a more complete set of Miramar documents.
Since a technical hearing would have to be put on hold, Spann didn't even bother to unfurl the incomplete Miramar plans on MBAR's desk. Instead, Spann used Caruso's first MBAR visit as an opportunity to start the process, to hear from the public, and to let Caruso hear some MBAR members' initial comments.
"I don't see any red flags," Spann said. "I think the board will most likely focus on set-backs, building heights, and the methodology of those height calculations, and grading and drainage," Spann said.
MBAR member Sam Maphis complimented the Miramar's underground and valet parking concept. "I like the fact the car will be an arrival tool and then not exposed," he said, but added he wanted information. "I understand you will be asking for a variance in the (building) heights, but I need to understand how that works."
Don Nulty stated his concern about the historical importance of the cottages. The previously approved Ian Schrager plan determined that many of the cottages were of historical significance. Caruso has submitted supplementary documentation arguing that premise. A county-authorized third-party peer review is currently underway to address the issue.
"You have done a nice job with the view corridor," said MBAR member Marsha Zilles, noting that mountain views appear throughout the property.
"There is so much to like," offered board member Michelle Phillips, who then got down to the more ragged details. "The main lobby seems severe," she said. "It is not as gracious, or as charming, or as comforting as the other buildings."
Architect and MBAR member Peter Edwards was more enthusiastic: "I have gone over the plans sheet by sheet and these people really know how to design a hotel. I am excited and I can hope it will only get better and better."
With inadequate information at hand, and this being only a very polite get-to-know-you round, MBAR did not discuss how, and if, Caruso plan's meets the Montecito Community Plan cottage-design-style requirement. Also politely avoided was any public discussion of how the developer plans to get around the six-key "cottage" restriction also mandated by the community plan. The Miramar renderings offered at Monday's presentation show some units housing eight to 10 rooms, or "keys."
In spite of the technical omissions, the audience of over 50 seemed enamored of the project. Some speakers were so eager to voice approval that they took to the podium prior to Caruso's presentation. Producer Ivan "Ghostbusters" Rietman and Home Owner Defense Fund founder Sally Jordan used their star-status to speak early and offer a " blind-faith" endorsement of Caruso's yet to be unveiled project.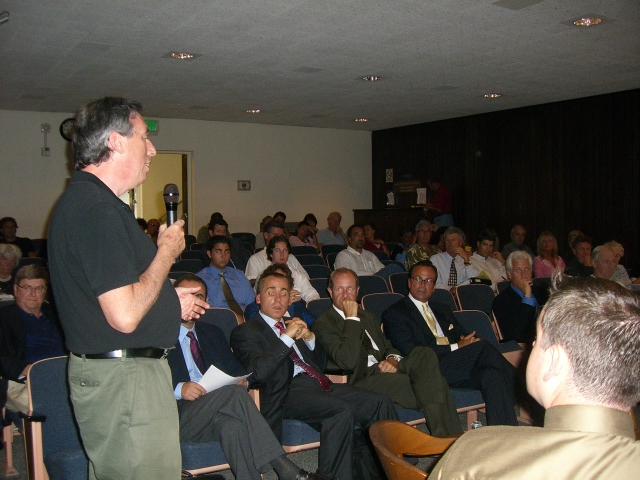 Alyce Faye Cleese, who lives next door to the Miramar, spoke too. "I feel confident, and I have not felt confident before," she told MBAR. Bob Hazard, president of Birnam Wood Golf Club, offered the club's endorsement, and Bill Macfadyen spoke for All Saints, giving the church's approval to the neighboring project.
Nina Terzian, a Miramar neighbor as well, called Caruso her "prince charming," asking MBAR to let him build "his castle in the sand – our fairy tale." Several members of Voices of Montecito spoke in support of the project, but the Montecito Association remained silent at this meeting. "We won't comment until the project application is complete," President Bill Palladini told Montage after the meeting.
Candice Buergey, who lives straight across the 101 from the Miramar property, raised several issues for MBAR consideration. She wanted to know if there would be reflective noise from the long sound wall proposed for the hotel along South Jameson. She also asked about the disposition of employee parking. (It's all to be on-site, Caruso responded.) And, Buergey also wanted to know if an underground water study had been done to assure that the Miramar's underground parking lot wouldn't interfere with the neighborhood water system.
"That's just the kind of information I wish we'd hand on for the hearing," MBAR Chair Spann told Montage. "We should have been able to answer that question, then and there, by flipping to a map. We just didn't have enough to do that. I think things will be more complete when they come back on September 10."
LAGURA DEALT ANOTHER BOOMERANG: Also facing a return trip to MBAR on September 10 will be architect Bob Easton, who has, since 2006, doggedly pursued approval of a single family residence at a fab-pad atop Romero Canyon. Easton appeared at Monday's MBAR hearing, representing Robert Largura, who owns the property along with several investors.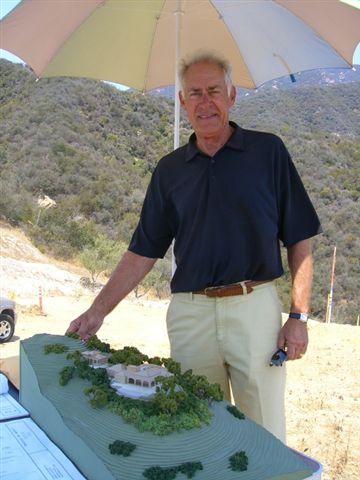 The project is in the highly protected, resource-managed Montecito foothill zone. It has drawn attention because of the lot location and the size of the house requested, but also because of a large winding and very noticeable driveway that has already been cut up the mountain. "The driveway is god-awful," Bill Palladini said during MBAR deliberations.
Other neighbors voiced concern the project might disturb the public mountain views. "Nothing should affect the pristine views of our national forest," said Russell Trentholme, who said he often walks on the road below.
Kay Peterson, who lives directly below the Largura sites said she thought the 4,252 square-foot house and 1,834 square-foot basement was simply too big for the site. "The guidelines call for limited development, and we can all argue what that means, but this house is too big."
MBAR member Marsha Zilles said she was sympathetic to the neighbors' concerns and to the foothill's fragile resources, but also said she wanted to balance those concern with the rights of the property owner to build on a legal lot. Zilles said her opinions had been colored by a recent site visit, when she noticed a number of large homes, perched throughout the foothills and surrounding the Largura property.
"Seeing what's around there already, I was appalled at what I saw," Zilles said. "There is a flaw in the Montecito Community Plan and it makes it difficult to ask you to build to the land. It is our fault. I am stuck because you are doing what everyone else has done."
Don Nulty concurred. "There are several people who have spoken here today who have more objectionable houses than you do. It is pretty heavily developed."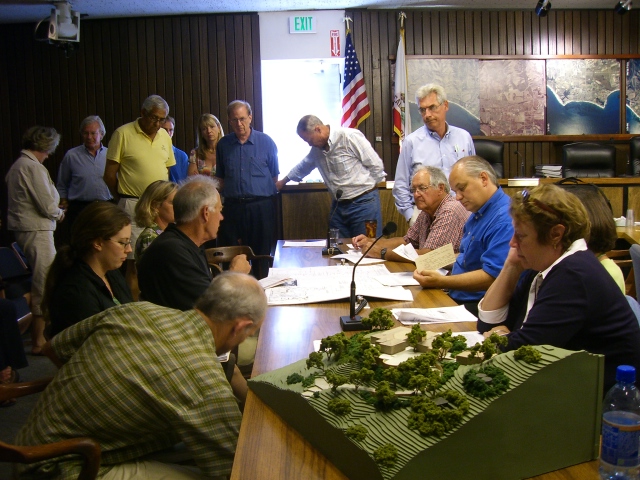 "We've got a problem as a community," Palladini added "We need to reassess what we mean by a resource management zone."
Seemingly worn by the deep philosophical land use discussion, MBAR made no decision on the Largura project and asked Easton to return, yet again, on September 10. "Scale it back," MBAR chair Spann advised.
"We've heard your comments," Easton sighed, "but we can't keep coming back here the rest of our lives."
As he left, Easton, a longtime Montecito land use survivor, passed process-debutant Caruso, eagerly waiting his MBAR appointment. When they both boomerang to MBAR on September 10, they'll certainly have tales to share – stories about endurance in Montecito's fear-provoking land-use straits.