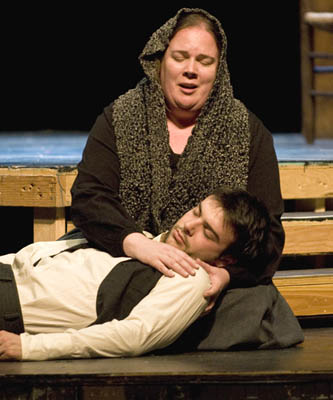 Riders to the Sea, Ralph Vaughan Williams's setting of the play by J.M. Synge, has a terrible, merciless villain: the North Atlantic. In the UCSB Opera production, conducted and directed by Steven Kronauer, we heard its beauty even as it took the last of a widow's five sons on the shores of Aran, Ireland, a place whose inhabitants somehow scratch out a living fishing and growing potatoes between storms. In a strong performance, Stephanie Turner, as Maurya the widow, made us understand the depth of her sorrow while also showing us her strength. Rebecca Monroe and Kristin Williams, as her two daughters Cathleen and Nora, respectively, also gave vivid portrayals of the sisters' desperate attempts to soften the blow that their brother's death will bring to their mother.
The production has a spare look, exactly right for the barren, impoverished lives of these helpless people. Williams's score, as Kronauer notes, uses bitonality (two keys superimposed on each other) and an octatonic scale to create a sonorous but restless and mournful feel, allowing for sensitive, soaring melodies, but not resolution. Chiacheng Naomi Sen's accompaniment on piano supported the singers with gentle sensitivity, yet left us somehow haunted.
When Maurya's last living son, Bartley (Nick Hengl), stops in before sailing to Connemara to buy a horse, Maurya begs him not to go, yet his refusal to stay seems understandable-what choice do we have but to go about the business of living? All the while, Cathleen and Nora quietly try to determine whether the clothes of a no-longer-recognizable drowned man are those of their lost brother Michael. When Nora sees her own dropped stitch in the drowned man's sock, Kristin Williams's remarkable voice lets us know that she, too, is lost in despair.
But more pain is on the way, as a chorus of mourners brings Bartley's body back soon after Maurya has a vision of her last two sons in a ghostly procession. When Maurya sings, "They're all gone now, and there isn't anything more the sea can do to me," her terrible fate takes on a deep beauty. The women of the chorus stand like sorrowing Madonnas, keening in mourning, until their cries become part of the pitiless wind.