Sports
Honoring a Gaucho Rugby Star
Bill "Chief" Leversee to Be Inducted into UCSB Recreation Hall of Fame
The UCSB Recreational Sports Department prides itself on three elements: ownership, legacy, and stewardship. When the department brainstormed for whom they would induct into this year's Recreation Hall of Fame, Bill "Chief" Leversee, the former Gaucho rugger, met all of their requirements – he may have even exceeded a few.
Raised in La Ca±ada, California, Leversee enjoyed wrestling and football in high school, but before college he had never heard of rugby. Then during his junior year of high school, Leversee fled on a college road trip with his family and made UCSB one of his stops.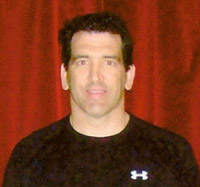 "Something just felt good about Santa Barbara," Leversee said. And something about Leversee just felt good for the UCSB rugby team. When Leversee joined the Gauchos in 1982, his height played a crucial role in his second row position when the team looked to regain possession of an out-of-bounds ball. To reset the game in rugby, the ball is tossed in the air from the sideline, and if you're six-foot-three like Bill, well, you just tower over the other guys.
"It was nice to be in a position that was needed and to have skill," Leversee said.
Over the five seasons that Leversee competed with the Gauchos, he twice beat UC Berkeley, the Cleveland Cavaliers of rugby; he defeated San Diego State University to advance to the 1986 conference championships; he was selected to the tri-counties all-star junior and senior teams; he organized the Santa Barbara International Rugby Tournament; he competed with Pacific Coast teams such as the Griffins and Grizzlies; and if Leversee didn't already have enough rugby in his life, his UCSB teammates named him president of the club.
Upon his graduation from UCSB in 1987, Leversee went on to represent the United States when the national team selected him for their 1988 squad. In his first game with the Eagles (the national team's nickname), Leversee scored his first try in Sparta Stadium, Moscow, to beat Romania 17-7. With the Eagles, Leversee competed in everything from Pan Am games to World Cup qualifying matches. During his time with the national team, from 1988 to 1996, Leversee earned 15 international caps.
Today he continues his involvement with rugby through the Old Mission Beach Athletic Club in his current residence of San Diego. Through his help with youth rugby, Leversee encourages children to participate in the sport.
Nicknamed "Chief" by his Gaucho teammates, Leversee has earned his induction into the Hall of Fame to truly become the chief of UCSB rugby.
The Recreational Sports department will induct Leversee into the Hall of Fame during the All Gaucho Reunion on Saturday, April 25, from 1 to 2 p.m. at UCSB's Mosher Alumni House. On the same day the Recreation Department honors Leversee, the UCSB Rugby Club will also hold an alumni match at Harder Stadium to showcase all returning alumni.