Opinion
Theodore Martinez: Mentor of Vista de las Cruces School
1933-2009
Sometimes, if you're really lucky, you find a friend. You might think you have made all the real friends you're ever going to have, and you content yourself with that. And then, unexpectedly and to your never-ending gratitude, you find a new one, and you know it right away. That's how it was when I first met Ted Martinez at Vista de las Cruces School in Gaviota. I was a nervous, novice teacher, and I would come to work early in the morning and feel a sense of reassurance that Ted already was on campus, already humming.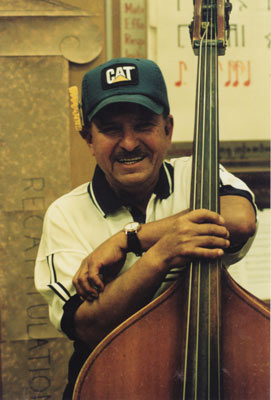 I'm not even sure what his official job title was-maybe custodian?-but mentor would have been more accurate. Children learn not by what we say, but by what we do, which means that for many years, Ted had been quietly teaching them about service, about respect, about love for humanity. He drove a school bus, translated at Spanish-speaking parent conferences, counseled kids in a way no one else could, barbecued his famous tri-tip on a grill he had welded himself, and kept our campus ship-shape. He became my guitar-totin', coffee-drinkin', storytellin' buddy, a guru and confidante with a sense of humor, who helped me believe in myself. I would soon find out that others felt the same way about Ted. He was the gift of Vista de las Cruces, a hidden gem, a great soul in humble garb.
Ted was born in St. Joseph, Missouri, in 1933, the fifth of 12 children, but his family moved to Santa Barbara in 1942. He shared his childhood memories with my students in an interview for a local history project about a dozen years ago, and was featured in the special Fiesta edition of The Santa Barbara Independent later that year. He recalled catching candy thrown from rooftops during parades, the thrill of seeing the 1940s action serial The Masked Marvel being filmed near Stearns Wharf, and the euphoria on State Street when World War II ended-he had been selling newspapers and was amazed to see strangers hugging each other; everyone, as he put it, was "crazy with joy." He talked about the hobos who used to camp among the eucalyptus trees near Cabrillo Boulevard, and their haunting harmonica music, mostly blues or gospel songs, drifting on the air. As teenagers, he and one of his brothers played guitar for tourists and other passersby on State Street, at Canon Perdido.
After his service in the U.S. Army, Ted settled in Santa Ynez, where he and Angie, his wife, raised their family. In addition to his years at Vista, he was employed at the Solvang and College School districts, worked on a water drill rig, and was a highly skilled welder, somehow finding time to attain a degree from Allan Hancock College, too.
A master of guitar and bass, Ted often performed for the kids at our school and was in several bands throughout the years, including the Shinkickers, a group of "old men from Santa Ynez" who played at weddings and barbecues. He favored country music and honky tonk, telling a bit of story between tunes. His theme song was "I'm Just an Ol' Chunk of Coal (But I'm Gonna Be a Diamond Someday)," which seems to belong to all of us who aspire, as Ted did, to become better versions of ourselves.
When Ted retired from Vista in 1997, our school community decided to name the beautiful auditorium in his honor, and it is forevermore the Ted Martinez Auditorium. Beneath his name, the plaque reads simply, "Acciones, mas que palabras, son las pruebas de amor. (Works, more than words, are the proof of love.)" It wasn't a good-bye; in the years that followed, I was blessed to see Ted frequently. Sometimes he would surprise me in my classroom at Dunn Middle School, bearing a box of donuts for the kids. Or, if our mutual friend Mort came to visit the area, the three of us would meet in Solvang and I'd listen to their songs. I am so grateful that Ted knew we loved him, and I am certain his spirit dwells in the hearts of many grown-up kids scattered near and far.
I am fond of a poem that Luis Omar Salinas wrote about his father, but which speaks to me of Ted, a man with dignity who kept on striving though he had long ago become a diamond. The poem concludes:
The truth of it is, he's the scholar,
and when the bitter-hard reality
comes at me like a punishing
evil stranger, I can always
remember that here was a man
who was a worker and provider,
who learned the simple facts
in life and lived by them,
who held no pretense.
And when he leaves without
benefit of fanfare or applause
I shall have learned what little
there is about greatness.
Ted is survived by his beloved Angie, five children, five grandchildren, a great-grandson, seven siblings, various extended family members, and a wide community of friends who loved him and will miss him dearly.