News
Touchy 'Turban' Talk
Goleta Councilmember Accused of Using Racial Slur to Describe County Employee
Tariq Falfal, after hearing that Goleta City Councilmember Roger Aceves allegedly called him a "turban-head," thinks the elected official should be removed from office. "This is not the kind of person who should be representing people," he said.
The dispute revolves around an incident that took place on the morning of April 15 in the County Administration Building's parking lot. Aceves, on his way to a meeting, parked in a visitor's spot as he normally does, but was asked by an attendant to move to a space reserved for county employees in order to free up public parking on the busy tax day. However while walking to the building, Aceves — apparently caught in the middle of a slight miscommunication — was asked by another parking employee, Tariq Falfal, to move back to the space he had originally parked in.
Admittedly miffed by the back-and-forth, Aceves let Falfal know as much but was reportedly met with a cold shoulder when he protested. "This conversation is over," Aceves remembered Falfal saying, "You need to move your car. Now." Falfal, said Aceves, then turned his back to the councilmember who consequently stormed off. "Okay, I'm an elected official coming into the County Administration Building to conduct official business," Aceves told The Independent on Thursday, "and I've got this county employee who was quite rude. For those few seconds, I was pissed."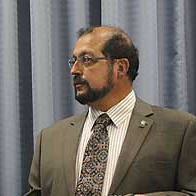 According to Santa Maria mayor Larry Lavagnino, who arrived at the county building the same time Aceves did and was waiting for him at the entrance with 1st District Supervisor Salud Carbajal, Aceves was visibly upset when he approached. "As I was walking to the building I was fuming," concurred Aceves. Pulling Carbajal aside, Aceves gave him an earful about the exchange. "You gotta do something about your employees," Aceves admitted telling Carbajal.
The conversation purportedly continued as the group walked inside and got in an elevator. That's where, according to a witness who was with the group in the elevator, Aceves said to Carbajal, "You gotta do something about that turban-head." The person who heard the alleged statement has worked on and off for the county for more than 20 years and was on her way to her office. She asked to be kept anonymous, but has reportedly been involved in an investigation launched by the county's Human Resources department. Having known Falfal and interacted with him in the parking lot for years, she said she counts him as a friend.
Upset by what she supposedly heard, and shocked at Carbajal's lack of response, the witness told Falfal what had happened. Falfal — a 22-year-old Lompoc native — was taken aback. "I was in shock," he told The Independent this week. "That's not something you expect to happen to you at work." Falfal said he's dealt with his fair share of disgruntled people while on duty — "Parking is a pretty emotional topic down here in Santa Barbara," he said — but has never been the victim of discrimination.
The next day Falfal contacted county HR which then opened an inquiry into the alleged incident. Falfal, who has worked for the county since 2006, also said he called the City of Goleta but was purportedly told by an HR manager that there was nothing that could be done as the city government does not have an anti-discrimination policy. According to county counselor Dennis Marshall, who would not comment on the case and could not even confirm that an investigation had begun, all cases are looked into and completed within 90 days.
Carbajal would not comment either, saying that because he was "in the vicinity" of Aceves when he made the statement in question, he won't speak to the matter. "Because I was there my feedback is important to what was said and what wasn't said and by who and what," he said. "The county takes every complaint of discrimination seriously, and our HR and County Council's office are pursuing a review of this matter and all the facts associated with this situation that is keeping within our policies." Lavagnino, who was in the elevator, said he never heard Aceves use the derogatory phrase.
Aceves, for his part, categorically denied ever calling Falfal a turban-head. "I said it was the guy who wears a turban on his head," he stated, clarifying that he used the identifier to make clear to Carbajal which parking attendant he was referring to. Aceves had been a police officer for more than 30 years before entering local politics, and said it was his training that led him to physically describe Falfal "from the top down," as he characterized it. "If it was a guy wearing a baseball cap, I would have said it was a guy wearing a baseball cap to identify him and then worked my way down," Aceves said. "At no time did I refer to him as a turban-head. I didn't even know what his nationality was. If you look at him, he looks Mexican."
"My ultimate goal," Aceves went on, "was to describe to the supervisor who I was talking about and let him know what happened. I could have taken a whole different course of action," he said. "I could have found out who [Falfal's] supervisor was and called him and complained that the employee was rude. But I don't do that. I've worked in the public sector all my life, and I know how easy it is for someone to complain about a public employee."
Multiple people present that day asserted that Falfal — who is half Libyan — was not wearing a turban, and he said he's never worn one. "I've never worn a turban in my whole life," he said. "I was wearing jeans, sneakers and a polo shirt, and may have been wearing a beanie." Aceves, however, seemed sure of what he saw. "I remember him wearing a turban," he said. "Was I mistaken? I don't think so." Aceves used the fact that the anonymous witness seemed to know who he was referencing as proof that Falfal must have been wearing a turban. "They knew exactly who I was talking about," said Aceves. "How would the informant know I was talking about him, unless he has a worn a turban before?"
Aceves is adamant that, although upset at Falfal for what he perceived as a lack of respect, he never uttered the disputed words. "I think the record needs to be set on this," he said. Likening the chain of events to a game of telephone, Aceves claimed that someone must have overheard the conversation with Carbajal and misinterpreted his phrasing. "It would never come out of my mouth," he asserted, "because it's so egregious. I could have called him every name in the book right then and there when I was dealing with him. But no, I took the high road and walked away even though he turned his back on me. I could have been the asshole I'm being described as, but I decided not to."
Aceves said that the fact he is accused of being a racist is appalling and upsetting. "It hurts me that someone would say I'm a racist, that I referred to someone in a derogatory manner," he said. "As man of color who works so hard in this community to keep it safe and free of discrimination, I would never do that." Aceves, who is Latino, pointed to the fact that he had worked as a hate crimes investigator while in the police force and looked into every such incident documented within the City of Santa Barbara.
This, he argues, makes him especially keen to the issue and wary of the way he conducts himself. "It's very important to me how I operate as a public official," he said. "That's the way I operated as a police officer for over 30 years, and now as an elected official for almost four years. Never in my life have I been accused of being discriminative, a racist, and I find it offensive," he went on. "I want to stand up on top of this table and scream and tell people that I'm not a racist." Aceves is currently running for reelection to the Goleta City Council this year.
Additionally, Aceves said, his own experiences with discrimination have heightened his sensitivity to off-color remarks. "I have suffered some of the most egregious racial discriminations all my life," he said. "I of all people am very sensitive to these issues — more sensitive than most because I've lived through it." He relayed a story that occurred in the wake of 9/11 when plainclothes police officers, including himself, were stationed throughout Santa Barbara Airport on the lookout for possible threats. One officer who had just come on duty, and who didn't know Aceves, reported Aceves to his superior, saying he looked suspicious and Middle Eastern. The accident sparked a series of practical jokes within the department at the expense of Aceves who eventually reported the shenanigans. The subsequent investigation found that he was working in a "hostile work environment."
Also, the fact that he is an elected official, Aceves argued, has caused what he described as a "nonissue" to blow out of proportion. "This is only becoming a press incident because I'm an elected official. If it had been anybody else, it wouldn't be a news story," he said.
Aceves also didn't mince words when criticizing the person who allegedly heard him call Falfal a turban-head. "If they were so upset by a remark I supposedly made, they should have said something right there and then instead of running to the media," he said. "And if it was so bad, why didn't Salud say anything?" Aceves also attacked the woman for remaining anonymous, as well as the fact that news outlets are using her as a source. "She doesn't even know me," he said.
The witness, speaking to The Independent on Friday, admitted she did not stick up for Falfal when she heard the alleged comment, but that she was intimidated by the entire situation. "I'm disappointed in myself for not saying anything," she said, "but I didn't think it was my place to."
Falfal said that while he would have accepted an apology from Aceves, the fact that Aceves is outright denying the comment has made him less forgiving. "The longer this goes on without anything happening, the more and more it bothers me," he said. "An apology is not going to do it. I'm not saying he's a racist, but the fact that he can say something like that in anger — and not in a bad joke or something — makes me think there is some kind of hate in him." Falfal also said that he's found himself stewing over the issue, and that it's affected his personal life. "I'm usually a happy-go-lucky person, but I've noticed I've been a little more angry and impatient with people close to me."
Falfal said he has another meeting with the county HR department this Wednesday.