Bottles & Barrels
Young Body, Old-World Mind
Gavin Chanin's Pinot Noirs and Chardonnays Are More France than California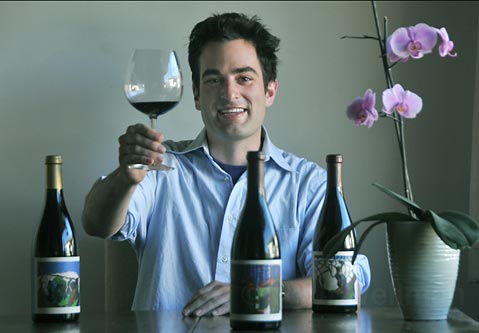 When he decided to work as a cellar hand the summer after graduating high school, Gavin Chanin had no idea he would begin his freshman year at UCLA "obsessed" with winemaking. He also didn't know that, five years later, he'd be drinking pinot noir and chardonnay from bottles emblazoned with his name.
Though Chanin's wine career kicked off when he still had to borrow his older brother's ID to buy alcohol, it was an ideal introduction: He trained under Santa Barbara County wine veterans Jim Clendenen of Au Bon Climat and Bob Lindquist of Qupé, whom his father made wine with in the 1970s at Zaca Mesa. Chanin admits that he owes "everything" he knows about winemaking to Clendenen and Lindquist, and he thinks the entire region does, too.
"When Jim and Bob first started out, the things we talk about as commonplace now, like cold soaks and whole cluster, no one had tried here before," he explained. "They had to do so much experimentation to figure things out, and that experimentation has made it a lot easier for [Santa Barbara winemakers]." Chanin also credits his mentors for his obsession with balance, for he intends to create low-alcohol, high-acidity wines that complement food and age well. If a wine weakens within a couple of years, Chanin claimed, "It's not really living and growing—it's just a product."
Taking inspiration more from Burgundy than California, Chanin holds his alcohol levels to about 13 percent, thereby challenging the New World tendency to produce powerful wines from overly ripe fruit. He puts his faith in well-farmed grapes—particularly those from the cooler Santa Maria Valley—and takes a minimalist approach in the winery, enjoying an intimacy with the fruit only a small-production vintner can have. That's why he's pledged to never make more than 1,000 cases a year, no matter how high-demand his wine becomes.
Not that Chanin expects his wines to blow up, even though his 2007 pinot noir was scored a 92 by Wine Enthusiast. He finds his wines humbling, and believes he'll always be his biggest critic. "There's a goal of balance that I long for," he explained. "It's always sort of elusive. … I'm not sure if I'll ever make a wine and say, 'This is it.'"
Still, Chanin sees the positive in "never really figuring things out," a point of view he adopted after the year he traveled to South Africa and New Zealand and worked three harvests at four wineries. He knows that uncertainty makes his life as a winemaker exciting, and that his flexibility will benefit his wine. He honed that affinity for change and adaptability while an art student at UCLA, where he seesawed between painting in the studio and working in the cellars. "Every time I went back to UCLA, I'd always start out imitating [the art] I did before, and it would never work," he explained. "And with wine, it's sort of the same thing. … You can't do what you did the year before; you have to figure out what's going on and change." Chanin's art lives on his labels, with each wine featuring a painting that he's selected to match the "feeling" of each bottling.
Having recently moved to Santa Barbara from Buellton, Chanin's presence now spans from city to valley, and there's nowhere else he would rather be living and making wine. The diversity of varietals that grow here always present new possibilities for future endeavors; the ability for small wineries to thrive keeps everyone down-to-earth; and the onslaught of young winemakers keeps the region exciting. "There's a lot of people just starting out who are really energetic," explained Chanin, which, at the very least, "is a lot of fun."
While winemaking may be fun, Chanin truly represents the future of Santa Barbara's wine industry, as well, a place where the Old World traditions are increasingly colliding with New World fruit. If that continues to be the case, we have a lot to look forward to.
4•1•1
Gavin Chanin's 2008 chardonnay and pinot noir will be released May 16. See chaninwine.com.