Education
The Imagination of Ocean Annie
Santa Barbara's Annie Crawley Talks About Life in the Sea and What Got Her There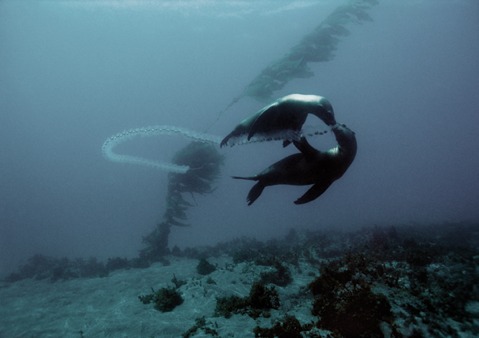 Santa Barbara's Annie Crawley, also known as Ocean Annie, could be described as a true renaissance woman. A Chicago native, Crawley didn't realize her love for the ocean until after graduating college. Now one of America's leading ocean-environment educators, Crawley speaks at schools across the nation, sharing her experiences with children to teach them the importance of environmental respect. She has spent her life documenting and photographing the underwater world, and now shares these films and photographs with the public. She is a producer, freelance photographer, filmmaker, writer, model, master boat captain, dive instructor, and educator. And her company, Dive into Your Imagination, seeks to change the way a new generation views the ocean by combining education with entertainment. This is what she had to say to The Independent.
What in your life first sparked your close love for the ocean?
I grew up in Chicago, many miles from the ocean. I didn't experience the ocean until after I graduated from the University of Illinois with a photo and broadcast journalism degree. I saved my money for a year and got a ticket to Australia to build my portfolio. When I arrived in Australia I saw a sign that read "Learn how to scuba dive." My life changed the moment I learned how to breathe underwater. I entered into zero gravity with complete silence; I knew that I had found a passion, and I had to become an expert to experience the unbelievable world of the ocean.
I lived in Australia for a year, New Zealand for a year, and Indonesia for two years working as a scuba instructor. Then I learned how to sail and that set me on my journey.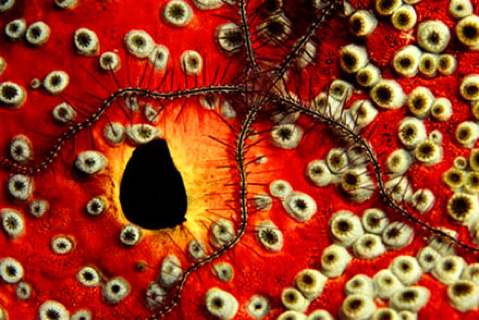 How did you become an underwater photographer?
My underwater photography didn't begin until years later in my life. I was in a corporate job in Santa Barbara while simultaneously teaching scuba lessons and attaining my captain's license. The corporation sent me to a training seminar for sales and I heard a motivational speaker, Les Brown, giving a presentation entitled "Harnessing Your Human Potential." It was supposed to increase our sales at the company. I returned to my office, quit my job, sold my car, bought my underwater camera equipment, and decided that I would explore the world as a photographer and documentarian of the ocean. After taking one photography course at Brooks Institute of Photography in Santa Barbara, I went back to being a dive instructor and traveling the world with my underwater camera systems.
And from that moment on I lived in Belize, the Galapagos, New Guinea, and Indonesia with my cameras in tow. During that time I also became a captain, and I now have a USCG (United States Coast Guard) 100 ton license. The license helps me with every job that I've ever had on the ocean.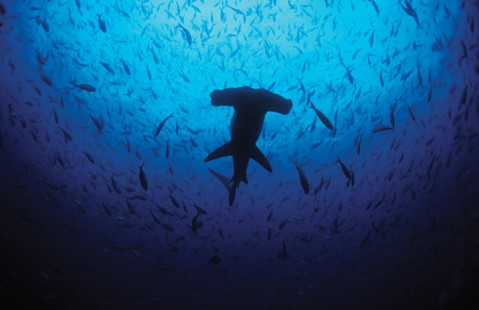 You have traveled all over the world. What is your favorite place and why?
I think any place that I'm in is my favorite place … it may be what I have coming up next. I would say from traveling in the past, definitely Indonesia and Papua New Guinea. In Papua New Guinea I witnessed coral spawning and wild sharks. The trip that changed my life was going to the Galapagos: I trained a crew and lived in Galapagos for three months. It was probably some of the most amazing experiences with animals I've ever had in my entire life; they let you get so close to them because you are not a predator. We dived with whale sharks every single week, witnessed albatross and booby birds mating, and had curious sea lions come right up to us. It was really an unbelievable time.
What was your experience with the Garbage Patch of the Pacific?
Going to the North Pacific Gyre (Garbage Patch of the Pacific) with the Scripps Institute of Oceanography was a life-changing experience for me. We were 1,000 miles offshore finding plastic. To me, that was life changing because here we were in the middle of the ocean where no man is and we were finding our garbage. Truly, everything we do on land affects the ocean, and the ocean likewise controls everything. To see this profound impact that man has had was very devastating on a very personal level because the ocean has given me so much in my life. Eighty percent of waste that goes into the ocean comes from land, not ships. The rivers and the lakes are the arteries and veins of the planet, and the ocean is our heart and lungs.
I have 24 videos on my YouTube site that highlight that expedition.
Tell me about your company, Dive into Your Imagination.
I founded my company, Dive into Your Imagination, around 2007. This company is changing the way a new generation views the ocean. Quite a few feature cartoons had come out at that time, but there was nothing for children on the real ocean. I flew to New York and sold my idea for a book and DVD to Reader's Digest and Ocean Life was born. Since it was published back in 2007, it sold more than 100,000 copies. I also received a few grants from Save Our Seas Foundation, and I was able to produce the award-winning DVD series, Dive into Your Imagination, which is bilingual. The DVDs have been awarded with four awards from Teacher's Choice Awards to the Oppenheim Portfolio Platinum Award. We made lesson plans and books that are coming out September 2010 through January 2011, and we're currently adding to the DVD collection.
So are you going to go out on the Atlantic Gyre expedition coming up?
Now there are a lot of different expeditions that may be going out to do scientific comparisons within the gyres to get a really good understanding of what's happening. At the moment, I do not plan to join any of these expeditions, but then again last year when I went out to the North Pacific, nothing was confirmed until just a few weeks before the expedition. I wouldn't say no if I was asked to go out but at this point I don't have another one planned.
I'm looking more at how we can make a difference through movements going on right here on land. I am working hard to continue to raise awareness and to create a movement with children and adults to stop pollution. There's great power with public awareness and community outreach.
Why do you think public awareness is so important?
During this past quarter, I gave more than 50 presentations about the ocean to schools in the Midwest. We're really focusing on the beauty of the ocean and environmental impact, but what I've also realized is that we need to build character because the environment is a reflection of who we are as a society. If we are caring and loving about our environment there is no way we would treat it that way. In order to create change on our planet, we need to work together to create public awareness. While we're working on policy and corporate change, we also need to work on public awareness.
Tell me about your strategy when speaking at schools.
I balance between production work, creativity, and speaking engagements. In the speaking engagements I really build on the lessons of life that I've learned from the ocean. The golden rule goes back to the first time I went scuba diving: you have to remain calm and breathe slowly under water. You have to be conscious of your breathing. So that's the thinking I use. We go from high to low periods in our lives; the tide changes six hours every day, and we too go from high tide to low tide.
One of the really powerful beliefs that I have is whatever we dream we can make happen for ourselves. We are very powerful with our thoughts. We need to think big and dream big, and then make our dreams a reality. We need to have patience and perseverance that whatever we dream we can make happen. The imagination is a crucial part of this. When I speak at schools, colleges included, it is very important for me to be an inspiration to show others that they can live their dream.
Which aspect of your career would you consider to be the most influential and important for society?
I think education and entertainment intertwine completely. I like to think that education sets us free. It has become such a fast-paced society; everything we have is at our fingertips, so I do think that education needs to be entertaining as well. There is great power in creating this balance between entertainment and education. I don't think I've ever stopped learning in my life. People say, "How can you do all of these things?" and my response is "How could I not?" If I were truly happy doing one profession then I would be happy doing that 365 days of the year. I realized I had to share my work with the public, and education is the way I do it.
I'm not sure if this is somebody else's quote or not, but "When you teach a child you change history." The Native Americans believe that we are responsible for the seven generations that come after us. I don't have any children of my own. Throughout my life, there was always something inside of me that told me the world was my home. I never separated myself from anybody; I always grew up knowing we're all one.
I truly believe that when we teach a child we change history. I believe that we're at a crucial period in our life right now in the environmental revolution, and I think that kids get it. I truly believe in what Albert Einstein said in that, "You can't solve a problem with the same mentality you used to create it." So when you reach children, you're reaching their parents and the rest of the community. Therefore, through education we are changing the way the next generation, and the generation after that one, treats the ocean.