Positively State Street
Pegi Young Makes Santa Barbara Debut
Doomtree's Dessa Headlines Velvet Jones, Dangerous Ponies Play Biko
TIMING IS EVERYTHING: Since the release of her self-titled debut in 2007, Pegi Young has been on the receiving end of more praise and congrats than most breakthrough artists half her age. The longtime wife of—and sometimes backup singer for—rock 'n' roll icon Neil Young, Pegi attests that she'd been writing songs, ideas, and poems since her high school years, but simply never prioritized a recording career despite, as she puts it, "living five minutes from a state-of-the-art recording studio for 25 years." What she did prioritize? Family life and founding the now-famous Bridge School for special needs children, as well as touring alongside her husband.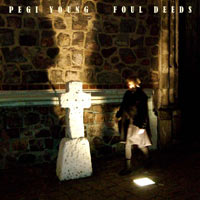 This Wednesday, Young comes to SOhO Restaurant & Music Club (1221 State St.) in support of her second album (and first for Vapor Records), Foul Deeds. Much like its predecessor, Deeds delivers an achingly melancholy collection of songs that straddle the line between somber folk and dusty twang. Among the highlights, "Side of the Road" is a poignant, lap steel-backed number that finds Young soulfully meandering between full-blown cry and hushed whisper, while "Broken Vows" delivers all the building chords and country heartbreak its title promises. In short, it's the follow-up we all hoped Young could deliver, and another fine testament to this late bloomer's great talent.
Young brings Foul Deeds to town this Wednesday, May 11, at 8 p.m. Call 962-7776 or visit sohosb.com for tickets.
DANGER ZONE: Continuing their stellar run of springtime shows, SBDIY brings Philly indie rockers Dangerous Ponies to the Biko Co-Op Garage (6612 Sueno Rd.) this Wednesday night. While the seven-piece strongly associates with their "queer and allied" band label, don't expect any mid-show preachiness here. In fact, these Pennsylvania dwellers are all about bringing the party through a mix of throwback, '50s and '60s-inspired rock 'n' roll chords, sweet, dance-ready beats, and in-your-face percussion tactics (i.e. tambourines, glockenspiels, and a whole lot of serious drum bashing). If you're looking for a jumping off point, I suggest a quick search for "I Only Wear My Favourite Clothes at Home," which sounds and feels like Australia's Architecture in Helsinki—buoyant, celebratory, with just a hint of twee pop cutesiness. Dangerous Ponies play Biko on May 11 at 7:30 p.m. with openers Computer Jesus Refrigerator and Holiday Special. Visit sbdiy.org for info.
GOING IT ALONE: Also this week, Club Mercy presents Minneapolis-based emcee and spoken-word artist Dessa at Velvet Jones. She's best known as part of the ever-growing Doomtree hip-hop collective, but Dessa's solo achievements are certainly nothing to be scoffed at. In the last two years, she's penned a book, released her debut LP, A Badly Broken Code, and guested on GAYNGS' breakthrough debut alongside indie heavyweights like Bon Iver and Har Mar Superstar. As a solo artist, Dessa fluctuates between brutal rhyme slayer and sultry, soulful chanteuse. Fittingly, she's also big into orchestration, which most often includes violin accompaniment from longtime collaborator Jessy Greene. In short, this a live show destined to cross genre lines and exceed both preconceptions and expectations. Dessa plays Velvet Jones with fellow Doomtree member Sims on Saturday, May 7, at 8 p.m. Call 965-8676 or visit clubmercy.com for tickets and info.
EXTRA GOODIES: This Thursday, May 5, join some of S.B.'s favorite hard rockers as they shred for Cottage Children's Hospital at Velvet Jones. The two-part lineup includes an early, all-ages benefit featuring Jamey Geston, Technical Difficulties, and False Puppet from 7:30-10 p.m. and a 21+ rock-out featuring Primal Tribe, Retrodemon, and Snakefist from 10 p.m. to close. Cover proceeds ($5/person) go to the cause. Call 965-8676 for info.