Books
Q&A with Writer of L Is for Love
Nico Cervantes Talks Weddings in his New Book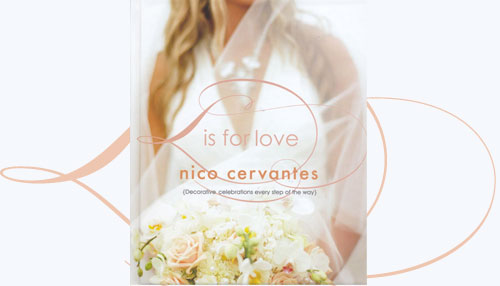 Area event planner Nico Cervantes just wrote a new book, L Is for Love, which is all about celebrating before, during, and after the big wedding day. He's the guy who turned his lifelong passion into a successful business, and branched out to brand himself. Cervantes opened up with me about his new book; his responses reveal who he is and how he plans to inspire people through celebration.
What first got you interested in design?
At a young age, I was always drawing and doing arts and crafts. It was always something that came really naturally to me. I started helping a family friend doing flowers when I was 12. I learned from them and figured out that I loved working with flowers enough to do it long-term. I ended up managing the business when I was in high school. When I was 19 I started working with an event designer and got really interested in events. It just made sense as something I'd want to do for the rest of my life. My education was in theater and I realized that setting up events is like a play. You only have one chance for each event to pull everything off, timing is everything, and there's always drama involved!
What type of events do you cover in your new book?
I cover all events leading up to the big day and after, from proposal to engagement party to send-offs after the big day. The actual wedding goes by so fast, and I provide ways for couples to prolong their celebration. I was inspired to write L Is for Love from wanting to provide a way for people to turn their wedding into a series of celebrations.
What are your favorite events to design?
I love designing weddings because it makes me a part of people's really special day, and I can make an impression in their lives. Because I help clients from the beginning to the end of the design process, we form a relationship and they'll always remember me; it's very [significant] to be a part of someone's wedding.
Who is the audience of your book?
I really think the book appeals most to people who want to turn their weddings into bigger celebrations. People who are engaged really enjoy it—a lot of people buy it as an engagement gift. I'm trying to bring back all of the events such as engagement parties, bridal showers … they've gotten lost in the shuffle of a bad economy and people just don't have the time and resources to throw all of the parties that celebrate marriage. Traditions are kind of being lost and I want to provide people with ideas and inspiration to bring them back. All of the events are very versatile, so you can find inspiration through any event and apply it to your wedding. In between each chapter I have personal stories such as how my parents fell in love and the story of my first kiss. I included them to connect everything together and really make my audience feel like they know me.
What should people do to prepare for hosting events?
For big events, the biggest thing is try not to take on too much. Ask yourself, "What are the most important things to me?" Couples should focus on the important things in order to create the experience that they want guests to have. Visually, pick one focal point (a large arrangement, structures, etc.), which should be what people see first, and first impressions can make a lasting impression. Events should have a big impact visually and should be thematic. The more details the better, and everything should have a theme and go together. Follow through with food and décor, and captivate people's senses!
Tell me a little about your ideal wedding.
To create the ideal wedding, I need to establish client trust. Once a client trusts me, I can fully release the creative juices! If I have trust I have a little bit more control over being creative. I take my clients' ideas and introduce design to them. A lot of people think they know what they want but they don't know how to make it happen. If someone asks me what my personal taste is, I never know what to say. I don't have personal taste because I change it per client to fit their visions. Events always look best if they fit with what I interpret the clients' personalities to be. If clients' ideas are truly brought to life, I know I did my job! You should be able to tell a couple's personality just by looking at their wedding. That's my ideal wedding—one where it really reflects the couple.
Nico Cervantes's book is available on his Web site at lisforlovebook.com.