News
Pappas Down for the Count
Judge Orders Supervisor Election Loser and Contester to Pay Attorney's Fees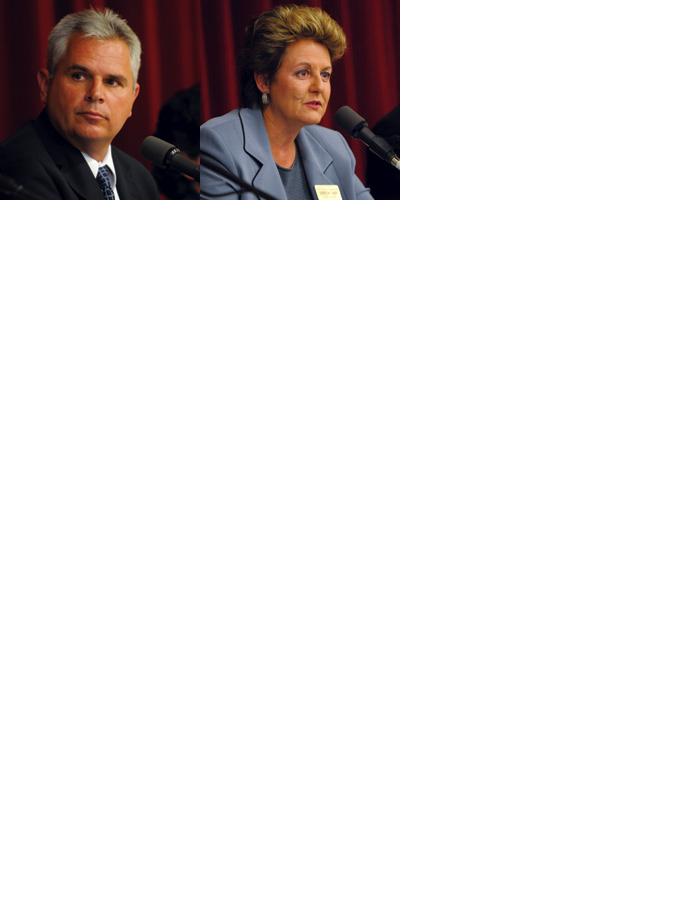 This could finally be the end of Steven Pappas v. Doreen FarrM. Unless, of course, he appeals, which would probably come as little surprise to anyone following the Superior Court case for the last two-and-a-half years.
Superior Court Judge Colleen Sterne on Tuesday said Pappas had to pay more than $700,000 to Farr for her legal bills related to his failed attempt to challenge the result of the 3rd District supervisorial election in November 2008, a race Pappas lost by 806 votes out of 35,621.
It was the latest, and perhaps the last, in a long series of legal victories for Farr since Pappas filed the election contest in January 2009, and once again, the ruling was a decisive one in favor of Farr.
Sterne—playing catch-up on the case because of the death of the original trial judge, William McLafferty, in January 2010—said "important public rights were vindicated" in the case and that responding to the litigation was necessary by Farr, who was clearly entitled to the attorneys' fees. Even though Farr was not alleged by Pappas to have done anything wrong, according to the Elections Code, he had to name her as the defendant in the case. "I felt and others felt it was important to defend the validity of those 18,000 ballots," Farr said of the ballots Pappas disputed, and she fought. In his suit, Pappas claimed widespread voter fraud in 18 different precincts in Isla Vista and UCSB, areas where Pappas campaigned heavily but lost badly in the November 2008 election.
Pappas charged that, for a variety of reasons, votes were counted that should not have been. But McLafferty, and eventually the Court of Appeal, ruled that the allegations did not, as a matter of law, provide a basis for challenging the votes or the election results, going as far as to say the allegations were "frivolous and tantamount to an intentional misleading of the Court."
But despite Farr's strong victory, McLafferty did not award Farr attorneys' fees, noting she only met two of the three criteria to be awarded such reimbursement. While that decision was being appealed, however, the state Supreme Court made a ruling in another case, opening up the avenue for Farr to recover her legal costs. The Court of Appeal decision followed in December.
The attorneys' fees issue finally made it back to court Tuesday, where Pappas objected to the billing practices of Farr's attorneys, and argued the costs she sought should be lower because of Farr's financial benefit in defending the election contest. Farr, however, said there was no legal basis for the fees to be reduced.
Sterne agreed, noting Farr attorneys Fred Woocher and Philip Seymour's billing was extremely detailed, and it appeared the hours billed were reasonably spent. She concluded both Woocher's $625 an hour and Seymour's $400 an hour were reasonable rates, as the two handled the case "in an efficient and expeditious manner." She also chose to tack on a fee multiplier as an added bonus, bringing the total amount owed to $526,891 for Woocher and $180,023 for Seymour, a total bill of $706,914.
To date, Farr's campaign has paid $155,917 to Woocher and $72,656 to Seymour, according to financial statements submitted to the county. "I'm elated," Farr said. "We're over two-and-a-half years into this. I think it's time to end this."
Should Pappas choose to appeal, he'll have an uphill climb. The Court of Appeal has already taken up the case once, and ruled decidedly against Pappas. Generally, appellate courts that know a case aren't eager to take it up more than once. An additional loss would only mean more attorney fees for both himself and Farr.
But, a further delay would also mean Farr wouldn't get paid yet and that the whole charade could extend deep into next year, when Farr is up for reelection. There is little question Farr will face opposition in the June primary, though it remains to be seen from whom. And with the 3rd District being the most competitive and most expensive district in which to campaign—given the large geographical size as well as two different media markets—hitting Farr in the pocketbook (she just reported having $27,111 in cash on-hand as of June 30) could handicap her for the race.
Farr, however, said she is ready for the next campaign even as she maintains her busy schedule as supervisor. "It gets costly," she said. "But we did it last time."