Arts & Entertainment
Arts for Humanity's Sake
Chatting with Karsen Gould, Founder of the Nonprofit Organization Arts for Humanity
While a lot of Arts for Humanity's work goes unnoticed within the community, the nonprofit is starting to gain attention from charitable organizations across California. Last month, for instance, Arts for Humanity won a $10,000 grant from the Rex Foundation as part of its Jerry Garcia Award, which honors groups that work to encourage creativity in young people.
We had the opportunity to interview Arts for Humanity's founder and executive director, Karsen Gould, for a little insight on the work her organization does.
Can you explain Arts for Humanity's mission and its work in the community?
Our mission, in essence, is to celebrate humanity though art and to develop a world where the arts are integral to our human experience and also accessible to everyone regardless of age or disability.
What we do is offer free art programs to social service agencies around Santa Barbara, including the Boys and Girls Club and Isla Vista Teen Center, so that they aren't burdened with the task of funding them. We receive grants from local foundations, and we offer them the instructors, materials, and resources they need to give their participants a wonderful art experience.
What motivated you to found this organization?
I moved here 27 years ago, and I worked in the social service sector as an art therapist and creative consultant for years. I worked at Devereux when it had a center near UCSB and at several other agencies here in Santa Barbara. I was sort of known as the crazy art lady!
One year, I led a theater group for adults with a range of disabilities. We did an original production called Dreams Do Come True at the Multicultural Center. The work we did was incredibly well received. After the show I had several people calling me with congratulations, words of encouragement, and advice on starting my own nonprofit; it was so overwhelming! I had no idea about how to even begin this process, but everyone said, "You have to keep doing this. This is wonderful."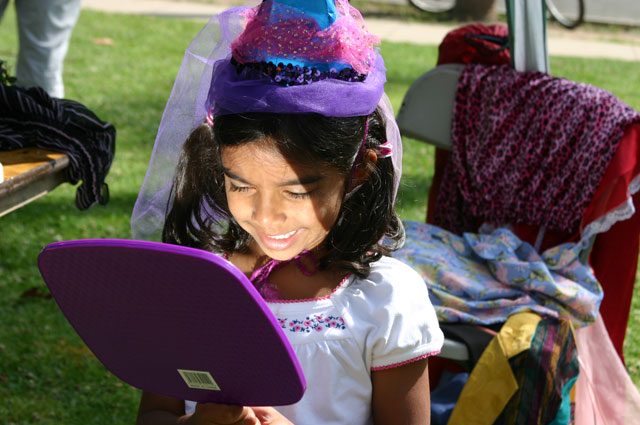 The climate concerning art programs at the time was: Are these programs worth funding? Is this even a smart investment? Even as a freelance consultant, the diminishing amount of funding we were getting was really affecting my work. After the wonderful experience with the theater group and the encouragement we received, I really saw how essential these creative programs were to our clients.
I decided that Santa Barbara's social agencies needed Arts for Humanity. I wanted to start something that would allow these programs and services to flourish.
What sort of public events does Arts for Humanity put on?
We're a little invisible in terms of the work we do because it's mostly within agencies and classrooms. However, we do have a Spontaneous Theater and Portraits for Youth booth, led by our interns, that visits events like the Solstice Parade, the Lemon Festival, and the Special Olympics. We bring costumes and props so children can dress up, create spontaneous theater, and even get their portraits taken. It is a whimsical, magical time for everyone, and it is wonderful in that it is what gets our name out there as well.
Where does Arts for Humanity receive its funding from?
We exist entirely on funding from local organizations. We have been fortunate in receiving numerous grants over the years from local foundations such as the Wood-Claeyssens Foundation, the Towbes Foundation, the Santa Barbara County Arts Commission, the Rotary clubs, and the Volentine Foundation.
It is really an honor to have this wonderful support, especially in this really competitive world of funding where nonprofits have so many needs and very rarely enough money to fuel their projects.
You recently won $10,000 as part of the Rex Foundation's Jerry Garcia Award. You said that this grant will go toward developing and maintaining Art for Humanity's internship program. What kind of work do your interns do, and how will they benefit from this award?
First of all, it is a thrill to have been recognized by a professional arts-based organization. This is the first foundation outside of Santa Barbara that has recognized us, and we are grateful for their contribution. We want to honor them by continuing to expand the work do.
Our internship program is a very special part of Arts for Humanity. We have between 20 to 25 students at a time from UCSB, Santa Barbara City College, and even Pacifica working with us in all facets of the organization. Most of our interns are art students, so they actually construct and teach the classes that we offer to agencies. We have dance students giving expressive dance classes, visual artists providing painting classes, etc. We train them appropriately in teaching and social service environments, and they fuel the most important part of our nonprofit in turn. Our work with them is essential in that we are training the next generation in providing art as a social service. We want to show them how they can improve our community through their own art.
We are receiving requests from an increasing amount of agencies, so this award will be extremely helpful in letting us provide the materials, space, and resources to our programs as they grow.
Are there any exciting developments in Arts for Humanity's future?
There are several things going on here! We are currently working on our updating our Web site and revamping our UCSB club as an extension of our internship programs. We hope to be able to hand it over to the interns to let them spread the word about Arts for Humanity and have them bring in potential interns. The longevity of this program will really depend on this. We have also recently been awarded our biggest grant to date — $30,000 — and we are excited about the opportunities that we explore with it.
What do you believe has been Art for Humanity's most important contribution to the community?
I feel like the productions we've created and produced have been our greatest gift to Santa Barbara. We bring in audiences of all ethnicities and ages and backgrounds to engage in a magical connection. At our events, everyone begins to relate on the most basic, pure, human level of creativity and friendship. It has been such an honor to be part of this wonderful project through the years.
4•1•1
For more information on Arts for Humanity, see artsforhumanity.com.