Arts & Entertainment
Los Lonely Boys at La Cumbre Junior High
Texan Rockers Brought Warmth to an Unlikely Venue on Sunday, February 12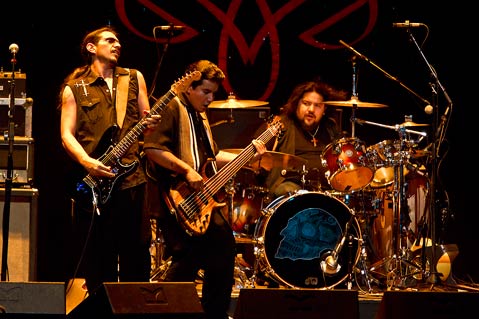 For a little while there, it almost seemed a bad venue choice for a Los Lonely Boys show. Given, it was a benefit to help raise money for music programs in our cash-anemic public schools, yet it seemed a bit strange to have the trio, who took the stage with a mighty roar, to play across the chasm from a school auditorium stage. Clearly the band — with its blues-in-the-barrio funk — felt a tad thinned-out without Budweisers clanking in the background.
It's not like it was a bad show, though. In fact, there was a fine out-of-school spirit permeating the place — a house where many of us, yours truly included, watched offspring play languorous band recitals. The Boys opened with a long jazzy intro, peppered with references ranging from Isaac Hayes's wacka-wacka guitar to hooks from "Sunshine of Your Love," "Low Rider," and "I'm the Man to Beat." And it was good DNA sampling, too, since the whole show reflected myriad influences ranging from Stevie Ray Vaughan chug to Los Lobos suavecito to the powerful tinctures of 1960s guitar heroes like Hendrix and Santana. Still, the band was at its best when it broke into its own melodic strengths, including Henry Garza's intricate guitar work, and brothers JoJo and Ringo Garza's more-than-rocking rhythm section.
The band played a dozen songs, faring best when they leaned more psychedelic than riffy, but "Heaven" still sealed the deal, with lyrics any school-aged kid could understand ("Save me from this prison / Lord, help me get away"). The old hipsters in the hall rushed the stage, singing along with the rhetorical question refrain, "How far is heaven?" In Santa Barbara last Sunday night, it was in the junior high auditorium.