News
Student-Led Pedal Power
Be Wise: Organize
I have the honor to sit on the Grant Making Committee for the Fund for Santa Barbara. It works under the premise of "Change, not Charity."
I often characterize this as the "teach a man to fish" approach to social change. What does this approach to social change have to do with the increase of bike culture and participation in bike events over the past few years? Actually, a whole heck of a lot.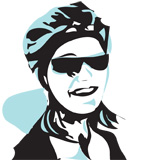 Over the past few months, as the dedicated members of the grant-making committee were busy deciding which groups to fund, an amazing crew of bicycle activists were busy organizing the many events that make up CycleMAYnia. Its website describes CycleMAYnia as "a month long celebration reaching thousands of Santa Barbara cyclists and community members with wide-ranging bike events for all. We are a collaboration of community members and organizations joining together to organize awesome bike events throughout the county."
CycleMAYnia's approach fits the Fund's approach to social change because it asks community members to dream up the events and then to lead in organizing them. The project's sponsor, Traffic Solutions, offers mini-grants (read: $$) for organizers to help make the dreams into reality, and offers a lot of staff support as well.
One of the best examples of this new model of event-organizing and leadership is coming out of Santa Barbara High School (SBHS). On May 9, 2012, over 200 cyclists, skaters, and scooters rolled into SBHS to celebrate national Bike to School Day. This is big news. The student organizers even wrote a press release to be sure that local media showed up. And they did. This is not a normal day at Santa Barbara High School. These student organizers are on to something important.
The success of this model started back almost two years ago, when the group Dons Net Cafédecided to help start a satellite project of Bici Centro on the SBHS campus. They call it SBici Centro. Dons Net Café is a group of over 40 students who learn leadership skills by undertaking different projects each year and volunteering for community events. Student organizers Miguel Palacios and Pete Chaconas have taken the lead in the mission to get students riding their bikes. When they need extra help, they ask fellow members of Dons Net Café and the larger student body to step in.
I continue to be impressed by the activities of these young people in developing Santa Barbara's bike movement. For starters, check out the video they created a few years back in collaboration with Traffic Solutions, We Ride Differently. They volunteer at events like Earth Day and Green Shorts, and Chaconas regularly attends the Santa Barbara Bicycle Coalition's Education Committee meetings. SBici Centro is a fully functional "Do It Yourself" (DIY) bike shop, attracting students wanting to learn how to fix bikes.
The culmination of this student-led hard work came on Bike to School Day. Students were treated to free breakfast and lunch, raffle prizes (including two donated bikes), and a professional BMX show from Team Soil. I spoke with Chaconas and Palacios, and they said they were inspired to see students more motivated to ride, especially kids who don't normally ride their bikes. The campus had a great atmosphere; friends were riding together; enthusiasm was high.
Behind the scenes, there are adult leaders supporting these hard-working young people. Teacher and Dons Net Café supervisor Lee Knodel, known to everyone as Ms. B, described to me some of the skills they learned, such as writing a press release, using social media, giving classroom presentations, obtaining a health permit — and that's just the short list!
And then there are the administrative supporters like Assistant Principal David Hodges and the City of Santa Barbara's Sarah Grant, and SBici Centro mentors Byron Beck, Eddie Gonzales, and Louis Andaloro. I'm sure this list of supportive adults goes on and on.
I asked Chaconas and Palacios why students organizing events for other students is so effective. Chaconas replied, "Kids know what kids want … we have the perfect knowledge of the targeted market, know how to address the problems, how to get kids to participate." Palacios added, "Events like this have a different feel because we're high school students; we know what students like and don't like. We cut out the middlemen and do it ourselves."
When I asked these young leaders if there was anything else they'd like to say, they replied that they would like to give a huge thank-you to all of their partners and supporters, including Dons Net Café, Bici Centro, SBici Centro, the City of Santa Barbara, and other sponsors.
I for one am inspired to see change, not charity, happening in the youth bike scene.