News
Kenneth Barber Back on Trial
Opening Statements in Case of Inmate Accused of Stabbing Two Men in County Jail
Kenneth Barber had a desire for respect, for power, and for control within the Santa Barbara County Jail, which is why, when he was disrespected by a fellow inmate, he felt he needed to take immediate action — by stabbing the man in the neck.
That's what prosecutor Kimberly Smith told a jury of six men and six women during her opening statement on Friday morning, describing the events that led up to Barber attacking two men in the Santa Barbara County Jail's northwest D-module on August 23, 2008. At that time, Barber was one of about 20 or so men in that section of the jail, reserved for hardcore general population inmates, or inmates who had already done prison time.
No one aside from the two victims, inmates Jerry Coffee and George Durst, witnessed either stabbing. The prosecution says that Barber was working out with Coffee when Barber called Coffee a bitch and slapped him in the chest. Coffee got up and walked out, a "sign of great disrespect," Smith said. To maintain that respect, Smith continued, Barber followed Coffee into his cell, and though he looked like he was going to apologize, he ended up stabbing Coffee in the neck.
While it's unclear how Durst was stabbed, a deputy responding to the initial slashing saw Barber and Durst in their cell in what appeared to be an embrace, with blood all over the wall. Barber was not injured; Durst was.
As well, Smith went on to say, the case was about fear and intimidation. While awaiting trial, she maintains, Barber attempted to send coded messages to a validated member of the Aryan Brotherhood prison gang, messages that contained the phone numbers and addresses of Coffee, as well as Coffee's mother and the mother of Coffee's daughter. The FBI, Smith said, examined the letters. All of those actions, according to Smith, "helped build his reputation" of control and dominance.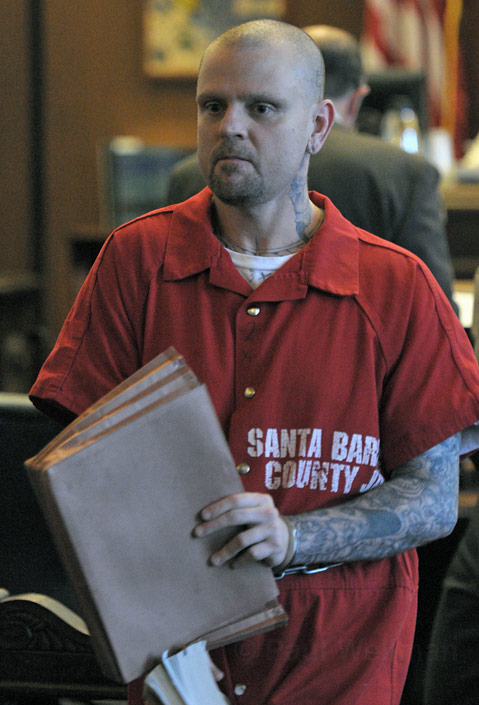 Smith hopes to show Barber's own allegiance to white supremacists with other evidence as well, such as his tattoos.
Barber, who is facing two counts of premeditated attempted murder with special allegations, is facing life in prison.
Defense attorney Joseph Allen suggested the jury would be hard pressed to find that Barber acted with the intent to kill Durst and Coffee, a requirement for premeditated murder. None of the wounds were even close to fatal, Allen said, despite the amount of blood. And the jury will have to decide Barber committed the crimes "to the exclusion of all the other inmates in D-Mod," he said.
There are two sides to every story, Allen said. Much of the testimony will come out of the mouths of inmates, he added. "You will have to decide whether Mr. Coffee is telling the truth," Allen said.
As well, Barber wasn't the only inmate Durst made a weapon for, Allen said. Because of tensions in the jail, Durst had supplied every inmate in that section of the jail with a cutting instrument a few weeks prior to August 23. There were other people in positions of respect, Allen said, and a number of people had the means and opportunity to cut Coffee and Durst.
It's taken awhile to get to trial, in large part because Barber was representing himself for much of the time, filing motion after motion, week after week. Last week, Judge Frank Ochoa, saying Barber has "continuously abused the court process," terminated his right to represent himself.
Coffee took the stand after opening statements, telling the jury he considered Barber a friend in jail. He said Barber would get angry whenever Coffee would speak about the influence of African-American musicians on rock-and-roll. Coffee came to understand, he said, that Barber was a member of the Skinheads gang and was pretty high up. Barber said he was one who called the shots and in the block was the one who grouped all the whites together to work out and eat together.
Coffee said he did his best to avoid conversations about race, as he didn't want to anger Barber with his opinions. He said he had a vague memory of Barber saying he carried a razor blade, which was hidden in his mouth. Coffee demonstrated how they hid it between their teeth and cheek and cover the sharp end. He did add that he never actually saw it, and he himself never carried one.
As for the day in question, Coffee said that while doing push-ups, Barber told him to punch his hands, which were covered with shower shoes. Coffee said no due to a cut he had on his hand, and Barber slapped him across the chest. Coffee then said "to get fucked" and walked out to his empty cell and did not see Barber's reaction to this.
A few minutes later, Barber came in smiling and said he loved him, with his arms extended to hug him. Coffee understood this as him apologizing, he said. But just before they hugged, Barber slit his throat. He explained he didn't even feel any pain, and it just felt like Barber had run his finger over his throat. But he noticed what had happened when he felt wetness and saw red all over his shirt. He immediately fell back on his bunk with his feet up to stop Barber from potentially attacking; however, Barber just stared at him blankly. Coffee said he never saw what was in Barber's right hand.
Another inmate came in and told Barber to get out, which he did, Coffee said. Durst then entered and, upon seeing what had happened, had tears well up in his eyes and demanded some shoes as he instantly became agitated and angry. Once he grabbed some he ran out. Coffee described Durst as a buddy just like Barber and had actually known him prior to their incarceration.
An inmate came in with Vaseline to put on the cut, which Coffee refused. When officers called for a lockdown, Coffee crawled out to avoid being locked in and possibly bleed to death. The officer began to apply pressure to his neck, a nurse appeared, and Coffee said he only remembered getting to the hospital.
The trial, which is expected to last three weeks, continues Wednesday morning.