Columns
A Makeshift Memorial
Tribute to David Kyne
People walking along the cliffs near Devereux these days may notice a sight that is a little unusual. There is a makeshift memorial set up at the edge of the cliffs, in a beautiful spot overlooking the ocean. Family members have placed flowers, letters, cards and a wooden marker emblazoned with the name Dave, in memory of their loved one.
This memorial was erected in honor of David Michael Kyne, who had a fatal heart attack while looking at the ocean on the bluffs at Devereux on June 16, Father's Day. He was 49 years old. Kyne, who was a resident of Northern California, was in town to attend his daughter's graduation from UCSB.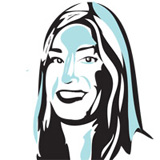 Every time I've walked along the path from Devereux to Sands recently, I've stopped at the memorial for a few moments. It's just a sign, a couple of cards, as letter, and some flowers, but it means so much more. I take a look at the card with a heart that says "Love You, Dad," and think about how much Kyne was loved. I've even stopped to read the letter from Allison Delaney, Kyne's daughter. It's moving, and gives you an insight into who Kyne was.
Delaney mentions her dad's sense of humor, the great advice he gave her, and the importance of the family values he instilled in her. She wrote, "You are the best dad anyone could ever hope for, your dedication, humor, love and your ability to give advice or cheer me up in any situation and your selflessness are all things that make you so amazing and set the bar high for any guy Katie [her sister] and I go out with."
More and more, these types of memorials are being set up along roadsides, at the sites of shootings, etc. While they are erected throughout the world, I first heard about them from a childhood friend describing her family's annual trip to Mexico. One of the roads they had to drive along was lined with crosses marking the spots where people had died. I found this image absolutely terrifying. To me, the whole thing seemed like something from a movie.
Now, however, I'm starting to see how important it is to remember those who have died in a way that creates a community experience. I didn't know Kyne or his family, but the memorial has given me a chance to appreciate them and spend a moment thinking about his life. If the memorial were in a cemetery, or any other location not open to the public, I never would have had this chance.
It got me thinking that there should be an avenue for creating memorials for Isla Vista residents, visitors, or any others. I don't know how many times I've sat on a park bench in Santa Barbara and stopped to read the plaque attached to the back. Perhaps this type of tradition could be instituted in Isla Vista. There was a precedent set with the installation of the mosaic in Little Acorn Park to remember the students killed in 2011 when a driver hit them as they walked down the street.
Maybe the Isla Vista Recreation and Park District could set up some sort of system to allow the public to install a plaque, art piece, rock, etc. in honor of a loved one. In the past, the IVRPD has allowed trees to be planted in memory of people who have died. The entire community could share in not only the loss, but in the celebration of what made the people who have died something special.