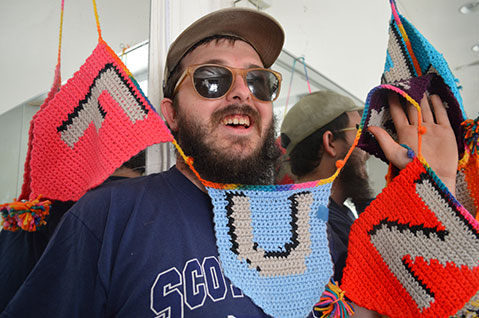 On Friday, August 22, 2014, a handful of musicians — S.B.'s Watercolor Paintings, Blossom, and Mallards, along with Oakland's Void Boys — gathered into the most improbable venue to play a show: the East Beach Batting Cages. It had never happened before, and there wasn't any indication it would necessarily happen again.
This Saturday, a year and 82 shows later, that little storage and repair closet will be celebrating its one-year anniversary as the town's beloved all-ages venue, the Funzone. Thanks to the dedicated work of bountifully spirited, bountifully bearded Batting Cages manager Spencer vonHershman and a few loyal volunteers, the venue has filled a void in an otherwise age-restricted music scene, welcoming all manner of hometown heroes, touring talents, fringe weirdos, and pop-up acts to its inclusive corner of lower Milpas.
When vonHershman arrived on the scene, the present stage was nothing but a stoners' den with a mini fridge and a couch. The self-starting Santa Barbara High School alum, who graduated early and has since worked in all manner of colorful jobs, from museum attendant and Microsoft HR associate (where he taught the old folks about video games) to horse stall cleaner, quickly became the head honcho, calling shots and repairing the pitching machine's parts. One day, he cleaned out that hardly utilized space and saw an opportunity. "Man, this is a big open space in the middle of nowhere. I could totally do shows here," he thought to himself. The Funzone was born.
The Funzone is a rarity in its day, the only truly regular all-ages venue in a town that once housed constant shows for youths at places like The Living Room, the Hard to Find, Biko House, La Casa de la Raza, and the Alano Club, among countless others lost to history (though Hard to Find and Biko are known to still open their doors once in a while.)
Rarer still is the Funzone's emphasis on simplicity and good-natured fun. The shows are kept consistently at $5 or free and begin at 8 p.m., with foosball, ping-pong, and batting cages supplanting alcohol for side entertainment. Attendants can meet and talk to bands, and parents can feel safe knowing the kids are alright.
In fact, a lot of young life unfolds at Funzone, whether it's teen romances blooming on the dance floor or it's a high school band playing its emotional senior sendoff show, like with the recent Penile Abuse and Nutrition Break sets. "It's so juvenile and innocent; it's amazing. You have people playing ping-pong, and at the same time you'll have 15-year-old kids in a mosh pit. It's the kind of place they just get to let their freak flag fly straight up. There's no judgment here," vonHershman said.
It's because he and volunteers like DIY deity Josh "Hoshwa" Redman and Honey Maid power pair Sydney Hengst and Justin Chou foster a seldom-seen thing: a hangout space where people can enjoy themselves without having to buy things, where bands can play in the name of community, and where the music can be truly enjoyed by all.
4.1.1
The anniversary show takes place Friday, August 22, with Honey Maid, Cave Babies, Jesse R. Berlin, and Internet. The show starts at 8 p.m. at Funzone (226 S. Milpas St.). Visit sbdiy.org for more info.
A Few Questions with Jesse R. Berlin
The New York–based slapstick lounge act plays Saturday with Honey Maid, Cave Babies, and Internet. (Read the full interview at independent.com/jesserberlin.)
Your new song is called "Wash Your Boat!" Do you have a boat? I used to own a yacht that I named Walter Becker (of Steely Dan fame), mostly just because I thought it would be funny to tell my friend Walter Becker (of Steely Dan fame) that I owned him. But these are leaner times, alas. 
Any particularly colorful Jesse R. Berlin tales of the sea generally? I did spend one emotionally exhausting and sexually eye-opening year in Sea Org, but unfortunately I am legally barred from discussing it. 
What will your autobiography one day be called? On that note, who will play you in the movie?  You All Really Blew It. And I'll play myself, thank you very much.
Is it painful to be a genius? Oh my god, yes. You have no idea. Every day is hell. —