News
Reverend Mark Asman 'Refires'
Reflects on 21-Year Legacy of Activism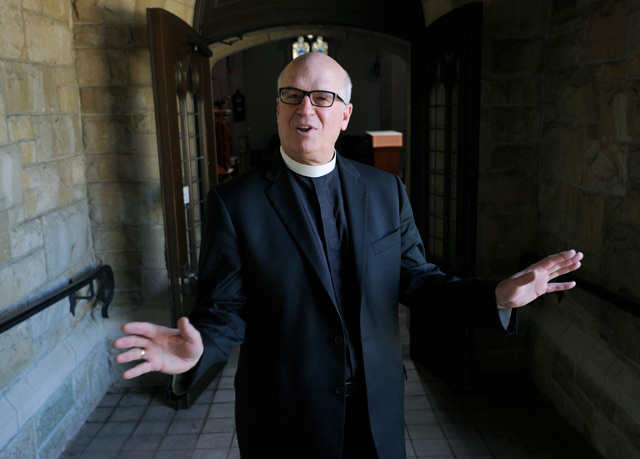 Santa Barbara's first openly gay spiritual leader, Reverend Mark Asman, led Sunday service for 21 years at the Trinity Episcopal Church. A soft-spoken human rights activist, he cofounded Casa Esperanza in 1999 and in 2003 the city's interfaith chapter of CLUE (Clergy and Laity United for Economic Justice). For nearly two decades, he opened Trinity's small parking lot overnight to the homeless, who were banned from sleeping on the street.
On the eve of his retirement, he spoke with The Santa Barbara Independent about growing up in 1950s America, coming out during the AIDS crisis, and his activism.
Did you grow up in a religious family? The 1950s was sort of the high-water mark of church in the United States. My parents woke up, metaphorically speaking, and realized we were the only family in our neighborhood not at church on Sunday morning. My mother, church-shopping around Lafayette and Walnut Creek, discovered the Episcopal Church, and so that's where we started to attend as a family. My sister and I were baptized. We were all confirmed into the Episcopal Church, and that became my religious formation as a young boy.
What was it like to be a gay child in that era and place? I think it's hard to imagine that 60 years ago the world was so hetero-centric. That was the norm, and the assumption was that there was no obvious culture or language around LGBT [lesbian, gay, bisexual, transgender] issues.
"Homosexuality" was a dirty word, a derogatory word (still can be). So it wasn't until I was an adolescent that I slowly began to become aware to my attraction to men, but given my church context at that time, given the social context at the time, it just seemed like an impossible option for me. And then when I began to pursue ordination, it seemed even more impossible. There have always been gay men and lesbian women in the church and in the priesthood and religious orders; they've just never been able to be out. And I assumed that that was the price I would have to pay.
Then I sadly thought perhaps I could try to change my sexual orientation if I couldn't suppress it. This was shortly after I was ordained, so we're talking mid-1970s. As I was moving through those early years of ministry and trying to keep a lid on my sexuality, I became increasingly unhappy. I would probably even say depressed looking back on it, understandably depressed.
I eventually came to a place where I realized, of all the options I've tried, why not just try some self-acceptance? At that point I was in a small rural parish in the Sacramento Valley, and I knew that while they loved me and I loved them, this was not something they could handle in 1980, and the [larger] church was in no position to handle it at that point.
With the decision to embrace self-acceptance, what was remarkable was the immediate sense that "My goodness, I have been wasting all this energy trying to control or suppress something that is uncontrollable, and doesn't need to be suppressed." I figured that I needed to leave parish ministry in order to put these pieces together, and I thought that would be a short-term project. So I left parish ministry in 1982. But once I realized this was a longer, more complicated project, I realized I needed to get a job. I started to work as a Christmas extra at I. Magnin's in San Francisco, which was a department store downtown on Union Square, and in the evening working as a telephone solicitor for the March of Dimes.
When I was transferred with the company to L.A., I knew that it was time to leave Magnin's. I met with the employment officer with the Diocese in L.A. and said I wanted to come back into full-time parish work. Homosexuality was a hugely contentious issue at that time in the Episcopal Church. L.A. was on the cutting edge of supporting and embracing the LGBT community, and I said to the employment officer that while I felt passionately called to parish ministry, I wasn't going to go back in the closet for it. They thought that Trinity would be a good fit and recommended my name to the vestry here. I interviewed for the position in late 1993, and started in 1994.
What was it like to be in the Bay Area during the Harvey Milk era? The year I started to come out, 1982, was also the year that AIDS began to be identified. [In] San Francisco the whole movement for gay rights was beginning to evolve, and there was just a numbing crisis around AIDS, seeing friends die … considering it a minor miracle that I escaped those early years without being HIV/AIDS positive. I am enormously grateful but lost a lot of friends in the meantime.
What's next for you? A really wise retired priest gave me some advice a while back that has made total sense to me, especially as I watched other clergy friends retire: Say no to everything for a year. I actually learned a new way to express it when Matthew Fox was here a few weeks ago. He said he doesn't like to call it retirement; he calls it "refirement." So because retirement, or refirement, is such a new next phase, it'll take some time to figure it out. I've been very active in the community, and I imagine I will find ways to remain so.
How will you do that? I know how much religion has been an enemy to LGBT folk. Remaining an advocate will be always a part of who I am. We have achieved so much around marriage equality, and we are making progress with discrimination in the workplace ​— ​there's still more work to be done there ​— ​but the real cutting edge within the LGBT tent is how we care for and advocate for the transgender community, which is the object of a lot of hostility, violence, misunderstanding, fear. As a gay man, I know what that's like. We've made great progress in my lifetime, more than I would have imagined, but I think the next frontier for justice around sexuality and orientation and gender is protection and advocacy for the transgender community.
Any social and political issues that you haven't dived into but that you would like to? Economic injustice, the environment, immigration reform, disarmament ​— ​there's so many different ways to pay attention to the things that are broken in this world, and I think it's up to each person to find that place where the personal passion meets the deep needs of the world around. I'll be very curious to see where that takes me in retirement. I think I will always stay close to issues of homelessness and gender equality and reproductive rights for women, but I am passionate about immigration reform and have been involved with that through CLUE here in town. I think it's important for those who care about these issues of justice and inequality to see the faith community show up and count.