Positively State Street
The Regrettes, Slanted Land, Cardiknox All Rock the Empowered Self
Rockers Discuss Being True to Themselves in Male-Dominant Rock Scene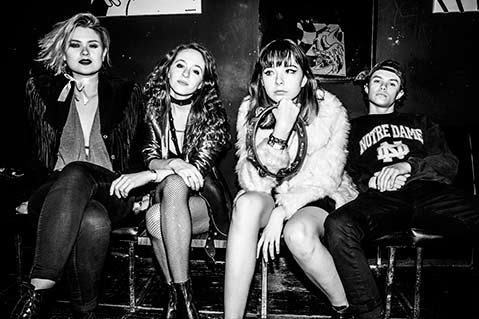 TRUE AND BOLD: This week, State Street will listen in on some inspiringly bold self-declarations from three rising acts led by women: L.A.'s teen rockers The Regrettes, who play with Tacocat and Hayley and the Crushers at Velvet Jones (423 State St.) on Saturday, July 16; Cardiknox, also from L.A., who opens for Phoebe Ryan at SOhO Restaurant & Music Club (1221 State St.) on Wednesday, July 20; and the Good Land's own Slanted Land, who release their eponymous EP tonight, Thursday, July 14, at SOhO with El Jefe.
Lydia Night, whose band The Regrettes are catching accolades left and right with their rocking, slightly retro tunes, said her band stands for staying true to yourself, even if it's the unpopular thing to do. "I think that what our band is really about, and what people need to hear, is that getting to know yourself and figuring out what you're about and what you stand for and what you like and what you don't like is completely okay and acceptable," she said. At 15, it's a powerful message, when most others in her age group are struggling to fit within the confines of the status quo. "People are so scared and nervous all the time about speaking out about anything that they believe in."
It's a message Cardiknox echoes in its hit "Wild Child," which has excited ears across the globe, especially since they started touring with Canadian megastar Carly Rae Jepsen. Singer Lonnie Angle said the song is about being your "boldest and truest self." "In a culture that's constantly telling us to be someone or look like something, when you lean up against that and lean up hard enough that you're able to find who you really are, that's really maybe the wildest thing to do today," she said.
Raised on musical theater and formerly composing more operatic pieces before turning to pop music, Angle said being onstage allows her to embrace her inner wild child. "You get to do and be your boldest self, your craziest self; you can continue to push and push and push the envelope — because you're the only person setting those boundaries," she said.
Unfortunately, being a young woman in a rock band still has some boundaries — comments from doubters, downward-lookers, and sexists. But Night said rock by women is on the rise for good reason: "When it comes down to it, rock music is about honesty, and it's about speaking people's truth, and women have a lot to say. I'm not saying that men don't, of course, but women have had to go through their fair share of shit, and now it's coming to the point where they can actually speak out about it."
"We all want to hear, appreciate, and relate to the feminine side of the human experience, too, no matter what gender you are," said Slanted Land founder Tova Morrison. "Because rock artists in the recent past were (and still are) primarily men, and the rock industry is just getting over its andro-centrism, then maybe women artists today are getting an affirmative-action type of promotion to the stage, as well as stepping up their game."
Morrison mentioned challenges — as a mother, parenting always takes priorities over rocking for Morrison, and she points to other cultures where women are still forbidden to drive as an example of cultural impositions still in place elsewhere. But in her music, Morrison exudes a sense of peaceful contentedness and acceptance, as in new song "You Do Your Thing I Do Mine." "This song is an assurance that the pace of life as it is is good — that people in your life have their own things going on which are parallel, and equal in importance, to your thing. It's also about bonding with people," she said.
Ultimately, bonding is what Slanted Land's music — and all of these shows — are all about. "I think we are traveling into a time of diversity, of loving acceptance in general, and I think the art world has been there already a long time," Morrison said. "If a dude is ripping it up onstage or a chick is killing it in her performance — I, for one, am going to have a great time being a witness to, and creator of, the rock."