Real Estate
BuildZoom Connects You to Contractors
Jiyan Wei and David Peterson's Website Keeps Homeowners Informed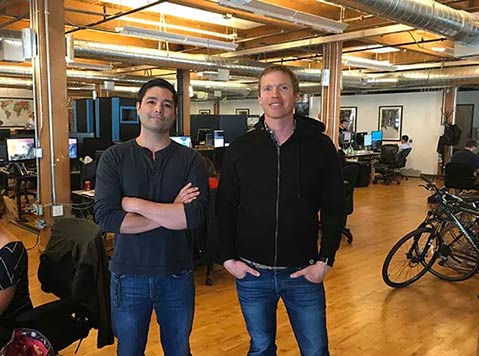 Because of the often high costs and frequent horror stories that homeowners tell about their experiences with contractors, the industry ranks number two in public dissatisfaction, just behind automotive. So says Jiyan Wei, which is why he launched BuildZoom.com with his childhood friend David Peterson to level the playing field and give homeowners insight into which contractors are good and which aren't.
"Our goal is to provide homeowners with a free, public resource to help them better understand what's happening in their neighborhoods," said Wei, whose site aims to help the average person "find a contractor you can trust, for free."
Wei realized that there was a lack of data on contractors after he purchased his own home years ago. "I had a hell of a time finding good contractors," Wei said. "Even when you find those guys, you can't research it. Yelp reviews are sparse. When contractors move to another area, there's no paper trail. There was absolutely no information out there. I thought that was a big problem." The idea for BuildZoom sprung from this "general lack of information on who's out there and what they've done."
So Wei and Peterson began collecting data from various sources. "We gathered 125 million building permits, matched them with the contractors, data share with the Better Business Bureau, Yelp records," said Wei. "We also do a federal criminal background check." In 2013, they launched their company, backed by investors such as Palantir Technologies cofounders Joe Lonsdale and Peter Thiel. Today, with offices in San Francisco (near where Wei lives); Norman, Oklahoma; and Manila in the Philippines, BuildZoom employs about 75 people and generates revenue through commissions when someone hires a contractor through the site. "It's been pretty gradual and methodical," said Wei of their growth.
The site allows users to search through contractors of various types, from roofers and floorers to solar panel installers and HVAC outfits; track projects new and old in their neighborhood; see the remodeling history of your own home; print out basic legal contracts; and ask questions of licensed contractors. The site lists the number of jobs handled by each contractor and what the average price is, and also assigns a "BZ Score" to them. Contractors can tend to their own profiles, and homeowners can also add their own reviews of contractors they've used, though they don't tend to be as angry as you might find on Yelp.com. "There's a level of intimacy with contractors," said Wei. "They know where you live, so you can't pan them on public sites."
So what do contractors think of this new database all about them? "Great contractors love us," said Wei in what could double as the company slogan. "Bad contractors hate us."