Film & TV
'Wormwood' Probes Mysterious Death of CIA Biological Warfare Scientist
Errol Morris's Docudrama Scrutinizes Frank Olson's Alleged Suicide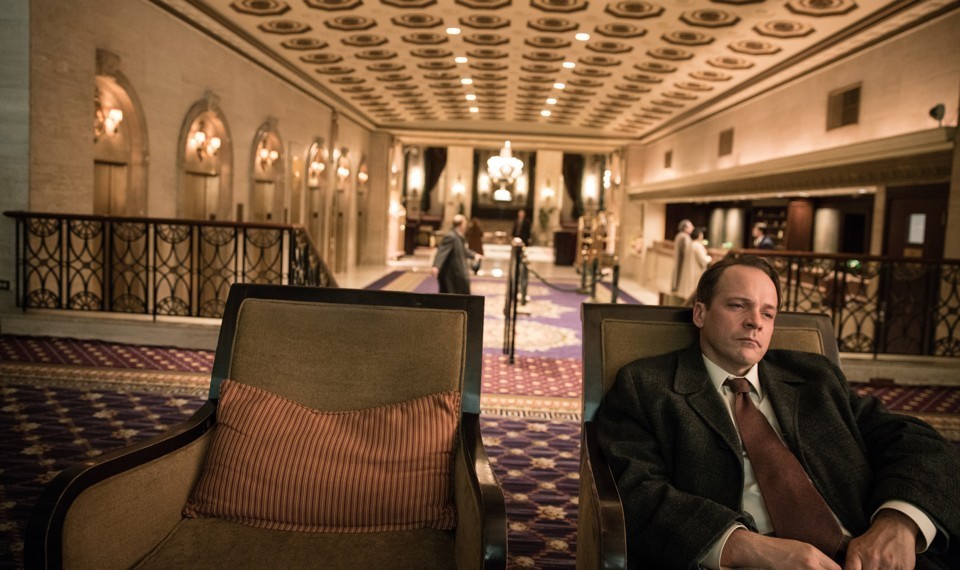 Errol Morris knows more than most filmmakers that truth, and the dogged quest thereof, can be both a compelling and slippery business. Morris's long career as a contrarian documentarian — from his early quirky jewels Gates of Heaven and Vernon, Florida to the masterful The Thin Blue Line, one-on-ones with Robert McNamara and Donald Rumsfeld, and the titillating eroti-kitsch of Tabloid — has been a truth-seeking mission lined with the filmmaker's rampant and sometimes eccentric curiosities and his unusually bold sense of cinematic style in the storytelling process.
With the fascinating new Netflix docudrama miniseries Wormwood, Morris relaxes into the extended time parameters to contend with the frustrating saga of Frank Olson, who was found dead outside N.Y.C.'s Hotel Statler in 1953, having fallen from a 13th-floor window (the open window becomes a haunting, recurring motif throughout the miniseries). Olson had become disenchanted with the government biological warfare project he was working on; he ostensibly committed suicide that night — under "unintended circumstances," CIA sources confessed only in 1975, involving its experimental use of LSD and Olson's ultimate demise. Others have suspected a CIA-organized assassination of the dissident and potential whistle-blower.
Morris has always been keen to explore the inner nature of quirky characters on both sides of the power grid. While McNamara and Rumsfeld are from inside the "decider" zone of the power elite, Olson's son Eric, the protagonist in Wormwood, is on the far side of that governmental power equation. Well-spoken, Eric Olson has basically been neurotically fixated on investigating the truth about his father's death for more than 60 years. "I needed truth a long time ago," says the present-day Eric, who confesses to being "lost in a sea of questions" and that "the value of the lost one is infinite." In effect, Eric's life stopped on that day in 1953, when he lost his father under dubious and still-unclarified circumstances. The core of the film, really, is based on epic interview sessions with the present-day Eric, interspersed with clips of his public and private life, including home movies of a visit to Gerald Ford's White House Senate hearings and his father's exhumation process, which revealed a "murder most foul."
Lurking in the margins of the story is Shakespeare's Hamlet, with its narrative bequeathal/burden from father to son and in which the poison wormwood was used to assassinate the king of Denmark. Snippets from screen versions of the play punctuate the miniseries, and, inevitably, we hear the apt line "Something is rotten in the state of Denmark" (in episode four, titled "Opening the Lid").
As in The Thin Blue Line, but to a larger degree, Morris adds the element of docudrama reenactment, with actors Peter Sarsgaard as the hapless Olson and Molly Parker as his wife, deftly blended into the mix. Morris also happily steeps in Cold War–era kitsch, weaving in period footage from the '50s onward, split-screen shots, and other period-piece fodder.
One surprising real-life subplot concerns famed investigative journalist Seymour Hersh, who broke the My Lai story and countless others and covered the Olson story as a young journalist. Badgered for help from Eric, Hersh reluctantly sits before Morris's camera but comes across as elusive and defensive, party to the legacy of buried secrets surrounding this tragic American tale.
In the final, more objective analysis, Wormwood might seem unduly elongated, enabled by the serial nature of modern, Netflix-era television (three or four episodes would have told the tale spread out into six), but Morris's magical stylistic sheen is a happy place in which to bask, in binge mode or otherwise. Its innate, gnawing, visually mesmerizing obsessiveness becomes hypnotic, a sub-subject unto itself. In other words, Morris's latest truth chase is satisfying on its own terms, beyond the devilish details.