Workin' It
Our Annual Jobs Issue
By Camie Barnwell | Photographs by Paul Wellman
Published May 22, 2019
For this year's Workin' It special issue on the Santa Barbara job market, we challenged veteran journalist
Camie Barnwell to find the pulse of what's beating in the region's employment world.
She found educators reassessing whether college makes sense anymore, a construction industry hungry for workers to staff its high-paying jobs, and offices concerned about the health of their workers.
Plus, we asked our readers to tell us about why they love their jobs, and we are publishing many of the most inspirational and interesting responses in this report.
Does College Equal Career?
Santa Barbara's Place in the Ever-Changing American Job Market
Does College Equal Career?
Santa Barbara's Place in the Ever-Changing American Job Market
Does anyone major in 19th-century French poetry anymore?
Back in the day, college was more about broadening horizons and finding your calling. Lately, more and more young people are choosing areas of study that will improve their employability ​— ​and not land them back at their parents' house, agonizing over student-loan debt and keeping their room clean.
With regional economic forecasts guiding the way, students, educators, and employment experts alike are looking to better connect the dots between where the jobs are and what skills are needed to land them. But are job seekers willing to heed the market's call by following the "help wanted" signs?
The 2019 UCSB Economic Forecast notes that employment growth has been strong in every industry over the past three years, with the exception of retail trade and information technology. With the City of Santa Barbara's unemployment rate at a low 2.6 percent (Goleta's is at 2.7), the region is facing a new reality: There are now more job openings than unemployed people.
Workforce shortages are happening across parts of the state and nation, but they are particularly pronounced along the South Coast, where the labor market is tight, cost of living is high, and the perils of commuting are a continued source of tedious conversation.
According to the Santa Barbara County Workforce Development Board, industry sectors with the highest employment are: food, beverage, and agriculture; tourism and hospitality; health care; and building and design, the latter seeing an extra lift following last year's destructive 1/9 Debris Flow and preceding Thomas Fire.
So is Santa Barbara able to recruit and grow its own, adequately skilled workforce? With about 210,000 jobs countywide ​— ​most of which occur on the South Coast ​— ​that's one tall order with no silver bullet.
Speaking of silver: Labor economists have issued a warning for what they call the "silver tsunami": the massive wave of aging baby boomers who are in the process of exiting the labor force, leaving in their wake a knowledge and skills gap that is unsettling to many industries.
Career Without College?
An interesting development that aims to alleviate some pressure is that high schools in California are now being measured on how well they are preparing students for college and career. The state now monitors the "College and Career Readiness Indicator," pushing secondary schools to offer and expand pathway programs that put students on track toward specific careers, whether requiring a college degree or not. The state has invested $500 million toward the cause.
The initiatives are widely welcomed by educators and industry leaders. But they also agree that they'll be putting in overtime to handle challenges with funding and coordination, not to mention overcoming the stigma associated with traditional vocational education programs that were started with good intentions in the early 1900s. Those programs eventually fizzled over concerns that they'd become the dumping grounds for poor and underperforming students.
Over the years, other forms of career training programs have surfaced in the schools, but nothing quite as dynamic and all-encompassing as what we are seeing today.
"Industry needs education, and education needs industry."
The Santa Barbara Unified School District currently has 989 7th- to 12th-grade students within 18 Career Technical Education (CTE) pathway programs covering nine industry sectors. Representatives from all of those fields were present at the district's recent, first-ever CTE Advisory Forum. "Industry needs education, and education needs industry," said Kimberly Hoj, the district's coordinator of special programs who coordinated the gathering.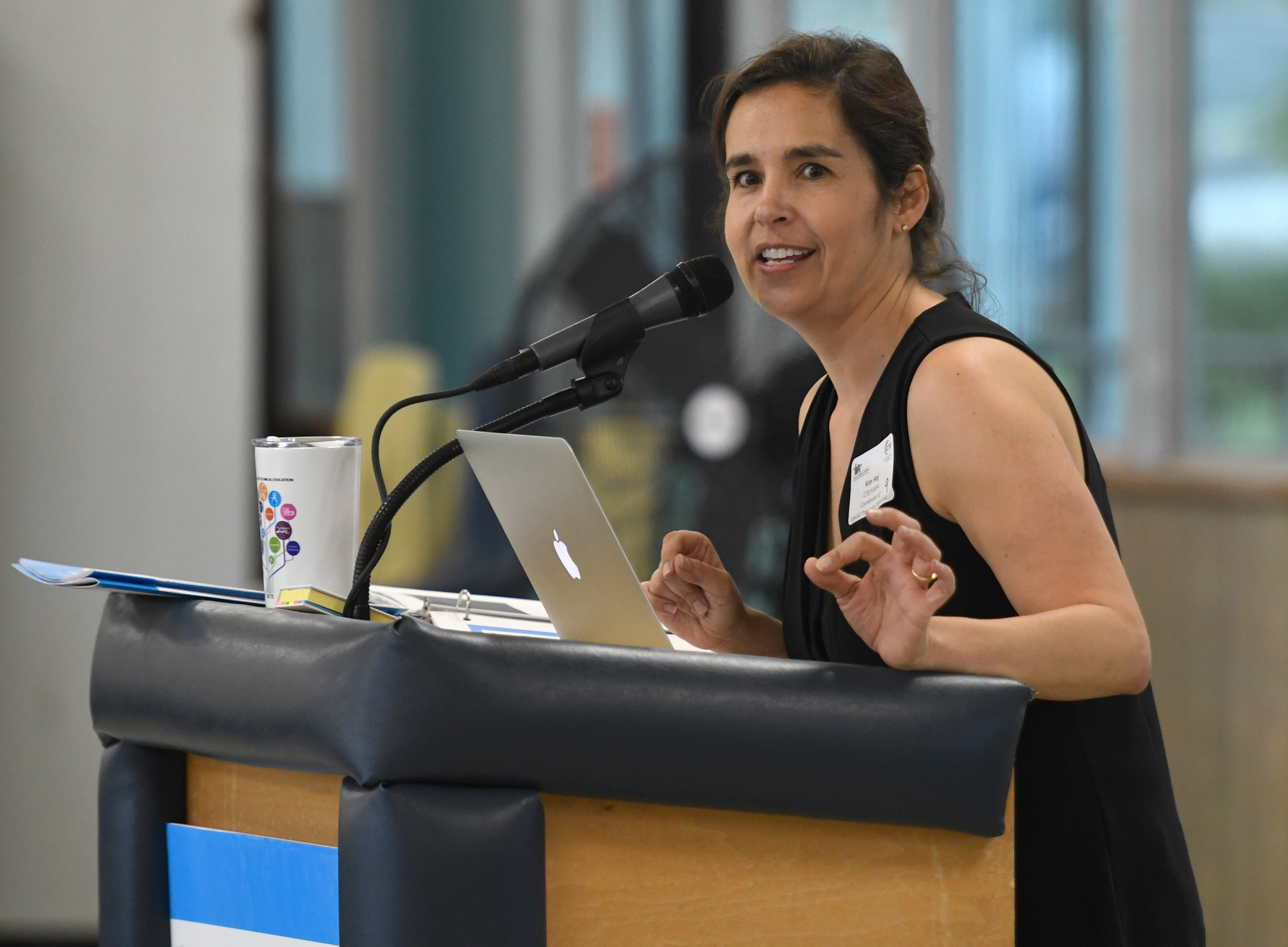 District Superintendent Cary Matsuoka acknowledged to the group that education has not always moved fast enough to keep up with the rapid evolution and needs of business and industry. But the two worlds are taking steps to better align their interests today. "The relationship between our CTE programs and local businesses are some of the best that I have ever seen," said Matsuoka, who's spent 40 years in education. "My hope is that we become a more agile school district as we listen to our industry partners."
The forum's crowd consisted of contractors, architects, mechanics, nurses, graphic artists, culinary artists, marketers, and hoteliers sitting side by side with teachers, counselors, students, and other stakeholders. "We really need your input," said Matsuoka. "You are dealing with pressure to find a qualified workforce. We need to hear from you: What do you need from the workers of today?"
Can Industry Adapt?
Santa Barbara High School career counselor Spencer Barr said it's exciting to see the pieces falling into place that will put all kinds of students on a path to becoming empowered and productive adults. "We were graduating all of these kids with bachelor's degrees who had to come back to their parents' house because they didn't have any employable skills, at least not in the area where the jobs are," he said. "Our pathways prepare kids for college and career. Not just college, not just career, but both!"
The walls of Barr's career center are covered with promo felt pennants advertising universities from across the nation. He said it's been harder to get his hands on fan gear from industry sectors that would catch the teenage eye. "Unlike the universities, industry doesn't have the marketing wing," he said. "I have to go out and get it."
"Our pathways prepare kids for college and career. Not just college, not just career, but both!"
There's a learning curve, too, for business and trades folks who are trying to engage with the bureaucratic world of public education. Educators speak their own language, said district forum guest speaker and "industry liaison" Mike Etchart, who works in the entertainment business. His role, along with other liaisons representing various industry sectors, is to assist districts with creating work-based learning experiences like guest speakers, field trips, job shadowing, internships, and apprenticeships.
"I learned that I need an education acronym decoder ring at all times, and that districts can be byzantine," Etchart said. "But also that, for the most part, people put students' needs first. … It's crucial, this connection between industry and education."
What's My Motivation?
Not everyone needs or wants to go to college. In fact, U.S. Census data shows that 33 percent of Americans older than 25 have completed a four-year degree.
Advocates for college and career readiness say students benefit from having the seeds planted early on that reveal there are many ways to make a living, all requiring different levels of training and education. "When they find the things they love, motivation is natural," said Hoj, who is also a district CTE teacher in arts, media, and entertainment. "I want students to find what they love and align what they love to the greater good."
It's a delicate balance for educators who are advocating career readiness, but not at the expense of developing well-rounded individuals.
"As more students opt for occupationally linked majors, the role of the humanities and social sciences in the curriculum must be protected," said educator and Forbes contributor Michael T. Nietzel in response to data confirming that humanities and liberal arts are struggling while STEM (science, technology, engineering, and math) fields and health-and-human services majors are surging. "We don't need more engineers who know nothing about the Civil War, police officers who believe Churchill was a fictional character, or nurses who have never been moved by a great novel," he said. "A grounding in the humanities and social sciences is indispensable, regardless of college major."
Fighting Workplace Stress
How Companies Can Keep Employees Healthy and Happy
Fighting Workplace Stress
How Companies Can Keep Employees Healthy and Happy
In health-obsessed Santa Barbara, long gone are the days of the two-martini lunch and chain-smoke sessions that were once considered a great way to connect with coworkers and burn off stress.
We've exchanged that lunch-hour imbibing for kombucha on tap. We've swapped cigarette breaks for group wellness walks around the block. We've instituted employee councils intended to boost morale and create a sense of belonging. We hold to strict ergonomic guidelines and mandate sensitivity trainings to increase our emotional intelligence. We offer enlightening workplace experiences that were unfathomable even five years ago: an app that reminds you to do yoga at your desk and meditation sessions to help release the stress of the day.
Man oh man, with all these good vibes around us, you'd think workin' 9 to 5 would be a piece of cake. But as it turns out, research shows that workplace stress is on the rise.
Certified leadership coach Carrie Williams, who recently spoke this month in Santa Barbara about managing stress and setting goals, sheds light on why we're still stressed out and what we can do about it.
What are the greatest causes of workplace stress? In a study by the American Psychological Association, 60 percent of people cite work as a major source of stress. That's a lot. They attribute it to a lack of work/life balance, heavy workload, transitions in the workplace that are out of the employee's control (like hirings and firings), the selling or merging of the company. Those are major stressors. Another stress cited as the most common is personality or management conflict. The manager micromanages, or they don't give you enough detail, or they don't give you enough detail that is best perceived by you.
With all the emphasis on workplace wellness, why are people more stressed than ever? We work more hours now, and most families rely on double incomes, so there are household tasks on top of work. The average debt has gone up drastically, and the overall mental load is higher for the modern-day employee than it was 50 years ago. Even when companies offer stress-reducing opportunities, they're not paying you to meditate. That's the other problem. Culturally, as a nation, we praise hard work; we praise sacrifice. It's almost a badge of pride when somebody goes to work and says, "I worked until midnight last night." Until we shift that culture, and praise working efficiently instead of just working hard and long, that's not going to change.
How do we avoid burning out? There are different types of personal stress: mental, physical, and workplace. For mental stress like anxiety, I suggest speaking to a mental-health professional or working with a coach. For physical stress, you need to look at self-care, like sleep, nutrition, and exercise. For workplace stress, you can look at prioritization, time management, automation, delegating, and creating boundaries between work and home. It's about aligning your goals with your core values and beliefs. Even if life is stressful, if your life is purposeful, you feel less stress.
How can companies create a healthy work environment? Offering yoga and meditation is great. I'm a firm believer of mindfulness practice, focusing on the moment, not worrying about the task or the future. Companies can host workshops that will teach employees stress-coping mechanisms. That's the next stage because it's often a challenge to show how reducing stress in the workforce increases the bottom line.
Luckily, there are studies coming out showing how expensive stress is in the workforce. The problem of stress in our professional lives is so pervasive that the Occupational Safety and Health Administration (OSHA) declared stress a hazard of the workplace and estimates that stress causes American industry more than $300 billion per year. Some of that is money lost when someone calls in sick; some of it is productivity lost. People are less efficient and less productive when they're stressed out.
Carrie Williams will run a workshop called Master Your Stress on Saturday, July 20, noon-3 p.m., at the Margerum Wine Company tasting room in the Hotel Californian. See tinyurl.com/WilliamsStressClass.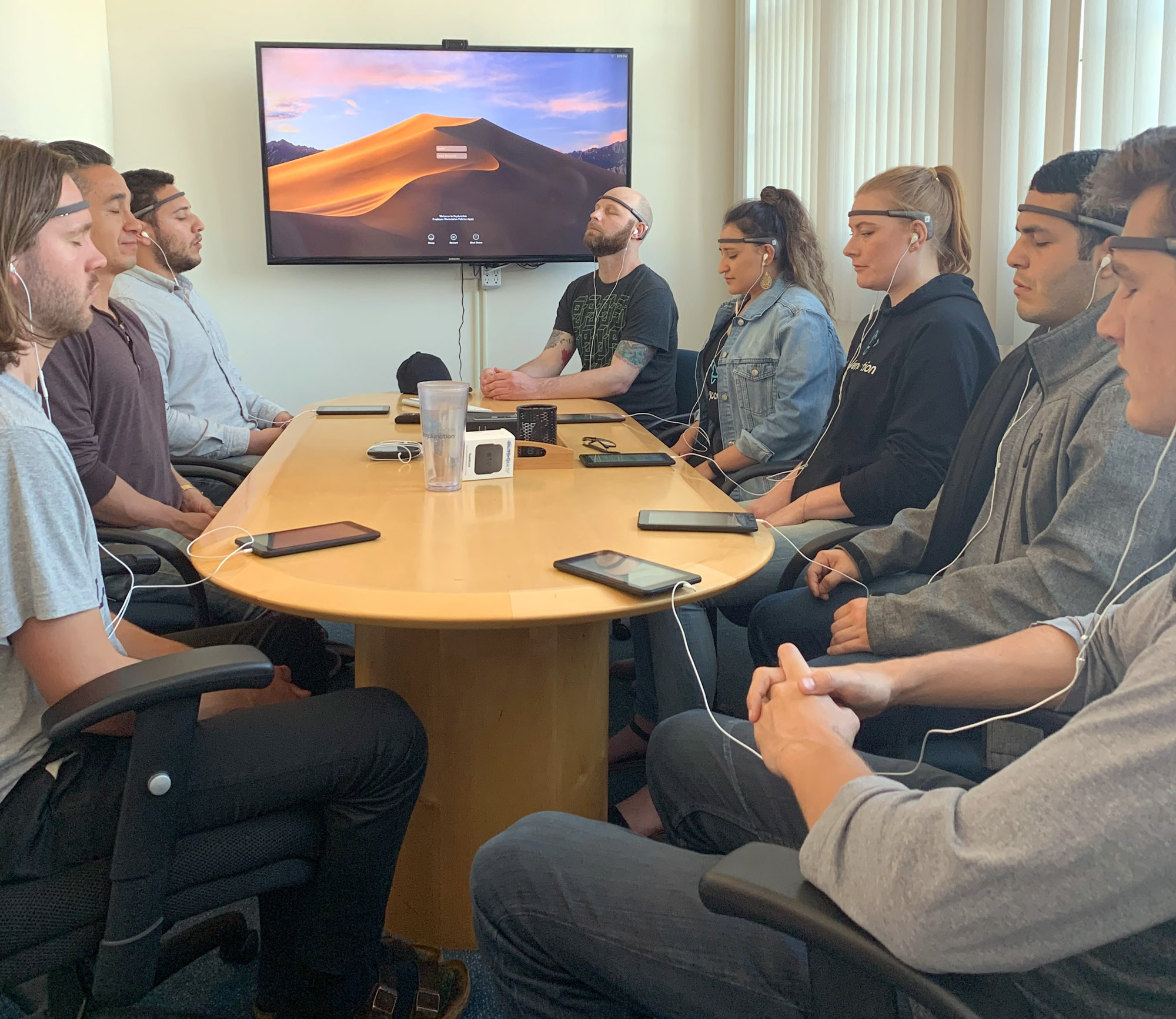 Neuromeditation Soothes PayJunction Employees
Randy Modos Discusses Why His Company Uses This Stress-Fighting Technique
Neuromeditation Soothes PayJunction Employees
Randy Modos Discusses Why His Company Uses This Stress-Fighting Technique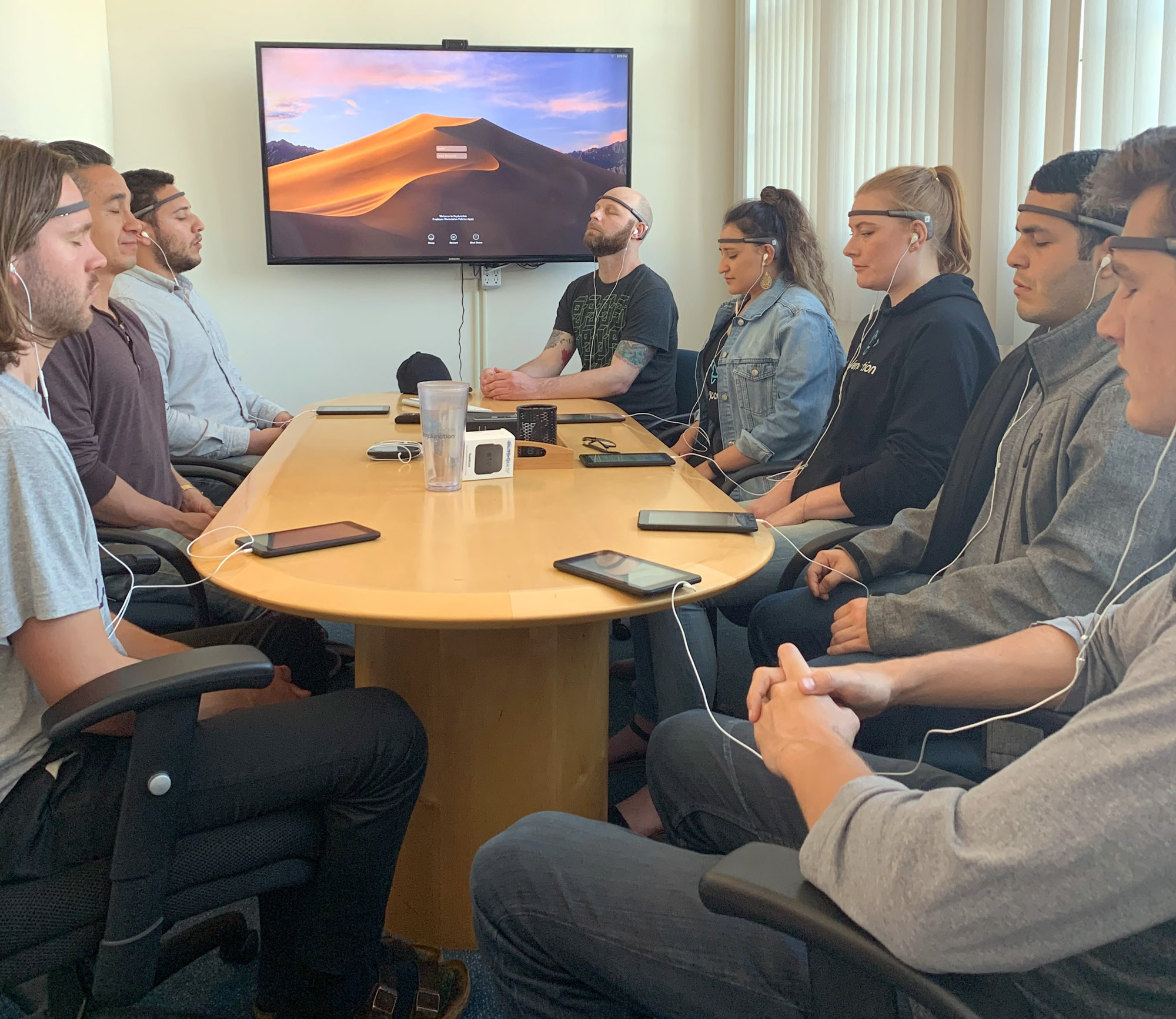 PayJunction is one Santa Barbara company that's taking health and wellness in the workplace to award-winning heights. The payment-processing company was founded 19 years ago by UCSB grad Randy Modos, who's long valued yoga and other stress-fighting practices in the office. He recently introduced his employees to the practice of neuromeditation, using cutting-edge EEG brain-scanning technology and neurofeedback to put them on a fast track toward building mediation skills.
What inspired you to launch the practice of neuromeditation at work? Many years ago, we launched a yoga program for our employees. Our amazing teacher expanded my horizon to meditation. With that inspiration, I started working with local neurofeedback specialists, who happen to be yogis, to develop mediation and peak performance training for our employees. While effectively practicing meditation can take years to master, what's fascinating about neuromeditation is the speed at which you can train your brain to respond to feedback. Relaying instant feedback to your brain allows you to access deeper states of consciousness in just a handful of sessions, something that once took years to achieve.
Are more companies offering these kinds of employee wellness options? Yoga, meditation, and mindfulness are becoming more common in progressive companies, particularly among Santa Barbara tech companies, but neuromeditation hasn't become mainstream yet. We're seeing companies like Google and the U.S. Marine Corps roll this out to their employees, and we would like to be a leader in this space, forging the way for new levels of work/life balance.
How does neuromeditation alleviate fatigue, stress, and work-related health issues? Neuromeditation can be practiced at the end of the day to help calm employees and relieve the stress that has been building throughout the day. We often don't realize how restrictive our breath becomes during a busy working day and taking a few minutes to reset, focus on breathing, and clear your mind can prevent everyday stress from turning into chronic stress.
What other perks do PayJunction employees enjoy? Our company ethos is that we value long-term relationships over short-term profit, and we apply this to our employees as well as our customers. PayJunction has always prioritized the wellbeing of our employees by offering on-site yoga classes twice a week, Zen rooms in our offices where you can decompress, and flexible working hours to accommodate for workout schedules.
We are so proud to have been rated the 29th best company to work at in the entire country by Glassdoor. We've always thought of our staff as a family, and we offer catered lunches every Friday so we can get together as a team and enjoy each other's company.
Our 25 Fastest-Growing Jobs
According to the Employment Development Department, Santa Barbara County's fastest-growing occupations are the following, based on their projected increase by 2024:
• Medical Transcriptionists Web Developers
• Drywall and Ceiling-Tile Installers
• Tile and Marble Setters
• Painters; Construction and Maintenance Workers
• Training and Development Specialists
• Roofers
• Market Research Analysts and Marketing Specialists
• Agricultural Equipment Operators
• Order Clerks
• Computer Systems Analysts
• Advertising Sales Agents
• Farmers, Ranchers, and Other Agricultural Managers
• Carpenters
• Insurance Sales Agents
• Machinists
• Cooks, Restaurant
• Software Developers, Applications
• Software Developers, Systems Software
• Telemarketers
• Electronics Engineers, Except Computer
• Construction Laborers
• Medical Assistants
• Physical Therapists
• Architectural and Engineering Managers
PayJunction is hiring! See www2.payjunction.com/careers.
Santa Barbara's Feel-Good Jobs
Our Readers Who Work Meaningful Careers Helping Others Find Much Enjoyment in Life
Santa Barbara's Feel-Good Jobs
Our Readers Who Work Meaningful Careers Helping Others Find Much Enjoyment in Life
Earlier this year, we asked our readers to tell us why they love their jobs. Nearly 100 people responded, from bus drivers to barbers, travel agents to attorneys. Though the occupations and reasons varied widely, there was one group that dominated the survey: People whose careers are focused on making other people's lives better. Here's a look at how their meaningful jobs make them feel good too.
Barbara Bartolome, director, IANDS Santa Barbara (International Association for Near-Death Studies): "I love hearing people's heartfelt comments about how their grief over the loss of a loved one or fear over death has been reduced or eliminated by hearing near-death experience accounts and gaining a better understanding of death and consciousness."
Breean Elliot, program coordinator, PathPoint: "PathPoint is a local nonprofit that supports adults with developmental and intellectual disabilities. The program I work for helps adults with independent living skills and allows them to live independently. I love that we work as a team. We truly make a difference in people's lives, which makes this work so special."
Martha Donelan, director of development, Santa Barbara Humane Society: "We work for a true visionary who is uniting the animal-welfare agencies in the county so we can work together to find homes for all the homeless pets, provide necessary medical care, and offer low-cost spay and neuter services."
Pantea Rahimian, licensed clinical social worker, Cottage Children's Medical Center: "We work closely together to address the medical, psychosocial, and dietary needs of Santa Barbara's children, teens, and adolescents, and I advocate to be a voice for those who are most vulnerable."
Alma Peppard, family service advocate, Community Action Commission: "I love my job because everyone shares the same vision and is dedicated to that mission: provide family-centered services for low-income families with very young children."
Brianna Pettit, orientation and mobility specialist, Braille Institute: "I have the pleasure of watching a student's fear transform to confidence and courage as they learn to accomplish walking different routes and becoming oriented to new and unfamiliar environments."
Collene Kuesis, nurse manager, Sansum Clinic's Ridley Tree Cancer Center: "The love that everyone here has for their jobs truly shows every day in the way that we care for patients. I approach each day with the attitude of making at least one person's day better while they are dealing with an awful disease."
Judee Hauer, in-take/bagger, Catholic Charities Food Pantry: "We can give people in need free food and a bit of a blessing. We say 'yes' and 'of course' and 'what do you prefer?' and we do this face-to-face."
Santa Barbara's Unique Gigs
Learn About Careers in Cutting Hair, Recording Music, Growing Worms, Fostering Love, and More
Santa Barbara's Unique Gigs
Learn About Careers in Cutting Hair, Recording Music, Growing Worms, Fostering Love, and More
You'll need to dust off your résumé ​— ​and perhaps even pad it a bit ​— ​if you ever want to land a job as unique, cool, and rewarding as the ones held by these readers who answered our online survey.
Lisa Amador, owner, Santa Barbara Matchmaking: "Santa Barbara is filled with incredible people who have very full lives but are missing that one special something they desire most: an amazing, amorous, and abundantly loving relationship that will flourish and last a lifetime. It's an honor to represent these people who trust us to find them their love. It's challenging but very rewarding work and it's different every day."
Bob Craig, director of marketing, Ganna Walska Lotusland: "My office is 37 acres of botanical nirvana located in the foothills of Montecito. I start my day by walking through the Fern Garden passing fragrant angel's trumpets and the giant leafed elephant ears. Then I stroll underneath a forest of giant 'devil trees' and come out in front of a 1941 Reginald Johnson–designed mansion that houses our offices."
George Tataje, soundman to the stars: "I love the great locations that I sometimes get to go to, from an event for an entertainment company at a winery in Los Olivos to a special event at Oprah's house in Montecito honoring a lady from Kenya who won the Nobel Prize. I've worked a concert recording for Olivia Newton-John at Pepperdine and a Pat Benatar concert at the Canyon Club."
Lauren Rundquist, The Barber of State Street: "My favorite part of being a barber is hearing stories from a man's perspective and getting to pick their brain! Most women would die to know what a man is really thinking, and my job allows me to engage with guys in an open and honest way. Being a barber is like being a cheap therapist ​— ​I hear it all!"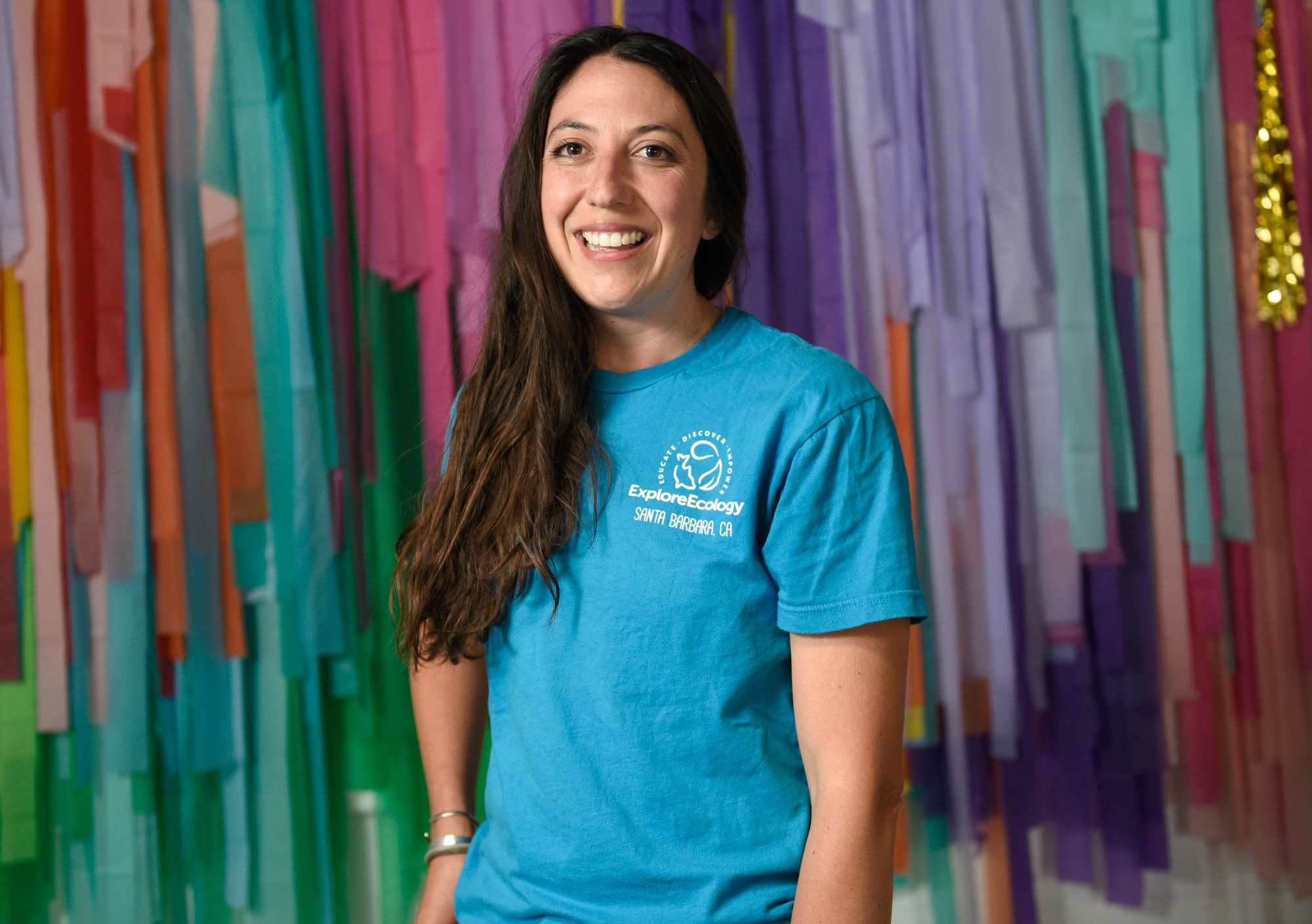 Angie Ouellette, environmental/garden educator, Explore Ecology: "I love walking into a classroom full of 8- and 9-year-olds to joyous exclamations of 'It's the worm lady!' I feel lucky to have an opportunity to help cultivate in these students an excitement and appreciation for the earth and all its magical inhabitants. This job has given me hope for the planet and our future."
Santa Barbara's food, beverage, and agriculture industry cluster provides 11 percent of all jobs in the county. But the 2019 UCSB Economic Forecast includes a special shout-out to the brewing business, reporting:
The number of breweries in Santa Barbara has increased by 38 percent over the past year, which was greater compared to California and nationally, which have only increased by 27% and 23 percent.
The number of employees has also increased by 38.9 percent over the past year, which was also greater compared to California and nationally, which only increased by 16.88 percent and 16.33 percent.
Santa Barbara is still a wine county, as wineries makeup 87 percent of the beverage establishments, compared to only 9 percent for breweries.
Morgan Mainz Rides the Blue-Collar Boom
Santa Barbara Carpenter and Contractor Encourages All to Work in the Trades
Morgan Mainz Rides the Blue-Collar Boom
Santa Barbara Carpenter and Contractor Encourages All to Work in the Trades
Morgan Mainz is on a mission, but not like the one that led him to becoming a black belt in jiujitsu or a world-class athlete in surfing, motocross, and professional beach volleyball. The Santa Barbara native's mind has been occupied with other concerns, such as resurrecting his beloved profession ​— ​one of the most ancient of all time, but one currently in need of a PR boost and an infusion of new blood.
As a third-generation carpenter and general contractor, Mainz and others in the construction trade are building this case: There's good money and a good lifestyle to be had, and if something isn't done soon to attract more workers into the field, there's not going to be anyone to fix or build houses.
"Somehow, we lost this industry along the way, and it's only a matter of time before we are fully depleted because there are so few kids coming in," said Mainz. "We need to highly respect our tradesmen and women. I'm not sure who they think is going to build America. Who's going to build the rich guy's house? He's worth $250 million, but he can't even change a tire or screw on a kitchen drawer knob."
Seeking the Next Generation
Mainz and others in the construction world are looking for the next generation of builders: young men and women who are good with their hands, have a positive attitude, and who are capable and competent enough to move up the ranks.
"Teenagers think that the trades are a bunch of greasy guys who are out there working too hard. The truth is, you dig one ditch well, you will never have to dig another ditch. If you do it well, you'll move up to the next level," he said. "I'm spending my day going to some of the most beautiful spots in Santa Barbara: up in the hills, down at the beach, in the canyons. I'm in the moment, never stopping to look at what time it is, and at the end of the day, I've created something that is going to be there way longer than I am. That feeds my soul."
In a town like Santa Barbara, it's not unheard of for deals to get hammered out down on the beach volleyball courts. "My clients say, 'Let's go have a board meeting' and we get out there and surf and talk about the project," said Mainz.
It's a dynamic profession, an open book with room to grow, he said. "You could go in and be a finish carpenter, an electrician, a tile layer ​— ​specialized guys who are happy, make a good living, are always working and in demand," said Mainz. "You can travel, go to places where they need builders. In construction, you can take it as far as you want to. That's why I'm talking about getting young people excited early on, like we do with sports, and training them from the ground up. All of the tradesmen in Santa Barbara should be passing all of their skills down to the next generation, like the tribes of the old days."
Experts Agree
Mainz's message is right on target with what industry leaders are preaching. "We're desperate to find workers," said Jon Downing of DD Ford Construction to a large group of Santa Barbara Unified School District teachers recently.
"It's an honorable career," added Frank Schipper, who founded the Tradart Foundation in 2000, which has rescued the school district's woodshop programs, and is now supporting its Building Trades and Construction pathway program at district junior high and high school campuses.
Tradart organizes the Tiny Houses project, career days, and a "tools for schools" initiative that provides shop supplies and connects skilled industry volunteers with students. Students learn the basics to embark on careers as carpenters, cabinet makers, draftsmen, brickmasons, drywall and carpet installers, and roofers, among others. Santa Barbara City College is also working with the district to map out the next steps for students who'd like to pursue a higher degree and rise to higher-paying positions like electrician, production manager, construction supervisor, or general contractor.
And these jobs are needed now. General contractor Dennis Nelson said it's not just difficult to man his construction crews, "It's impossible," he said. "And my three lead guys are all over 50." For far too long, Nelson said, schools have sent the message that all kids need to go to college. But for some people, that's just not their calling.
"Another issue is that the kids who are from here are so entitled, and they're like, 'Why should I do hard labor?' But it's not like that. The trades are fantastic," he said. "We need to get young people fired up about this." Being the Boss
Mainz learned carpentry from his father, a German boatbuilder who eventually moved into building homes and commercial buildings here in Santa Barbara.
"My dad was adamant about teaching me how to mitigate problems, how people's minds work on a construction site, how to understand the psychology of men, and how to be the boss of a bunch of alpha males," he said. "How can you herd a bunch of lions to the finish line? In the end, he was preparing me to be a boss, a general contractor."
Mainz was a star Santa Barbara High School athlete who excelled in art and sports but barely scraped by in his academic courses. When offers for full-ride volleyball scholarships started rolling in, Mainz remembers someone saying all he needed to do was take the SAT.
"The SAT might have been a snake for all I knew," he said. Mainz managed to graduate high school. His goal at the time was to play volleyball, so he went to SBCC with hopes of routing to one of the big universities after.
"I ended up having the most incredible season of my life, but I couldn't even find my classrooms," he said. "I couldn't do it. My dad kept telling me I had an eye for construction. One day, he was like, 'Just get in the truck. Let's go to work.' That was the best thing to happen to me."