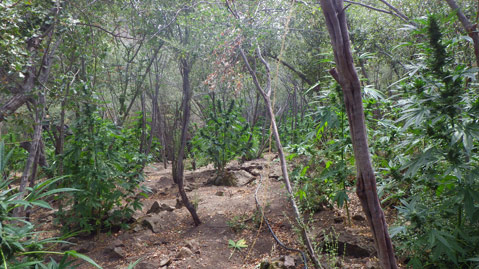 Santa Barbara County officials assisted in the eradication of over 28,000 marijuana plants in the Cuyama Valley this past week, uprooting an amount worth an estimated $85 million.
The marijuana, which was found at ten different illegal growing sites, was weeded out through efforts involving the United States Forest Service, California National Guard, and other government agencies as part of the statewide "Campaign Against Marijuana Planting," or CAMP. Officials completed several investigations involving "aerial observation" and the input of "concerned community members" to locate and eradicate the marijuana planting sites, according to a statement released by the Santa Barbara Sheriff's Office.
Two individuals were arrested and charged with marijuana cultivation in connection with the operations, including Jose Garcia-Armas of Los Angeles and Jose Humberto Rivera of Ventucopa.
The marijuana extraction efforts first began last Thursday, when an investigation by the United States Forest Service led to the discovery of three different planting sites on property owned by the government agency itself. In that operation alone, over 2,500 plants were eradicated.
On Friday, the Santa Barbara Regional Narcotics Enforcement Team joined the Sheriff's Office in removing over 5,700 plants from the Cuyama and Ventucopa area, leading to the arrest of 46 year-old Rivera.
This week, officials located 19,000 plants at six more grow sites located in the mountains north of the Davy Brown Campground and Sunset Valley Road, near Figueroa Mountain. Thirty four-year-old Garcia-Armas was arrested in connection with this operation.
County officials said in a press release that the illegal sites cause significant environmental harm, such as the introduction of toxic chemicals and trash as well as the harmful diversion of natural water supplies.
CAMP is a statewide program, spearheaded by the California Department of Justice, that removes marijuana grown on private and public lands.