Before the kickoff of the high school football game between San Marcos and Channel Islands last month, referee Jim McCann and his officiating crew huddled up to discuss the calls they might have to make ​— ​not the easy ones, like offsides or false starts, but on plays that might lead to serious injuries.
"Back in the day [when] I played ball, my helmet was a battering ram," said McCann, an official for more than 20 years. "Now we've accepted the responsibility to make the game safer. That's the primary reason we're out there. Our officials' association is real serious about the changes ​— ​helmet-to-helmet hits, targeting, blindside blocking. The game has to change, or the game won't be here."
On the San Marcos sideline, Bryan Linden, the school's athletic trainer, and Mark Brisby, a chiropractor specializing in sports medicine, were standing at the ready to evaluate injuries. If they suspected a concussion, the player would be removed from the game and sent to a medical doctor. "There's a minimum six-day protocol a player must go through," Linden said. "That means he'll miss at least the next game, because most coaches have a policy that if you're not practicing all week, you're not going to play."
This season, however, the Royals have no reported head traumas at the varsity level. During the Channel Islands game, the only injury was when San Marcos running back Tommy Schaeffer received a laceration on his shin, but Linden taped it, the bleeding stopped, and Schaeffer went out and scored a touchdown.
Midway through the first half, a Channel Islands defensive back broke up a pass by drilling the Royals' intended receiver, Anthony Simentales, at the moment the ball arrived. The play drew a flag and a 15-yard penalty. The official's judgment was that the tackler used his head to block the receiver. "It wasn't safe for the kid who did it," explained referee McCann. Even though his team benefited, San Marcos coach Jason Fowle had his doubts. "I thought it was a good, hard hit," he said. "There's a lot of gray area."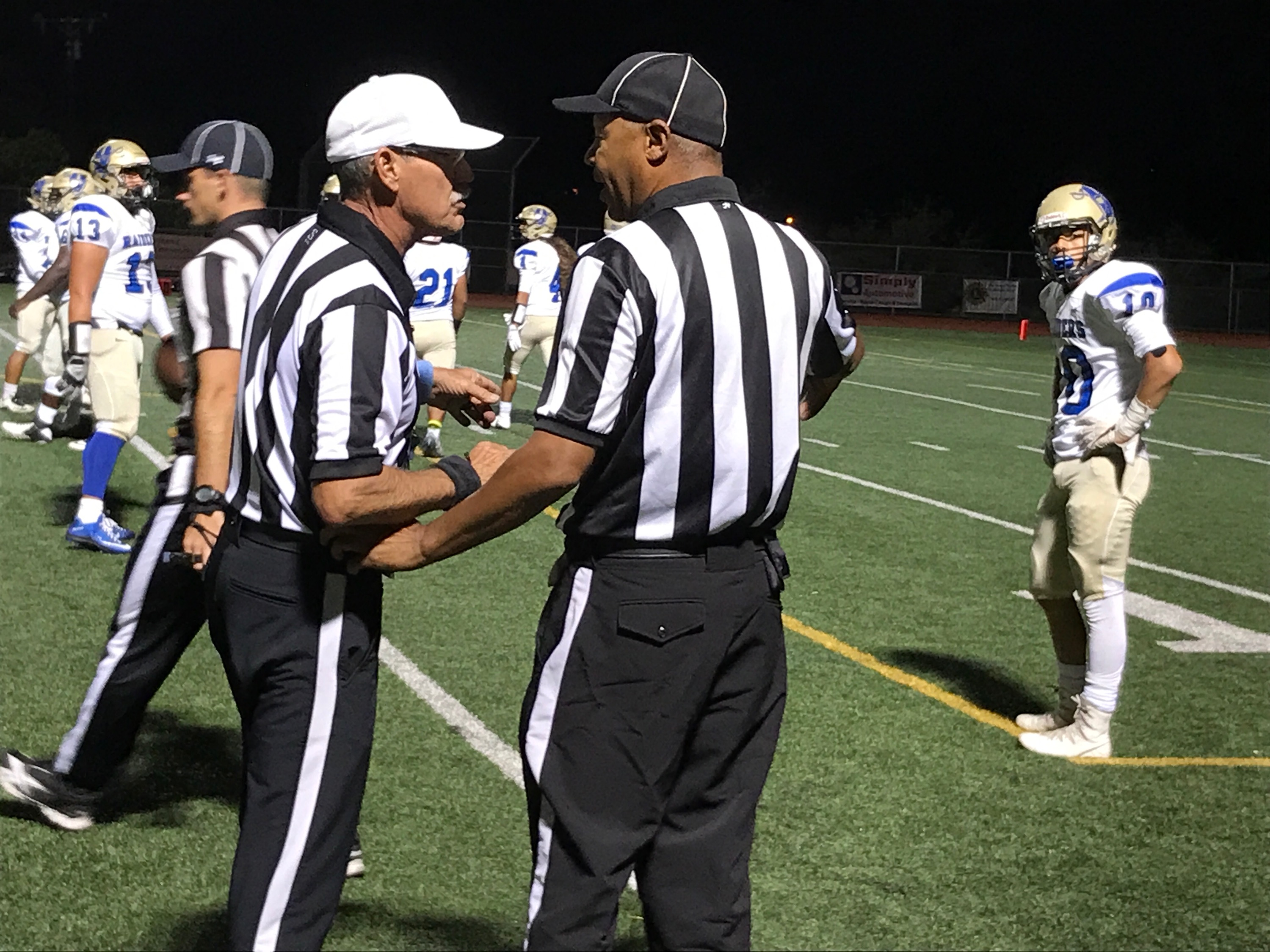 Fowle worries the horror stories about CTE (chronic traumatic encephalopathy), the brain disease that has afflicted many former NFL players, are morphing into a fear of playing any football. It shouldn't be linked to millions of high school players. "There are risks to football, but the value of being on a team outweighs the risks," Fowle said. Brisby, a sideline doctor for more than 30 years, agrees with Fowle, but does not downplay the risks. "It's a game of violence," he said. "If you play football, you're going to get your head hit." A former San Marcos gridder himself, he thinks the game is a beneficial outlet for teenagers. "My advice is to play football in high school," he said, "but after that, only if you have a chance to make millions."
Brisby was on the front line of an incident that horrifically magnified football's dangers. On September 29, 2006, late in a game between Dos Pueblos (DP) and Righetti high schools, Brad Ebner, a DP running back, plowed into several Righetti tacklers at the end of a 15-yard run. Brisby saw that Ebner was unsteady getting back on his feet, and by the time Brisby got to him, Ebner was collapsing into his arms. "His left pupil was blown out," Brisby recalled. "Then he stopped breathing."
The victim of an extremely traumatic brain injury ​— ​blood pouring into his cranial cavity and squeezing his brain ​— ​Ebner would certainly have died if Brisby and another doctor had not restored his breathing, and if paramedics had not been on hand to rush him to the hospital. "He was in surgery 57 minutes after the injury," Brisby said, but the trauma left Ebner permanently damaged. Now 28, he lives in a residential care facility in Santa Maria.
"He's happy; he's full of joy," said his mother, Cheryl Ebner, "but he's not who he was." She and Brad's father, Chuck Ebner, strongly suspect that their son had taken a previous blow to the head ​— ​either the week before or earlier in the same game ​— ​but they do not blame anybody for the catastrophe. "Everybody was amazing ​— ​his coach, his teammates, the doctors," Cheryl said. "Schools didn't have the information they do now." Today it is a medically accepted fact that if one concussion is not fully healed, a second could result in dire injury, which is why young athletes are warned that their lives may depend on how honestly they report brain-injury symptoms.
The State of California has issued safety protocols for all organized youth games, specifying 27 sports, including competitive cheerleading, that have a risk of head injury. Linden said the most recent concussion at San Marcos occurred during a girls' water polo practice. "The ball ricocheted off the cage and hit her in the head." Another concussion occurred when a competitive swimmer slammed his head into the pool wall before making a flip turn.
Northwestern University released a surprising 2015 study that found it was not football that had the highest rate of concussions among high school athletes, but girls' soccer. Linden finds that to be credible: "Soccer, basketball, lacrosse ​— ​anytime you can have a little bit of contact and fall without protecting yourself, there's potential for a concussion."
Santa Barbara's most popular youth sport is soccer. Every weekend, 2,714 children, from 4 years and up, play AYSO (American Youth Soccer Organization) soccer here, according to Regional Commissioner John Maloney, whose organization has instituted many safety measures in recent years. Referees and coaches must attend a 40-minute course teaching how to recognize and respond to injuries. The AYSO also requires incident reports when medical attention is needed. "We had 21 such reports last year," Maloney said. "Four involved head blows, and two resulted in concussions." In order to reduce the risk of concussions, AYSO also prohibits players 12 and under from heading the ball, and requires goalkeepers to roll the balls into play rather than kick them downfield.
Every weekend on football fields and soccer pitches throughout the county, young athletes play their games hard. Sometimes they come out with bumps and bruises, but with some luck, reasonable caution, and dedicated vigilance, they will get through their seasons with no serious casualties.
Football season is the busiest time of year for Cottage Concussion Clinic. In fact, September was the clinic's busiest month so far, with 40 diagnosed concussions, said Dr. Stephen Kaminski, a trauma specialist with Cottage Health. "We see mostly 14- to 17-year-olds; 60 percent are male." Concussions from football lead the frequency stats, he added, but these brain injuries are also sustained during soccer, lacrosse, basketball, water polo, and so-called action sports, such as skateboarding and snowboarding. "We see everything, from contact sports to ground-level falls," he said.
Concussions are more common than one might think and don't necessarily involve a blow to the head. The brain is fairly fluid ​— ​more like Jell-O than hard rubber ​— ​and a significant hit or fall can cause it to slosh violently against the inside of the skull. More than 90 percent of sports-related concussions occur without loss of consciousness, according to neurologist Dr. Philip Delio, Cottage's director of stroke services. "And we think 50 percent of concussions go unreported."
Symptoms include headache, nausea, poor balance, double vision, sensitivity to light and sound, and feelings of lethargy, irritability, confusion, and depression. "Fifteen percent of kids who play football will get concussed," Kaminski said. "We want kids to play safe and play hard but to have the awareness and the courage to open up to parents and coaches to say, 'I fell' ​— ​or got hit ​— ​'and now I have a headache.'"
"I don't want to create hysteria," he added. "I would never say to somebody, 'Don't play a sport.' Just pay attention and keep a lookout for the symptoms."
Fading fast are the days when a player returned to the field right after getting their bell rung. For perspective, Kaminski referred to 2009's Zackery Lystedt Law, which prohibited young athletes suspected of sustaining a concussion from returning to the field without the green light from a licensed health-care professional. Within five years, all 50 states and the District of Columbia had adopted the law. "To me it sounded like an unfunded mandate," Kaminski remembered. "How can we consistently offer good care for these kids?"
By 2012, Kaminski developed a concussion protocol with Santa Barbara Unified School District and partnered with downtown's Jodi House Brain Injury Support Center. With a grand opening in September of last year, primarily through financial help from the UniHealth and the David & Leila Carpenter foundations, Kaminski brought the program into the Cottage fold, "and now we have an established clinic with established hours and a full-time nurse practitioner."
The clinic is in its second year of a three-year initiative to provide free concussion treatment to kids and teens in-house. It does not cover medical fees for patients who require outside treatment, such as more advanced neurology and speech therapy.
Melissa Grunt is the clinic's full-time nurse practitioner. Along with Delio, she spoke last month to parents, kids, coaches, and other medical professionals at the Cottage-hosted Concussion Discussion, held at Ben Page Youth Center. She explained that when a concussed kid checks into the clinic, Grunt puts together a plan for their recovery, which emphasizes a student's return to the classroom before a return to athletics.
She calls it "return to learn." First up, plenty of brain rest. Initially, that means no homework and very little, if any, reading, watching TV, or even listening to music. As symptoms improve, then come "restful home activities," she said, such as listening to a podcast, reading, 20 minutes of television per day, or going for a short walk, for example. With more improvement, Grunt okays a return to the classroom, but maybe not a return to homework right away. It really depends on the severity of the concussion and how strongly the kid is bouncing back. Finally, after at least one day without symptoms, Grunt will approve a return to the playing field. But again, it's gradual. The whole protocol, from initial visit to final sign-off, aims for an injured kid to ease back into their life as they knew it. "Our goal isn't to keep kids out of sports," Grunt said. "Our goal is to get them back into sports as soon as possible in a safe manner."
Ben Page Youth Center, 12-year-old Madeline Nees ​— ​a 7th grader at La Colina Junior High ​— ​and her mom, Elizabeth Nees, offered their perspectives on how a child's head injury (or in this case, multiple head injuries) can affect a family.
Madeline
Since I was 4 years old, I have been playing soccer, basketball, softball, track and field, and lacrosse. I've even wrestled. This past year, I sustained two concussions within six months. I was treated by Melissa Grunt at the Cottage Concussion Clinic and Morgan Bluhm at Cottage Rehabilitation Hospital. They have been a huge part of my recovery.
My first concussion happened during soccer practice last November. I was fighting for the ball and fell, hitting the back of my head on the ground. When the coaches asked, I said I was fine and continued with practice (which I now know was not the right thing to do). My only symptom was a headache. My mom checked on me throughout the night. I woke up with the headache but wanted to go to school anyway. At school, I got really tired, and the light and noise in the classroom [made] my head hurt more. After school, my mom took me to urgent care, and I was diagnosed with post-concussion syndrome. I missed school for the rest of the week and skipped practices. When I wasn't feeling better by Friday, my mom called the doctor, and I was referred to the Concussion Clinic. After my first visit with Melissa Grunt, I started the "return to learn" protocol. After the second visit, I started the "return to play" protocol. I was pretty much back to normal within three weeks.
The second concussion happened in May during a soccer game. I was playing goalie and dove on the ball to save a shot. The striker couldn't stop in time and tripped over my head. I came out of the game right away and stayed out. Luckily, this time, I knew better than to go back in. I had a headache, and I was extremely sad. I was pretty sure I had a concussion, and I knew that it might mean that I would no longer be able to play soccer. My symptoms were a little different this time. I had a headache and was very sleepy, but light and noise didn't seem to bother me too much. According to my mom, I was very emotional, even for a 12-year-old girl. When I woke up the next morning, I was really off balance. Seeing me stumble scared my dad, and my parents took me to the ER, where I was again referred to the Concussion Clinic.
My recovery was a lot longer this time. I was having a hard time with my balance for about a week, my headaches lasted for almost two weeks, and almost a month later I was still having a hard time following directions, remembering things, concentrating, and finding my words. Melissa suggested that I be evaluated by a speech therapist at Cottage Rehabilitation Hospital. That is when I met Morgan Bluhm, and started working on the remaining symptoms.
I was super-sad. I missed sports. I didn't feel like myself. And I felt kind of stupid. I was behind in school, didn't understand things as easily, and couldn't concentrate as well. It was difficult in school because I was nervous about doing things that would mess up my recovery, and my teacher wasn't very understanding. It was also really hard having to sit out on the fun activities, like PE and music, and the kids-versus-teachers kickball game. It was also hard because I didn't look injured. My injury wasn't obvious. I felt like people were judging me: "Are you sure you aren't overreacting?" and "Oh, I went to speech therapy when I was little ​— ​it's no big deal."
Morgan helped my focus, concentration, and memory struggles. It felt like physical therapy for my brain, but a lot harder. She taught me strategies, like writing things down, repeating things, and making associations. I saw Morgan twice a week for five weeks and had homework to complete between visits. Because of the work, I was able to start 7th grade feeling more confident and prepared.
I really don't want to have another concussion. I'm giving up soccer for at least a year, and probably forever, since it seems to be my injury sport. I am still playing lacrosse and hope to continue with softball and shot put. I try to be more careful when I play and make safe and smart decisions so that I don't put myself at greater risk for another concussion.
Elizabeth Nees (Madeline's mom)
It's really difficult to see my child suffer ​— ​to see her unhappy, not feeling well, [unable] to excel in the sports she loves, and [struggling] in school. It's also really hard to know whether her behavior was a symptom of a concussion, or simply a symptom of being a tween. Not following instructions and being distracted and forgetful could easily be dismissed, but [I was] so glad I brought up this change in behavior to her doctor and was able to get her the help she needed. It made me realize how important it is to advocate for my child and teach her to advocate for herself. The speech therapist reinforced this as well.
Another difficult part about having a child with a concussion is the judgement from other people. It bothered me that some people seemed to respond to the symptoms and recovery with an eyeroll. My daughter had not one, but two, mild traumatic brain injuries. She wasn't overdiagnosed. She wasn't feigning her symptoms or being a sissy. Her symptoms needed to be addressed.
As a parent of an athlete, it is challenging to hold my child back from practicing and competing. Honestly, I cried during our conversation with Melissa about giving up soccer. Being a soccer goalie, being an athlete, is a huge part of my daughter's identity, and I didn't want her to lose that. But I also know that beyond high school, beyond college, she will need a healthy brain to live a long and happy life. I am so grateful for Melissa and the Concussion Clinic and so grateful for Morgan and Cottage Rehabilitation Hospital for helping Madeline recover and get back to where she needs to be to succeed academically and to get back onto the lacrosse field. Before we needed them, I wasn't aware of these amazing resources, but I think it is really important that parents know where to turn when their child sustains a concussion.