As a postmodern, middle-class American citizen dwelling in Santa Barbara — the symbolic core of the American Empire — I witness our era's warp-speed pace from a small Westside bungalow near Harding School. It's a clichéd observation that the early 21st century's frantic and increasing "velocity" really does push many of us right to the edge, but it's valid nonetheless. Most Americans work hard and are highly productive, yet this hectic race sends a few right over the edge into violence or madness, or both. In a long New York Times opinion piece (Why You Hate Work), Tony Schwartz and Christine Porath demonstrate that for American white-collar workers, "excessive demands are leading to burnout everywhere."
September 2014 marks the 50th anniversary of President Johnson's landmark Wilderness Act, which led to all previous "primitive areas" and "wilderness" areas being designated as congressionally mandated wilderness zones, with strict protections. In 1968, our own 197,000-acre San Rafael Wilderness was the very first primitive area to formally gain the new "federal wilderness" status, thus banning all motorized vehicles, bikes, chainsaws, and permanent improvements but supporting hiking, backpacking, and equine visitors. Part of the congressional definition calls wilderness "an area where the earth and its community of life are untrammeled by man, where man himself is a visitor who does not remain." Today's National Wilderness Preservation System (NWPS) protects about 110 million acres of land spanning 44 states.
We should celebrate the 50th anniversary of the NWPS system because without these dazzling realms of extravagant beauty to serve as relaxing refuge for overburdened workers pounded by the posthuman work pace, we would see even more burnout among working Americans. We can gather inspiration from U.S. Representative Lois Capps's proposed new wilderness expansion legislation, called the Central Coast Heritage Protection Act , which aims to protect another 240,000 acres near Santa Barbara. Fragile areas on the Carrizo Plain would get more protection via three newly designated wilderness zones, and 160 miles of "wild and scenic" river status is planned for the Manzana, Indian, Mono, Sespe and Matilija. Several past Hiking the Santa Barbara Backcountry columns involve treks up these small rivers.
Schwartz and Porath correctly diagnose the cause for this typical worker fatigue and burnout — "the relentless stress of increased demand, caused in large part by digital technology" — but they omit the healing powers of nearby nature and our nearby wilderness areas. There are over 55 federal wilderness areas in California alone, and five are less than a two-hour drive from Santa Barbara: They are available to all of us, and you don't need an Adventure Pass!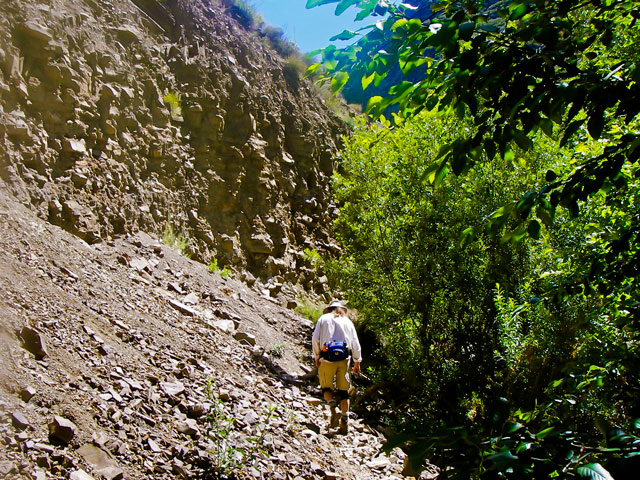 By Dan McCaslin