The student exhibition can be a pivotal moment in the life of an artist. Being in it teaches pupils that being an artist requires more than just creating work. From framing and mounting to writing text descriptions and artist statements, the process of putting on a show is paramount to art's reception. And while some student shows are simply a learning process for the amateur aficionado, others, particularly at the graduate level, can be the moment when an artist's career is launched.
At UCSB's Art, Design & Architecture Museum, seven graduating MFA students are presenting The Chess Club through June 3. Curated by Bruce W. Ferguson, president of Otis College of Art & Design, the exhibition considers the "move" in art, acknowledging the students' transition to professional artists and the strategies that must inevitably take place to make their work seen.
Standouts of the cohort's work include Carlos Ochoa's virtual realities that immerse you in a sensorial landscape of color, sound, and abstract geometries. Visitors are invited to put on headsets and navigate their way through the bright-pink landscapes with oculus controllers, experiencing three-dimensional forms and ambient sounds in a manner that feels exploratory and futuristic but still rooted in recognizable shapes. The work is fresh and exciting, making you wonder what ideas Ochoa still has up his sleeve.

Toni Scott's installations are impactful. Her dramatic, large-scale sculpture "The Empire Strikes Black," made of painted palm fronds, rope, and wood, feels like a deserted island of memories and struggle. Painted entirely black, the sculpture has a depth of texture that invites you to consider the relationship between geography and history, the palm fronds appearing as sharp machetes rather than an organic material symbolizing tropical leisure. Casting large shadows on the white wall behind, the piece also conjures ideas about protection and foreshadowing, creating another powerful dimension in shades of gray.
Jennifer Lugris's paintings are playful deconstructions of ordinary domesticity. Bright and colorful, the works depict tidbits of a scene among various-sized canvases, your eyes reconstructing the full visual as you slowly scan the wall. One canvas shows a pair of boots, another a kitchen table; a lamp and a window pane are revealed, as well as a human form. Considering the relationship between the ordinary and extraordinary, Lugris shows the everyday world as vibrant and alive, while challenging us to consider how reality is visually constructed.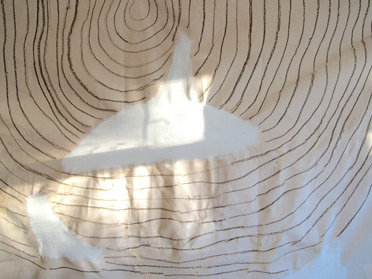 By Courtesy Photo